<< Back to Stories
VIVE Focus 3 Ecosystem Updates
Webinar
Join the VIVE Business team as we discuss the VIVE Focus 3 and all new add-ons, extending usability. See how the Focus 3 brings new dimensions to VR with non-verbal communication using the easy-to-install VIVE Focus 3 Eye Tracker and VIVE Focus 3 Facial Tracker. We'll cover enhanced hand tracking and attaching it to real-world objects to track them in your virtual space with the VIVE Wrist Tracker. Lastly, we'll finish with a Q&A.
What to expect:
VIVE Focus 3 introduction
Latest additions to the ecosystem:

Tracking options
Eye tracking
Facial tracking
Hand tracking
Object tracking

Questions and answers
Presenters: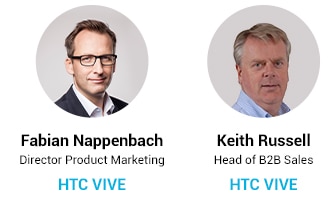 Join the webinar
Date: Tuesday, October 4, 2022, 12PM (BST)
Thank you for registering for this event: Webinar—VIVE Focus 3 Ecosystem Updates. Check your inbox for our email with the event login link.
Review our Privacy Policy for how we handle your data.