Making
Microsoft Teams

calls in

VIVE Sync

Make

Microsoft Teams

calls from the

Desktop

window in

VIVE Sync

. Here's how:
Open the

Sync Menu

, and then select

Desktop

.
Launch

Teams

.

Make a concall or join a meeting just like what you would normally do when you're using

Teams

on your computer.

For example, to join a meeting, open Calendar from the left-hand panel. Select a meeting, and then select Join.

Turn on the

Teams

camera switch from the bottom-left side of the camera window.

Select the Settings icon . Under

Camera

, make sure

VIVE Sync Camera

is selected.

Select

Join now

.

The meeting then opens in the Desktop window.
By default, the microphone in the Sync meeting room is muted: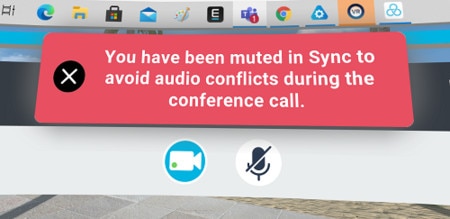 Your voice is transmitted to the Teams meeting only. People in the Teams meeting room will hear your voice, but not the participants in the Sync meeting room.
If you want people in both rooms to hear your voice, toggle on the Sync microphone at the bottom of the Desktop window. This allows your voice to be transmitted to the Sync meeting room.
To turn on or off voice transmission to the Teams meeting room, you need to mute or unmute from the Teams screen.