TOOLS AND SERVICES FOR COMPLETE VR TRANSFORMATION
VIVE will amplify your abilities to design, visualize, collaborate, sell, simulate and train as never before. Our Enterprise VR solution will open a whole new realm of possibilities, whatever industry you're in.
Distribution System
Securely distribute your enterprise software to selected groups of enterprise users either online or offline through your internal network. Set security configurations tailored to your organization's needs.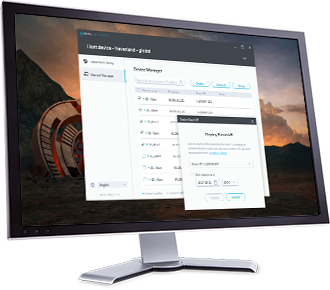 REGISTER NOW
Get full access to the VIVE Enterprise Platform offering.
FREQUENTLY ASKED QUESTIONS
What are the system and hardware requirements to use VIVE Enterprise Platform?
You will need VIVE Pro with VIVE Enterprise Advantage for VR apps. Device Management System software requires Windows 7 or above and Microsoft .NET Framework 4.6 or later. An Internet connection is also required to download content.
Is there any charge for using the VIVE Enterprise Platform?
It is included in the price of the VIVE Enterprise Advantage.
In what countries is the VIVE Enterprise Platform available?
United Kingdom, United States, Belgium, Bulgaria, Croatia, Republic of Cyprus, Czech Republic, Denmark, Estonia, Finland, France, Germany, Greece, Hungary, Iceland, Ireland, Italy, Latvia, Liechtenstein, Lithuania, Luxembourg, Malta, Netherlands, Norway, Poland, Portugal, Romania, Slovakia, Slovenia, Spain, Sweden, Switzerland, Japan, Singapore, Hong Kong, Australia, New Zealand, China
What is the VIVE Enterprise account registration process?
First log-in/sign-up with you HTC Account on
https://enterprise.vive.com/portal
. Then complete the organization information registration. Be sure to provide correct company and contact information. Our team will contact you to verify your application. This helps us protect you and our Enterprise content developers.
My company limits Internet access, can the VIVE Enterprise Platform function fully?
DMS is designed to distribute apps and SteamVR drivers in companies with or without Internet access. You only need Internet access on your host computer when you need to download apps or SteamVR from our server.
Why should I use the Device Management System?
The Steam dashboard is often blocked by an enterprise rewall, which makes it impossible to use VIVE. Please click on the PDF here for more details.