<< Back to Stories
Mission One Transforms Communication and Leadership Training with HTC VIVE
Elevating Leadership Training: Mission One's HTC VIVE-powered Transformation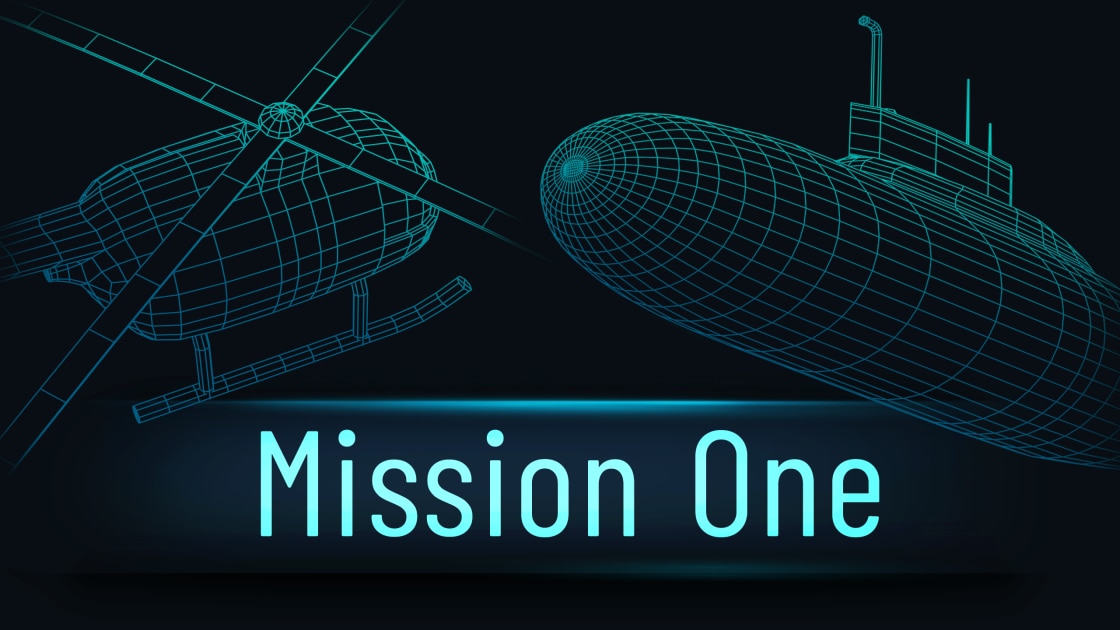 Education | Training/Simulation | Case Study | Article
5 minutes read
Mission One Transforms Communication and Leadership Training with HTC VIVE


Company Name: Mission One
Website: missionone.eu
Location: Warsaw, Poland
Device: HTC Focus 3


New era of team-building training
The landscape of corporate training and development is constantly evolving, with the increasing importance of developing soft skills. Often referred to as interpersonal or people skills, these encompass a broad range of personal attributes and qualities that extend beyond technical expertise. They are the foundation of effective communication and collaboration, as well as a crucial trait for any leader aiming to inspire and effectively manage a team. Today, professionals who excel in soft skills possess a distinct advantage.

With that in mind, Mission One, a company based in Warsaw, Poland, has made a strong commitment to leveraging cutting-edge technology to enhance learning experiences. Having over two decades of track record in the learning and development industry, Mission One has taken a bold step into the realm of virtual reality training. Thanks to the solutions it has developed, powered by HTC VIVE's headsets, it has been able to revolutionize communication and leadership training in organizations worldwide. "Our multiplayer solution has delivered excellent results for customers across multiple industries, regardless of the scope of their operations. To name just a few examples, we've worked with companies like Tauron, Auchan, Saint Gobain, MoneyGram, Play, and T-Mobile. With the boundless possibilities VR offers, particularly in enhancing participants' ability to acquire new knowledge effectively, we have created workshops during which employees can, among other things, practice soft skills and improve the quality of their leadership," explains Andrzej Domański, Co-founder of Mission One.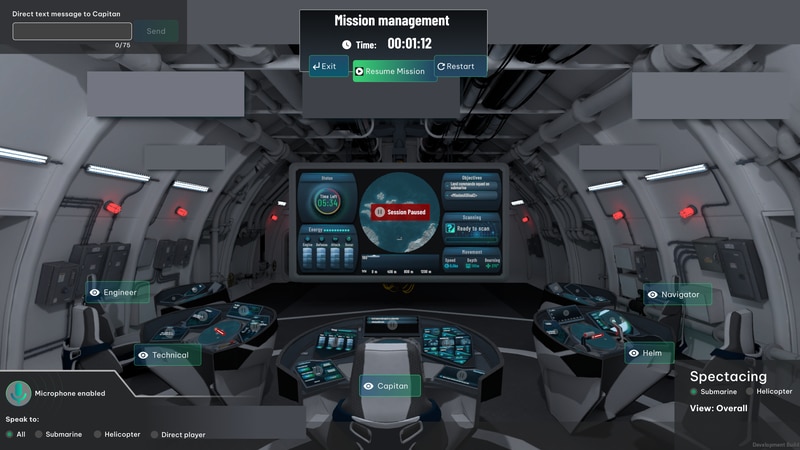 Mission One on Mission
VR technology is revolutionizing traditional training methods thanks to its ability to enhance participants' experience. As research conducted by PwC points out, VR learners are 40% more confident in applying what they are taught, and three times more emotionally connected to the learning content. Andrzej Domański explains, "Studies underscore the remarkable benefits of VR-based learning, including increased confidence in applying the knowledge acquired, heightened concentration, and a stronger emotional connection to the L&D content presented. For organizational leaders, this translates into the opportunity to experiment, learn, and evolve within a secure virtual environment."

What sets Mission One apart from other solutions in the market is the company's evidence-based approach and partnership with a leadership expert, a retired United States Navy captain, David Marquet. This collaboration enables them to create simulations that draw from real-life experiences. Their multiplayer simulator, VR Mission One, immerses users in the virtual world of submarines and helicopters, closely mirroring real roles and requiring effective cooperation and control of responsibilities for overall success.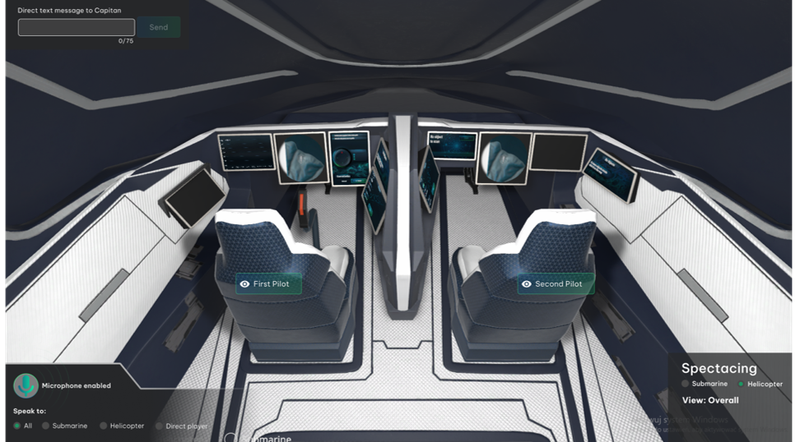 Answering technical challenges
The primary objective of Mission One's project involving HTC VIVE was to revolutionize the way communication skills were nurtured and honed among teams and managers and within organizations at large. At the heart of this vision was their Multiplayer VR simulation, designed to be an immersive workshop tool that would take traditional communication training beyond the borders of typical classroom settings.
Domański states, "The HTC VIVE provided the technological backbone, enabling a truly immersive and collaborative environment that captured the essence of real-world communication challenges."
Thanks to the collaboration, Mission One was able to successfully answer technical challenges directly related to VR. The common issue of motion sickness or dizziness in VR was addressed by implementing a static environment design. Users remain stationary at their desks, focusing on working modules and functionalities directly at their workstations. What is more, an efficient voice chat system was required for online workshops to facilitate communication. HTC VIVE's integrated audio system with noise-canceling features proved invaluable for uninterrupted communication. In physical workshops, potential voice chat overlap was managed using a facilitator app. HTC VIVE's audio system, especially the capabilities of VIVE Focus 3, ensured clear audio recording without ambient noise interference.


At the same time, the project leveraged the robust DMS (Device Management System) from HTC. This system offers a streamlined approach to the distribution of applications, ensuring seamless delivery to end-users. Moreover, HTC's business-grade license is tailor-made for enterprises, addressing licensees' unique security and privacy requirements. Companies can confidently scale their VR training initiatives, knowing that the HTC VIVE system will safeguard their sensitive data and proprietary content. This is especially important for companies managing sensitive information, such as some of our clients, PKO BP, ING, PZU, or BNP Paribas, representing the financial and insurance sectors. In addition to these software and licensing merits, the hardware quality of HTC headsets lets trainees benefit from a comfortable and immersive VR experience, ensuring they remain engaged during training sessions and focused on their learning objectives.


Real-life collaboration
Mission One created three distinct VR environments to enhance user experience. "The Lobby" lets users sit at a round table and engage in open discussion over mission objectives and strategies. "The Helicopter" allows them to become pilots and work in teams during a simulated mission. "The Submarine" blends close quarters with the vastness of the deep sea, encouraging communication and collaboration while evoking the ambiance of a submarine.

"Our focus was not just on immersion but on creating an ergonomically friendly multiplayer setup. These environments were designed to foster collaboration, engagement, and a sense of togetherness among participants. In all these scenes, our primary objective was to balance aesthetics with functionality, ensuring that the experience remains seamless, collaborative, and highly engaging. We're particularly proud of how these environments not only captivate users visually but also promote team cohesion and effective communication," explains Domański.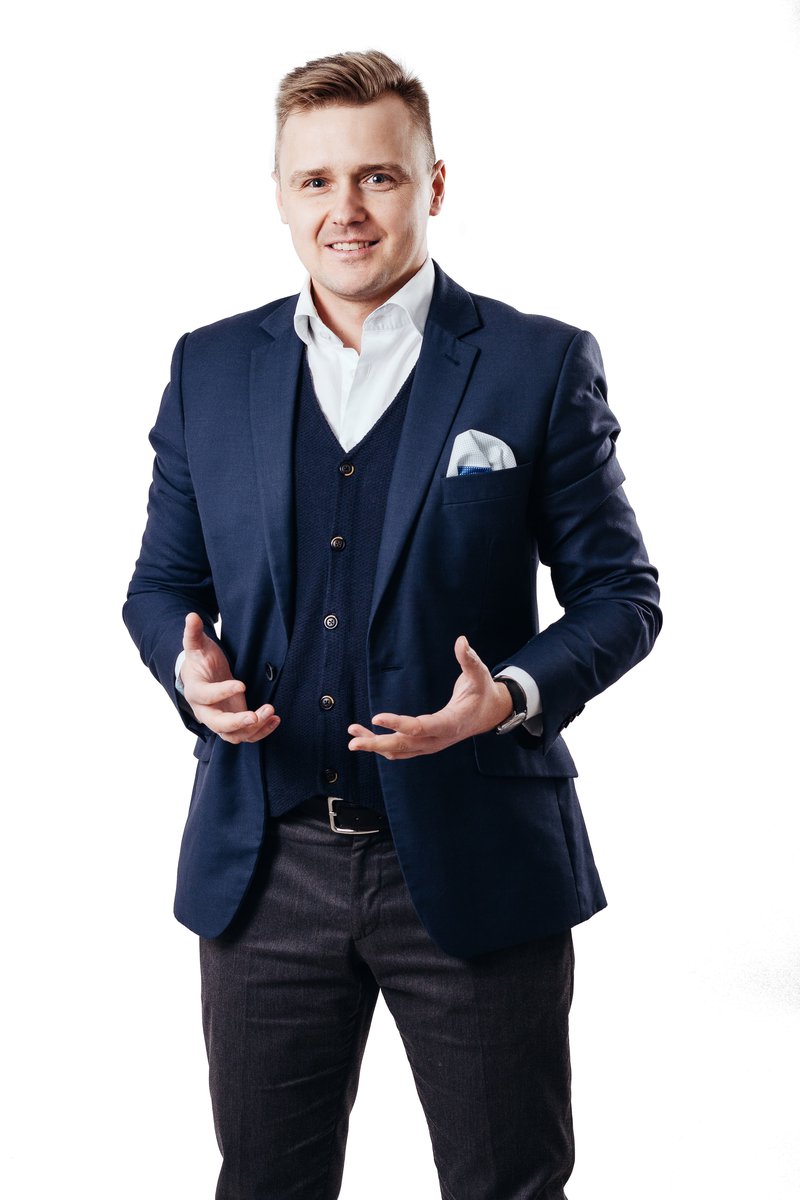 With these three environments, the Mission One solution effectively helps trainees prepare for difficult conversations with clients. Customer service and sales representatives can learn how to remain calm under pressure and acquire listening skills to engage in complex conversations with highly emotional individuals. The training sessions developed by Mission One enable employees to better articulate their ideas to others through not only the words used but also the speaker's emotion, tone, and body language. Each of the simulations facilitates effective feedback as well as builds empathy and inclusion, which are crucial in the modern workplace.
Under a commercial usage license, Mission One's valued partner in Poland, 4Results, applied its tool to execute simulations for 39 distinct firms, which resulted in 271 days spent by trainers delivering workshops utilizing the Mission One solution. The partnership has manifested in a significant, two-times growth in the revenue value of training days under the license granted to 4Results.
Mission One's solution has already been introduced to numerous organizations across various industries, including Żabka, Metsa, Bluerank, Pierre Fabre, Strabag, Henkel, Adamed, Scania Polska, Kompania Piwowarska, Crystal Equation and Allegro. In the last 12 months alone, this has led to the training of an impressive 1,044 managers.
Reshaping corporate training
The solution developed by Mission One has received acclaim and recognition. It was honored at the Netty Awards, celebrating innovations in digital space, where the application of Mission One's VR for communication and leadership training was specifically highlighted. Key features contributing to this success include innovation in learning, narrative-driven content, emphasis on collaboration, dual-app capabilities with analytics, and high-quality design.
With the project utilizing the technical advancement of HTC VIVE headsets, Mission One positions itself at the forefront of the digital learning revolution, offering opportunities for continued innovation. The company aims to ensure that its solutions remain relevant and beneficial to users, which can be achieved thanks to constant feedback from trainers and participants.
The adaptability of HTC VIVE's technology allows Mission One to easily provide training in different ways – as in-house sessions, remote workshops, and large-scale organizational training events. Mission One's journey with HTC VIVE exemplifies the power of VR in reshaping corporate training, fostering innovation, and driving positive change within organizations and industries.
"It's incredibly heartwarming to see client teams not just engaging with the platform but genuinely benefiting from it. In many ways, this project has reaffirmed my belief in the potential of technology as an enabler of human growth," summarizes Andrzej Domański.