<< Back to Stories
Virtual Reality Delivers Immersive, Remote Collaboration for Automotive Design Teams
With HTC VIVE, NVIDIA, and Autodesk in their corner, automotive OEMs are evolving the design process, and shortening the time it takes to go from concept to model.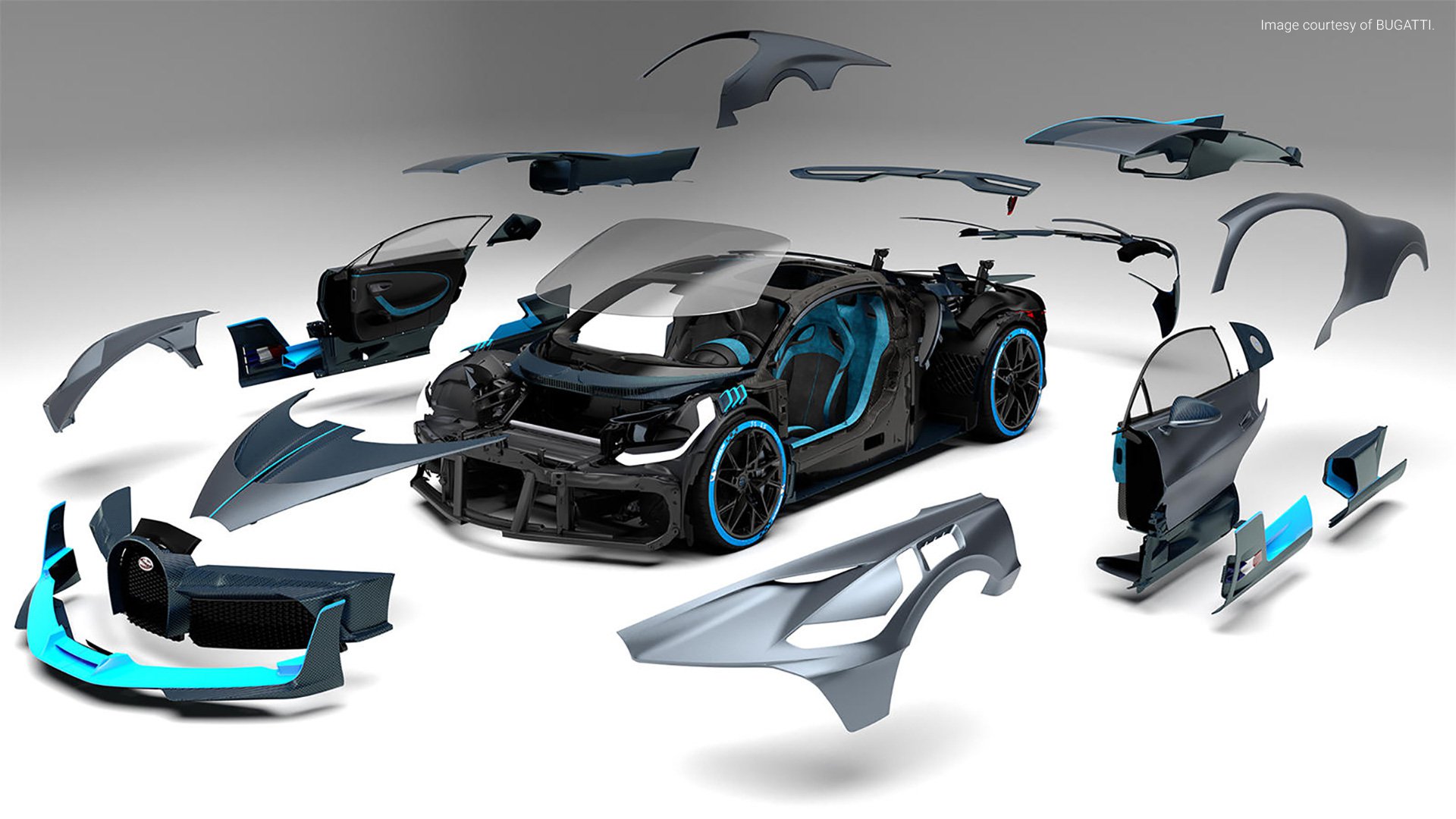 AEC | Collaboration | Design/Visualization
4 minute read
Creating an automobile from scratch is no easy feat. From concepting the look of a new model, to sculpting it from clay, to designing intricate pieces that give the car its personality, and collaborating with teams around the globe; it's a complex process to say the least. Now, do it in an even shorter timeframe than the other guy, and create a whole lineup with nuanced features to suit an increasingly critical consumer segment.
To better suit the growing demand for global team collaboration and the ability to efficiently develop products, auto manufacturers have turned to virtual reality. Teams from around the world can join with their colleagues in the Autodesk VRED environment to work together on the virtual production of their vehicle models. The combination of Autodesk VRED software, powered by NVIDIA Quadro RTX, and experienced through the VIVE Pro Eye delivers an immersive design experience for many of these top automotive companies.

Hyundai Motors and the Migration to VR-Assisted Design
Hyundai Motors understands the need for a more integrated approach to model development. The many rounds of design feedback with numerous teams that has always been a staple in the automotive development process is now giving way to VR-assisted car design, and Hyundai was quick to adopt it to positively disrupt their process.
In March of this year, Hyundai created the world's largest VR design evaluation facility, where 20 designers, engineers, or key stakeholders can simultaneously log into a virtual environment to evaluate a car design. The Autodesk VRED powered by NVIDIA Quadro RTX system, in conjunction with VIVE Pro Eye's foveated rendering provide a cutting-edge experience, allowing for the most minute detail to be reviewed, discussed, approved, or revised.
No stone is left unturned within the VR experience, by just moving the controller teams can modify the virtual car's color, texture, and parts. From there, teams can also view a high fidelity rendering of the car's interior, envisioning what the car buyer may actually experience once the car model rolls of the line and into the dealership. To add an additional element of realism, cars can be placed in real world backgrounds, truly illustrating every facet of car design.
Hyundai has embraced VR-assisted car development and are looking to migrate their current process to fully virtual designing in the future.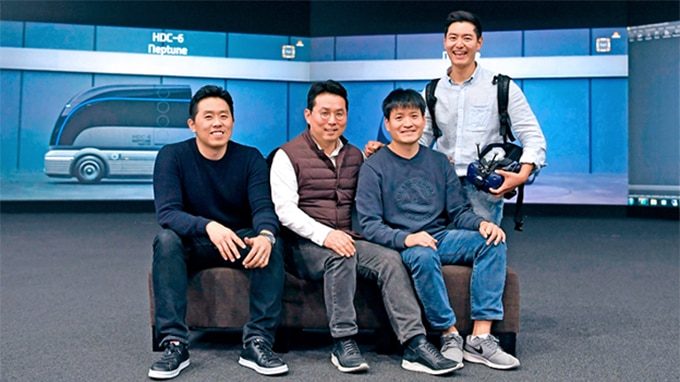 Hyundai Designers involved in the VR-assisted evaluation process. From left, Senior Researchers Choi KyungWon, Park YoungSoo, and Bae ByoungSang, and Researcher Kang SungMook


BUGATTI's Virtual Design Process Marries Tradition with Time and Cost Savings
BUGATTI is no stranger to the quality and craftsmanship that goes into creating automotive works of art. The core tradition they uphold with any car design is that it starts with the creative vision of the individual, in which the vision comes alive on the screen. Once a consensus has been reached, the digital model is transferred to a physical model made from rigid foam. With the inclusion of digital design in the creative process, it has helped the product development team cut a quarter of the costs and half of the design time. Thanks to VR and 3D technology, the BUGATTI Divo was designed in six months instead of the year it usually takes.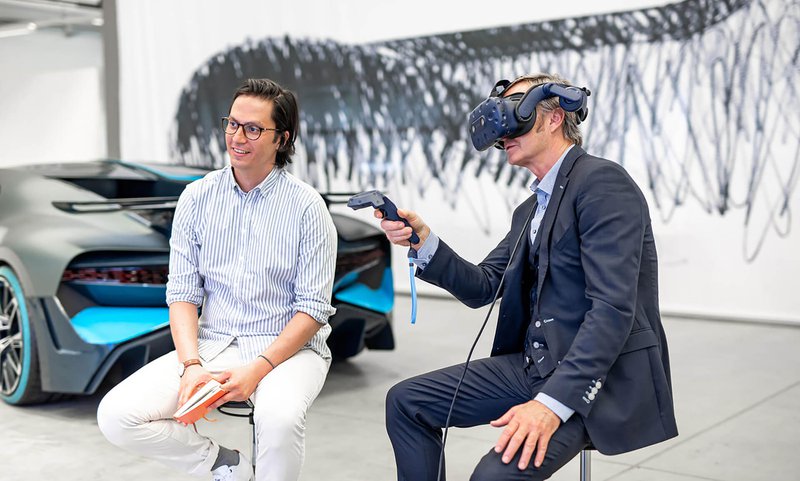 BUGATTI is visualizing design through VR. On the left it is Head of CAD and Visualization, Ahmet Daggün and on the right is Chief Designer Achim Anscheidt.

Ford Holds Realtime Design Reviews in the Virtual Space
The pandemic wasn't going to stop Ford from doing what they love to do, designing cars. So, the company issued VR kits to Engineers and Directors across the globe in order for teams to maintain the momentum of designing the next Ford vehicle. But it didn't stop there.
To ensure everyone had a chance to review designs, Ford created a live virtual design review in a digital airplane hangar, created in both 2D for viewers to experience without VR equipment, as well as the complete 3D models for those in VR. The models being showcased were #TeamFordzilla, Ford's e-sports team, each car being designed by #TeamFordzilla's designers.
Utilizing Autodesk VRED with NVIDIA Quadro RTX workstations, the teams were able to create realistic, high fidelity virtual models that could be shown off without a VR headset. But, when paired with the VIVE Pro and VIVE Pro Eye, the experience took the event to another level, as engineers and attendees could really see how different light sources create different reflective patterns on the models.
The live design review session, featuring Moray Callum (VP, Ford Design), Amko Leenarts (Design Director, Ford of Europe), Joel Piaskowski (Ford Global Design Director, Cars and Crossovers), and Kemal Curic (Design Director, Lincoln Motor Company), allowed everyone to experience how the Ford team goes through a design review and to learn what aspects of design are important to them.
The automobile industry is but one of many industries whose complex development process has been made easier, more efficient, and more collaborative thanks to the work of VIVE, Autodesk, and NVIDIA. Ultimately, through the evolution of digital research and design, which leverages virtual reality, advanced design software, and powerful graphics processing; automobile manufacturers will continue to be at the forefront of innovation and better serve the needs of the car buying public.