<< Back to Stories
4 Help VR enhances first-aid with HTC VIVE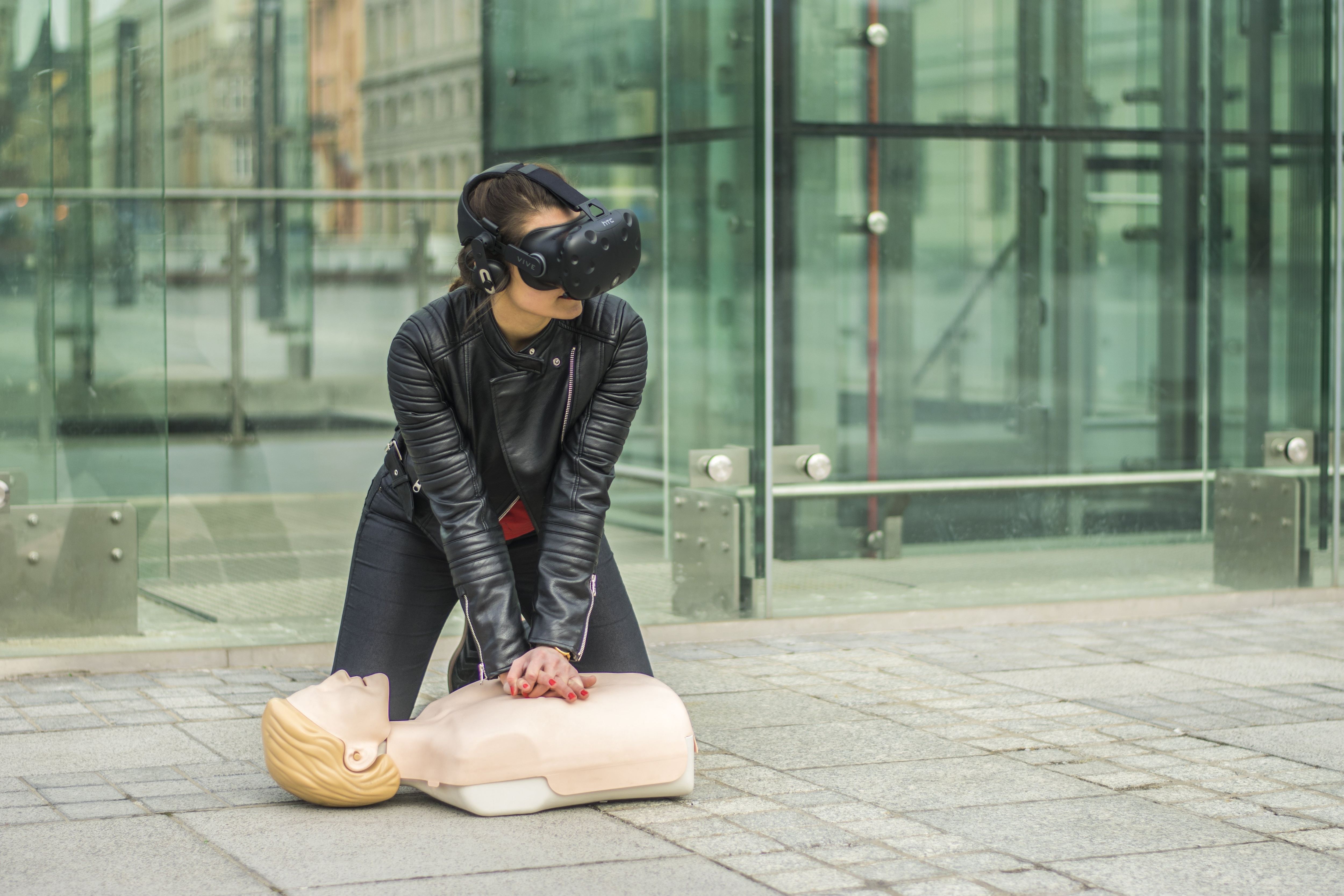 Healthcare | Training/Simulation
5 minutes read
Discover how immersive virtual reality turns potential witnesses of cardiac arrest into trained first-responder superheroes – and saves lives along the way.
Sudden cardiac death is a major global public health issue, estimated to account for up to 20% of deaths in Western societies. 4 Help VR, an innovative technology company based in Poland, looked at this problem and asked if there was any way they could mitigate it. Their solution? To create more life-saving "superheroes" via the power of virtual reality and HTC VIVE.
Preventing the preventable

More than 356,000 cardiac arrests occur outside of a hospital in the US alone, and every minute spent without CPR or first aid from a witness decreases survival chances by 7–10% . However, recent research has found that if lay responders quickly provide effective assistance for cardiac arrest victims, the chances of survival increase. So how to turn such lay responders into swift, life-saving superheroes? Train them in virtual reality!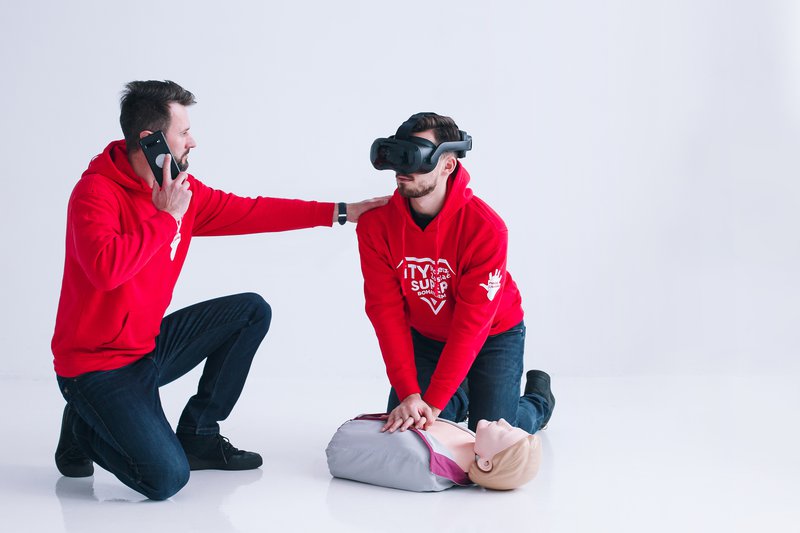 "There are situations in the life of every human being in which courage and decisive action are essential," says Grzegorz Kobuszewski, CEO at 4 Help VR. "In the face of an occurrence where human life is at risk, our reaction and decisive action may prove crucial. Therefore, our goal at 4 Help VR is to prepare people for such emergency rescue scenarios. Everyone can become a superhero."­
4 Help VR creates and develops innovative training programs that helps individuals learn how to save human life while maintaining safety principles. HTC VIVE plays a crucial part in this training. Thousands of people worldwide have donned VIVE Focus 3 VR headsets and entered virtual worlds, where they can expose themselves to cardiac arrest situations and learn how to react quickly, effectively, and, hopefully, in a way that can save lives in the real world.
Enhancing first-aid
First aid is traditionally taught in a room using a CPR mannequin. (CPR = cardiopulmonary resuscitation – an emergency life-saving procedure performed when the heart stops beating). While this remains a reliable teaching technique, it does not replicate many details of a real-life cardiac emergency. For example, a cardiac arrest will not always occur in a quiet room with minimal distraction, nor will the victim remain as static and unmoving as a mannequin. As an alternative, 4 Help VR introduces real-world interference into its first aid training to better prepare potential life-saving heroes.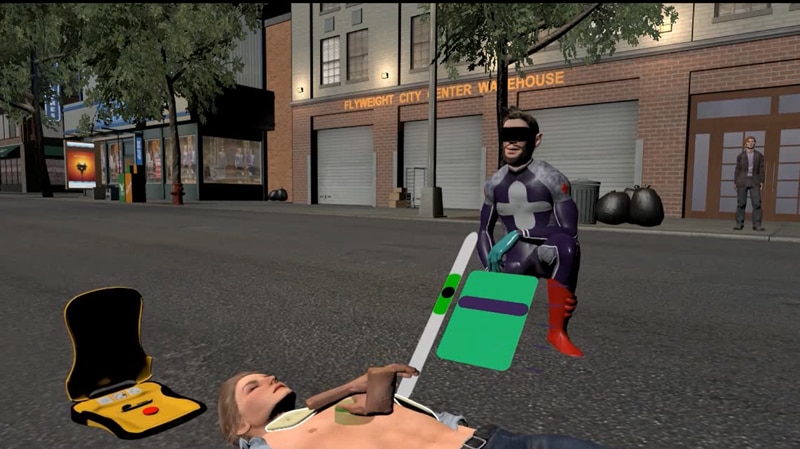 "4 Help VR uses VIVE to virtually transfer trainees into a fictitious, life-threatening cardiac event, where a victim on the street requires help," says Kobuszewski." A virtual trainer named Paradmedicus is on hand to guide users step-by-step through the first aid required to save a life. Instructions are delivered via gestures, subtitles, and audio signals."
A CPR mannequin is still used in 4 Help VR's training scenario, but in this instance, the real-world mannequin is installed with a proprietary sensor, enabling it to act as its digital twin in the VR world. "The sensor gives ongoing feedback about the level of pace, depth, measurability, and chest relaxation, and monitors the quality of CPR provided," says Kobuszewski. "Thanks to a precise instructional and educational algorithm, the participant can correctly learn how to conduct CPR while dealing with the kind of distractions they might encounter on a real, busy street."
4 Help VR offers all of this without needing to hire actors or alarm the participants involved in the training session. "Our virtual reality simulation educates and amuses," says Kobuszewski. "We can introduce elements of gamification that create unforgettable moments and guarantee good fun while still educating on the important issue of emergency first aid."
The benefits of immersive VR

Educating first aiders via VR is a novel approach and one with the potential to increase the capability of those providing first aid compared with those who have learned the process using a dummy in a non-VR environment.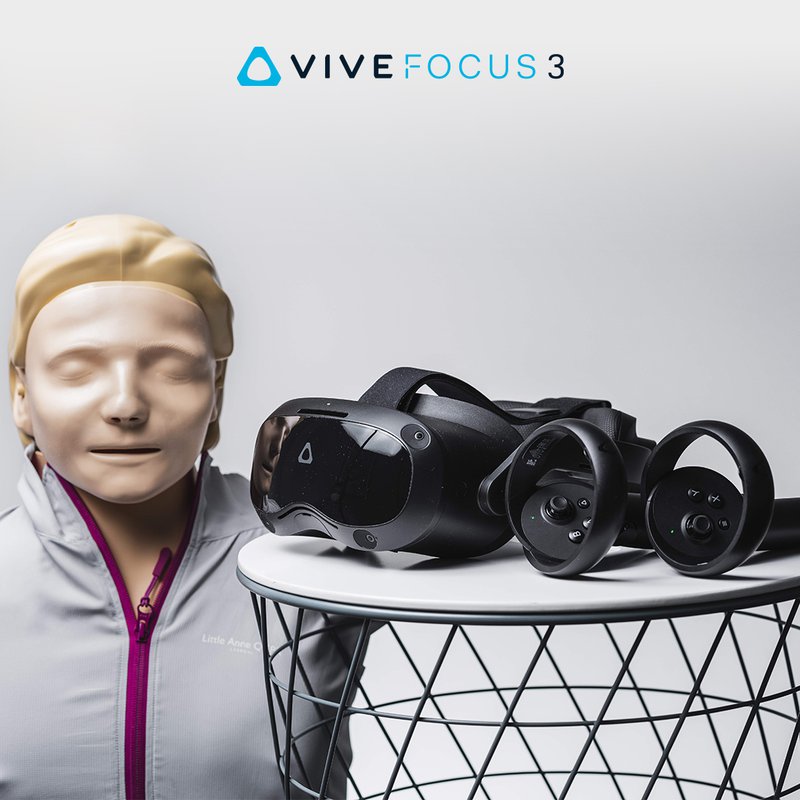 "The latest virtual reality research shows that if we experience something in a simulated world, our brain perceives the triggers as real, which translates directly to the emotions we experience," says Kobuszewski. "As a result, the next time we experience that situation in the real world, we will feel more confident, our reaction to the threat will be faster, and our actions will be more effective.

"Thanks to virtual reality with VIVE, we can increase the reality of such training and create an analogous real-world experience of saving an injured person's life," continues Kobuszewski. "Synchronization of image, sound, and kinesthetics raises and educates the participant's practical skills while learning the correct operations of CPR. And by increasing self-confidence in real life-threatening situations, we increase witness response effectiveness and the number of potential life-saving superheroes!"
Kobuszewski adds that the comfort of VIVE's headset is key in keeping trainees immersed and focused on the task at hand. "VIVE's technology is easy to use and comfortable, and trainees can easily become immersed in the simulation when wearing the headset. The more immersed our users feel, the more beneficial the training. That's critical to what we're doing."
3,000 trained superheroes
4 Help VR's training program, developed in partnership with paramedics and medical professionals, has been rolled out worldwide – and it's certainly proving effective.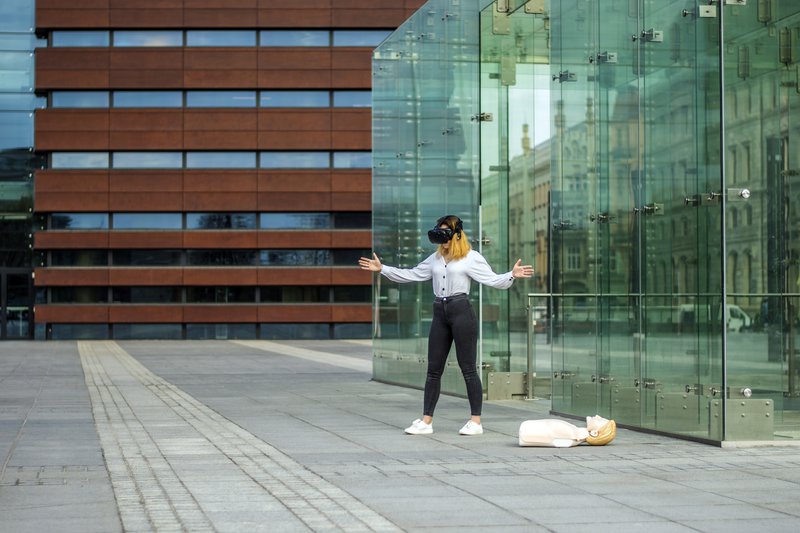 "4 Help VR has users in diverse industries," says Kobuszewski. "Our virtual training is used by children at school, students of medicine, paramedics in training, and companies that want to train their staff in first aid. The technology is, of course, also used to train first responders such as firefighters and soldiers, and anywhere else human life could be threatened, such as with drivers, divers, parachuting schools, and so on."
To date, more than 3,000 people have become trained superheroes via 4 Help VR and VIVE, and the company has no intention of stopping there.
"Saving life and increasing survivability are very important to us, so we continue to push the message about cardiac arrest through our activities and educational efforts," concludes Kobuszewski. "We're pleased to have VIVE partner with us on this journey as we train more people and save more lives."