<< Back to Stories
The Third Floor Uses VIVE to Help Creative Teams Virtually Scout Sets and Locations in Film and Television
VR becomes a key component to facilitate real-time, remote early-stage planning.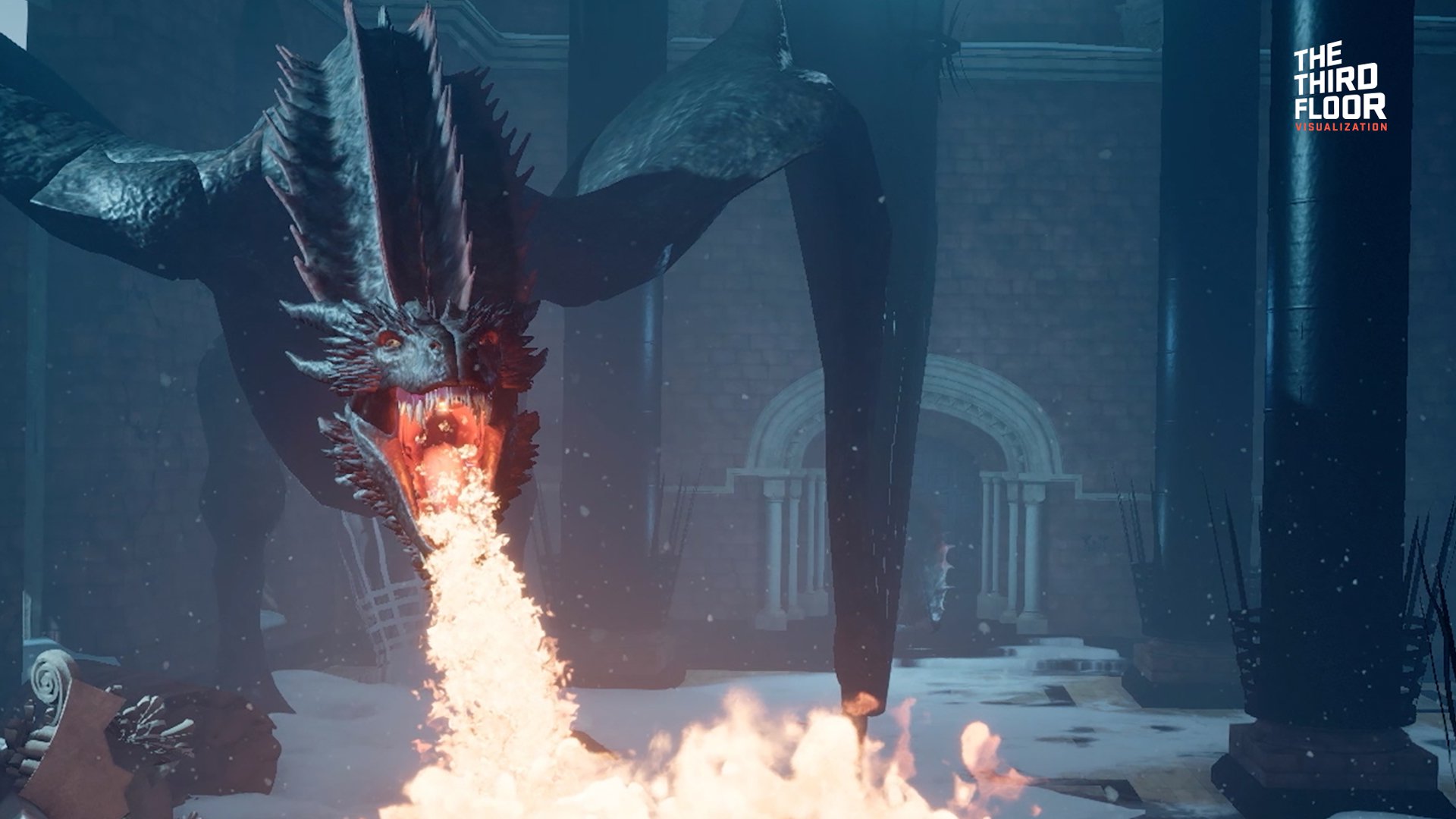 Design/Visualization | Entertainment | Article
3 min read
THE THIRD FLOOR is a company that supports the creation and production of many types of entertainment projects through digital visualization. One of the challenges their teams have been working to solve is how to use the virtual world to inform real-world filming, including locations and sets. Physical sets have a primary purpose to support the narrative of the story. Typically, the art department will conceptualize their designs and produce a small-scale "card model." The director and other key creatives study the small physical model and try to imagine how the set will function once fully constructed. They plan shots as best as possible with the card model; however, it is difficult to know if the set will work for the planned shots until construction is complete. THE THIRD FLOOR saw an opportunity to use the virtual environment to view a 3D version of a set, location, or prospective design, and allow film collaborators a more immediate and efficient way to plan.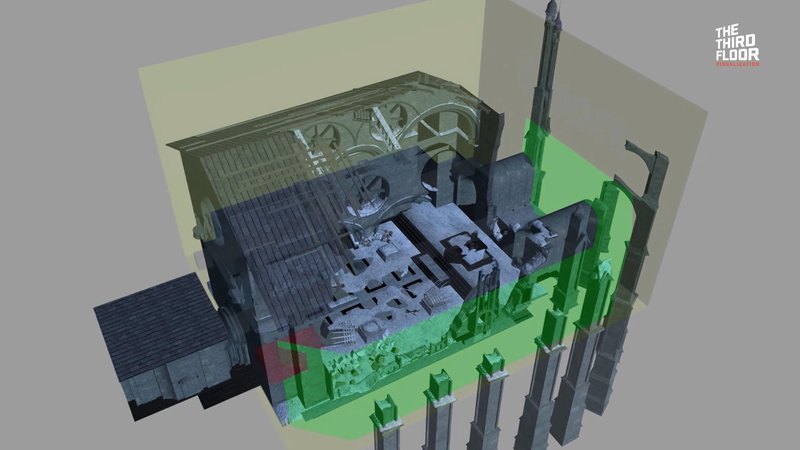 For a show like HBO's Game of Thrones , with multiple units working simultaneously in different locations, early planning and visualization play a critical role in decision making. Once built, large, physical sets are difficult to modify.  As the series prepared for its final and most ambitious season, THE THIRD FLOOR developed a bespoke VR virtual scouting system called Pathfinder. Using Pathfinder, which allows the operator to explore visuals in real-time via the game engine, anyone who needed a virtual preview could walk through a proposed location or set build . Using assets from the art department, production design team, or previz team, the system allowed virtual versions of key sets from King's Landing to Winterfell to be scouted ahead of final construction, with tools to move walls, frame with a virtual viewfinder, and walk around within the set. THE THIRD FLOOR's crew even scanned potential shooting locations around Belfast, creating photorealistic 3D environments for Pathfinder use. Using drones with Lidar scanning, real locations were mapped and brought into VR, where they could be explored in Pathfinder through VR from HTC VIVE Pro .
"The HTC VIVE PRO is an integral part of our Pathfinder Virtual Scouting solution. The tracking was a very important feature as we wanted to give the user freedom to move around a space. They need to be able to walk up to things, peer around corners, inspect details, kneel, and explore things in the same manner you might do on the real set. The controllers were also a very important aspect of the VIVE Pro system for us. We built many tools for the user to take advantage of by using the controllers. We found that the VIVE Pro controllers offered a superior experience for our professional users." – Eric Carney - Founder/Global CTO, VFX Supervisor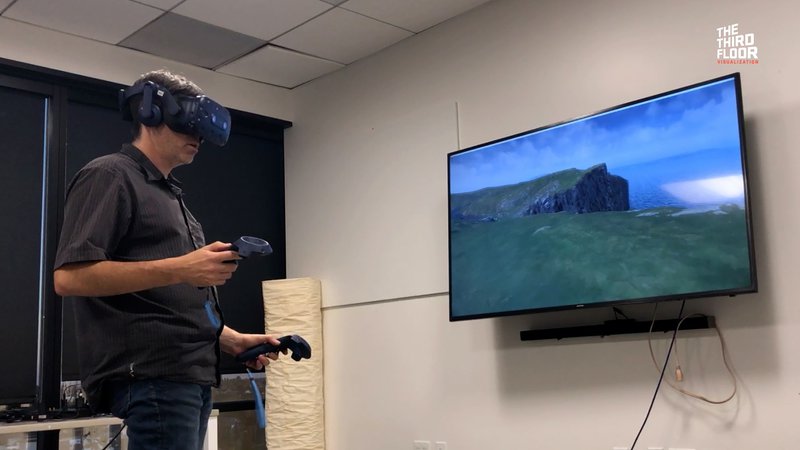 Key creatives can teleport around a location instantly, reaching any part of the terrain. They can change to a different remote location or travel to another set instantly.
A scaling tool allows the user to position themselves anywhere within the geometry. The system can also simulate the sun path for any time of day and any day of the year, allowing evaluation of different lighting considerations at the location.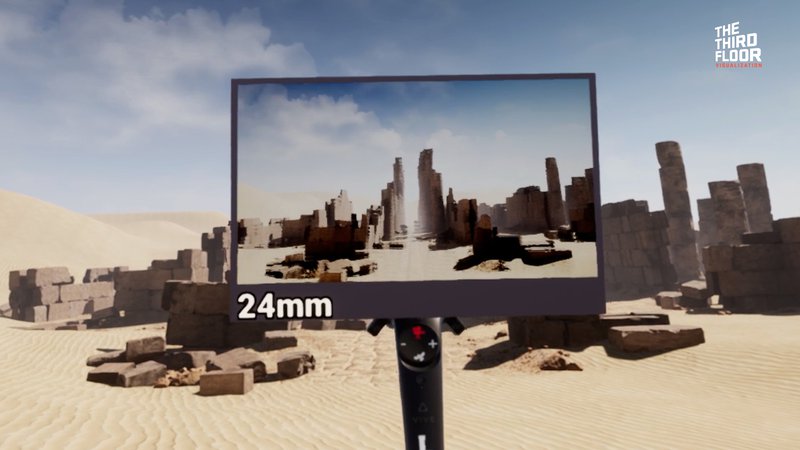 A virtual viewfinder offers multiple real-world camera and lens combinations for the director of photography to start developing coverage. Swapping lenses can be done at the click of a button. Saving screenshots for reviewing later is also an option. Group meetings led by a director or DP can use the HTC VIVE Pro with Pathfinder to project the first-person view onto a connected monitor for team members to see. Features in Pathfinder like annotations, measuring tools, and laser pointers help facilitate these conversations. This new tool for filmmakers offers freedom and the capability to explore creative ideas that wouldn't be possible any other way.
"Using Pathfinder, we can enable Virtual Scouting sessions that make it possible to refine sets based on filmmaker sessions before construction begins. This leads to sets that are better suited to tell the story the creatives want to tell and ultimately a better creative result. Pathfinder sessions have also allowed directors and cinematographers to better plan how they want to film the scenes in those sets, and what parts of those locations or sets will be seen. They can explore different shots and determine what is going to work best for their scene." – Eric Carney - Founder/Global CTO, VFX Supervisor
---
About THE THIRD FLOOR
The Third Floor is the world's leading visualization studio. They use the virtual world to imagine, plan and problem solve for stories in film, television, games, VR and themed attractions.
Learn more about Pathfinder .