<< Back to Stories
How Two VIVE X Companies are Helping Students and Researchers Learn Remotely
VR is offering an engaging and immersive way for students and teachers to keep up with their studies.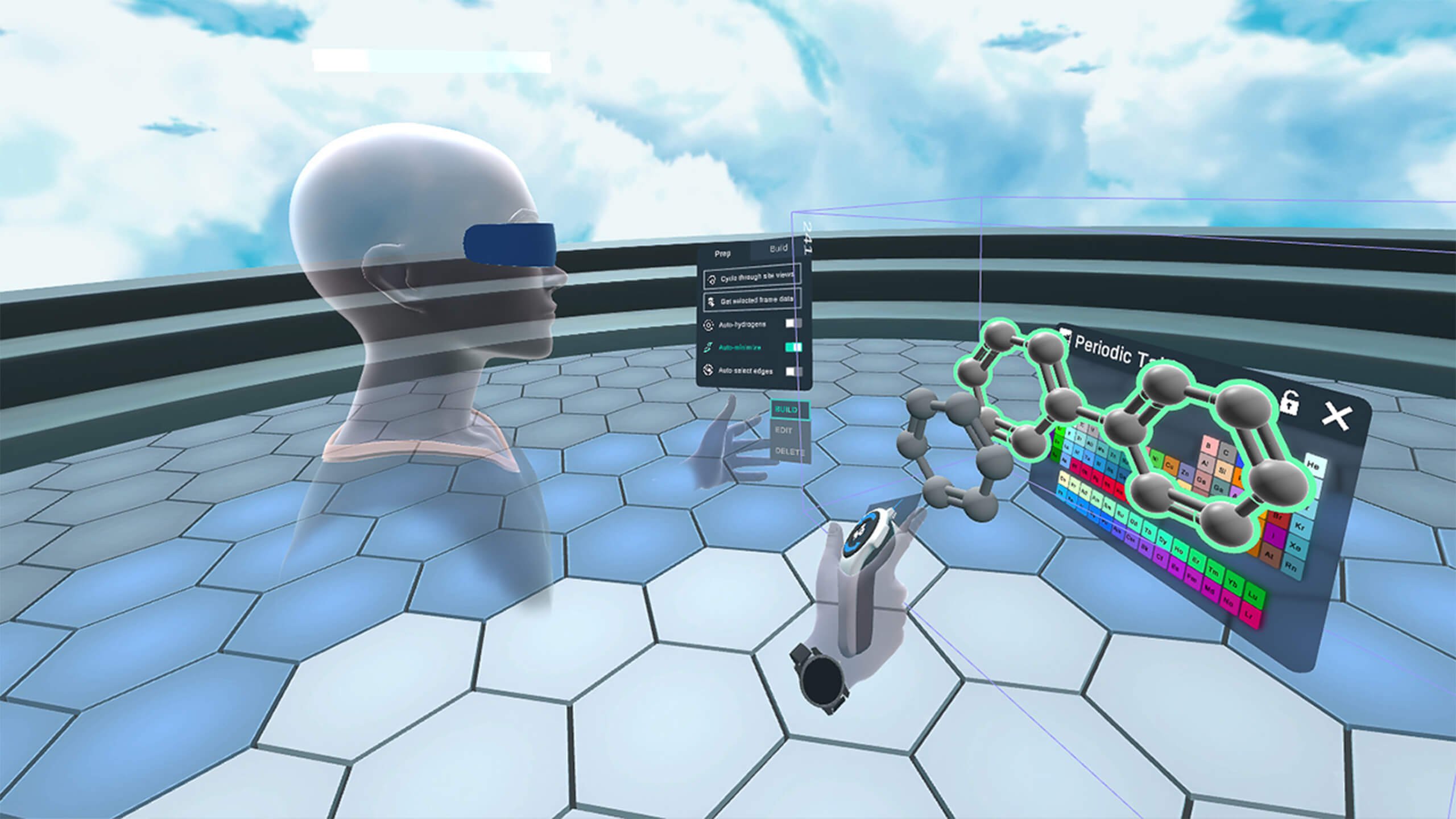 Education | Design/Visualization | Article
5 min read
Due to the immersive and interactive nature of the technology, VR is becoming a valuable supplement to traditional pedagogy methods in and out of the classroom. With classrooms being switched for living rooms right now, VR is offering an engaging and immersive way for students and teachers to keep up with their studies.
We talked with two VIVE X alumni who are giving complimentary access to their software during this time to help students and researchers continue their education and important research while at home.
First, we spoke Emilie Joly, CEO/Co-founder of Apelab who shared how their VR visual programming toolkit, Zoe , is helping both students and teachers connect remotely and challenge their critical thinking. Next, we chatted with the team from Nanome who shared with us how VR presents a unique and highly effective way to teach chemistry as well as how their software is currently being used by researchers around the world to study COVID-19. In the end, they all share their advice on how to get up to speed using VR as a remote learning tool.
Below is our first interview with Apelab CEO and Co-founder, Emilie Joy: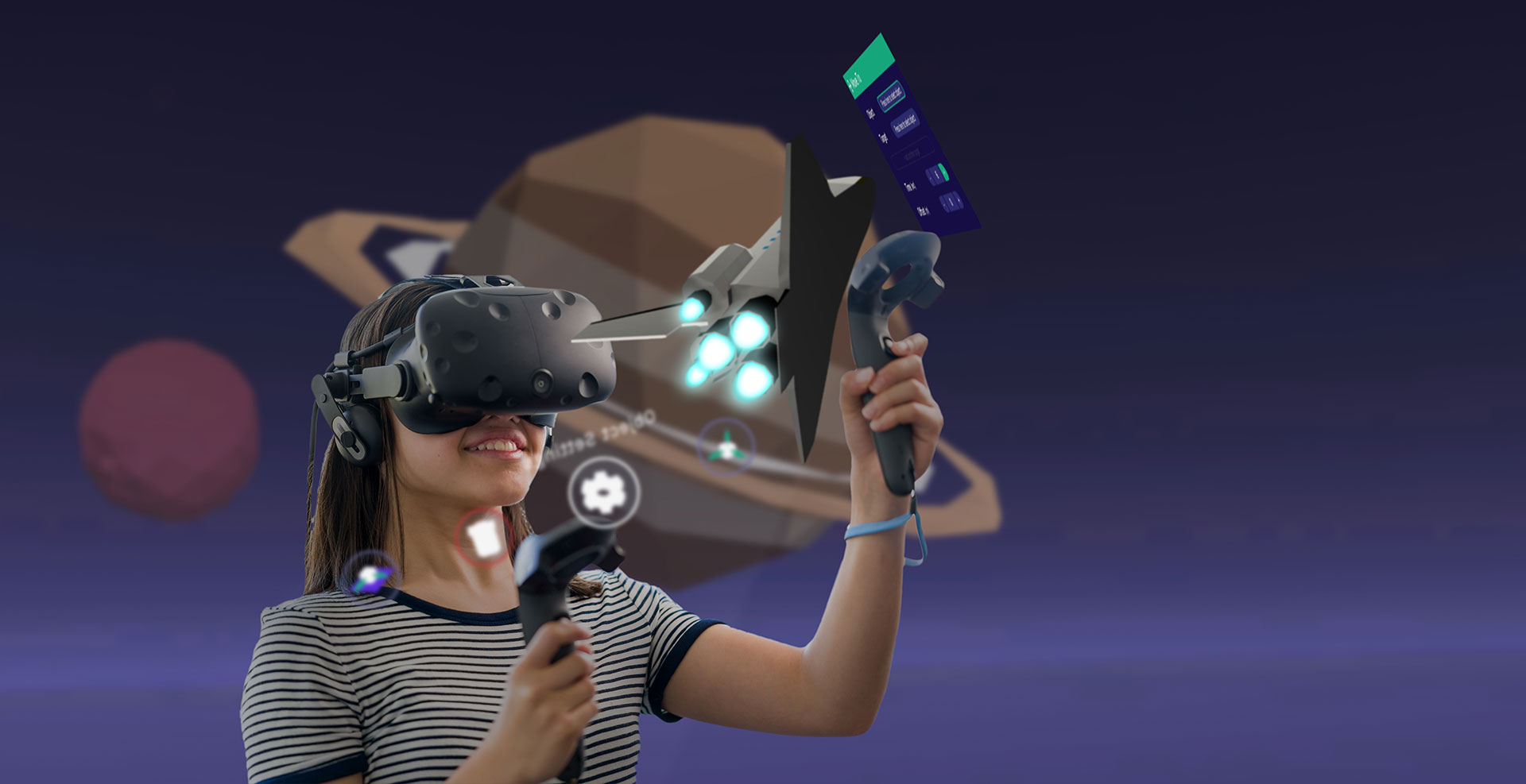 Can you give us a little more background on Apelab and your VR visual programming tool, Zoe?
We started working with VR headsets back in 2014 with an interactive animated series that reacted to the user's gaze. In order to do this we started developing a tool – named SpatialStories back then – that would allow the creative team to develop themselves without asking every time programmers to do it for them. That was the beginning of Zoe. From that point on we have been developing a solid layer on top of the Unity game engine that allows non-coders to easily create interactive VR and AR experiences, and regularly adding new functions as immersive hardware evolved. Today, the Zoe toolkit consists of a Unity plugin and a standalone in-VR creation and programming tool. A mobile version for smartphones is also on the way.
What are some of the benefits associated with using VR as a learning tool?
More than using VR as a learning tool, it's really the act of creating for VR that becomes a learning journey. The technology/hardware by itself has not proved to increase learning, although motivation and excitement are clearly higher. What Zoe offers is a way for students to be empowered, to become active agents for the future of work. Zoe becomes a communication tool where students gain critical thinking and find themselves challenged to solve problems and find the best way to teach others what they understand of a given subject.
With so many schools now having to operate remotely, how can Zoe help them continue to provide quality education to their students?
Zoe offers professional development for teachers covering fundamental concepts for immersive creation as well as basic guidelines for using Zoe. They learn at their own pace and need, and connect remotely with their students. Content is regularly updated so they can keep up to date with the evolution of the technology. Special resources for doing remote activities are also being posted weekly so teachers can already start the projects with students working from home.

How can students and teachers take advantage of this special offer?
We are now offering licenses to all students and giving a discount for professional learning. It is an opportunity for teachers to start their own Zoe journey, learning the basics while providing activities for students that don't necessarily require a headset at home. We are going to launch the mobile version of the Zoe standalone application soon so anyone will be able to use Zoe from their smartphone or tablet as well.
Do you have any advice for students and their teachers who are using VR for the first time?
If they have the chance to own a headset I would recommend testing everything they can. They will start to identify what is a good VR experience, what are the key elements that make an experience clear for the user. It will also give them a sense of the controllers and the navigation with this technology that already has some standards. Using Zoe, they will be able to easily start creating environments, placing assets and of course, giving them life by programming behaviors.
Next is our interview with the Nanome team including Steve McCloskey, Founder CEO, Keita Funakawa, Co-founder COO and Edgardo Leija, Co-founder CXO (Chief Experience Officer).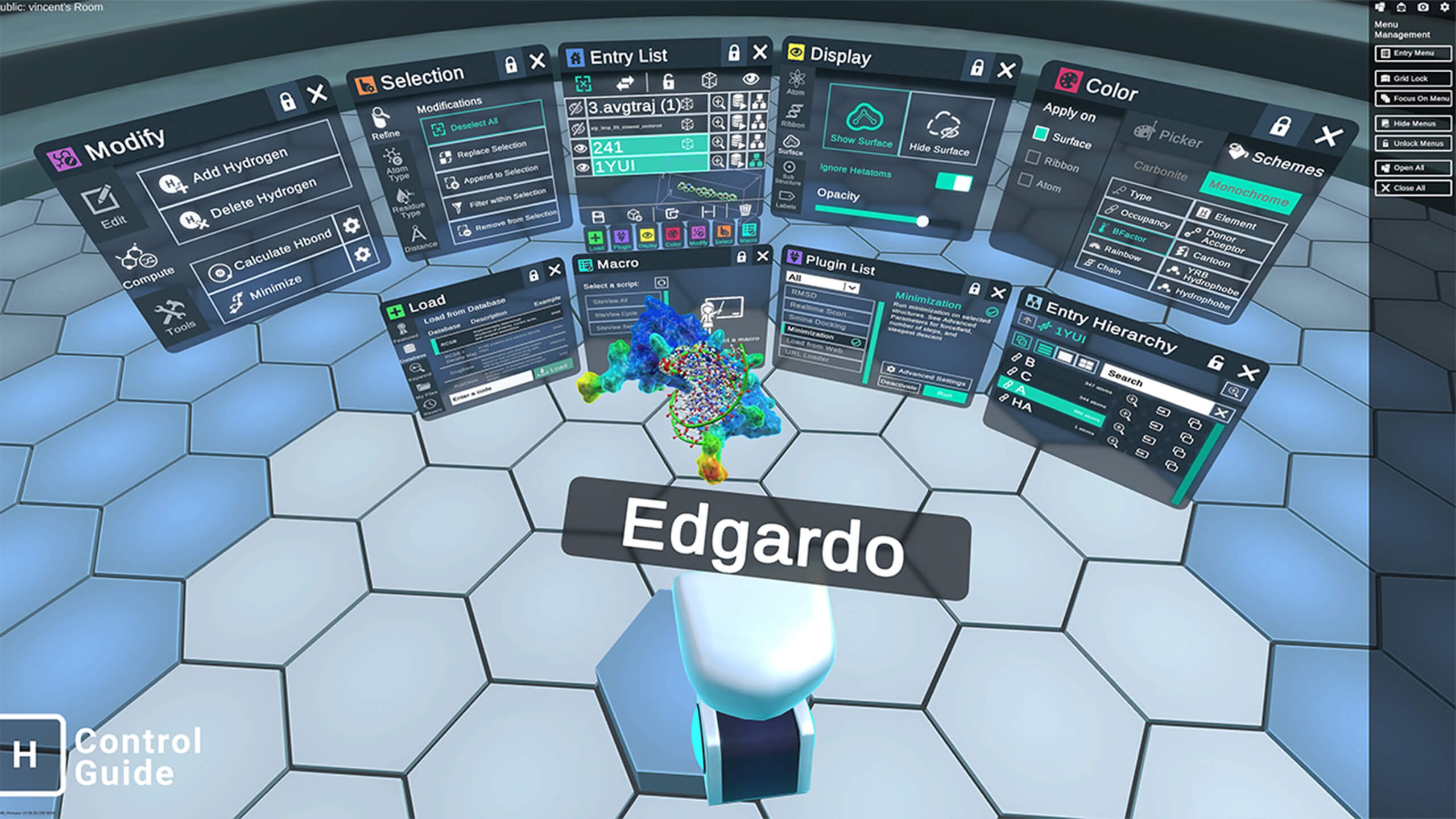 What is Nanome and how is it uniquely suited for VR?
Nanome is a software platform for designing and simulating molecules in virtual reality. Nanome is the next step in computational/medicinal chemistry, structural biology, and beyond since it allows scientists to collaborate on molecular structures in real-time. Scientists currently collaborate on 3D structures via 2D interfaces and video screen share, resulting in information loss of their scientific data and loss of social cues that arise in real-life interactions. Existing computational chemistry tools make effective calculations but are hard to use, so very few scientists fully leverage them. With Nanome, people can intuitively interact with their data in VR and gain 'instantaneous' insights about their data while sharing a common workspace with their colleagues, Can you share how
Nanome is being used right now to combat COVID-19?
- Recently, we hosted a VR session ​livestream​ with SynBioBeta. Robert Scoble (Tech Journalist), Philip Rosedale (founder of Secondlife), and Rob Rhinehart (founder of Soylent) and Steve (our CEO) explored the coronavirus molecular structures in VR + Nanome. This highlighted some of the work that we are helping with on antibody and peptide development. Antibodies can be engineered with Nanome to be more effective against the Coronavirus proteins to prevent entry into human cells.
- Last week we announced ​a call to action​ to our users to design potential solutions for COVID19 in Nanome. Since then, ​an article was published​ about a university researcher from Ontario actually designing solutions in Nanome. This global collaboration is actively targeting a protein in the Coronavirus which breaks apart other proteins. In Nanome we designed 3 small molecule drug candidates which may bind to this protein and stop it from breaking apart other proteins, thus helping fight against Coronavirus infections.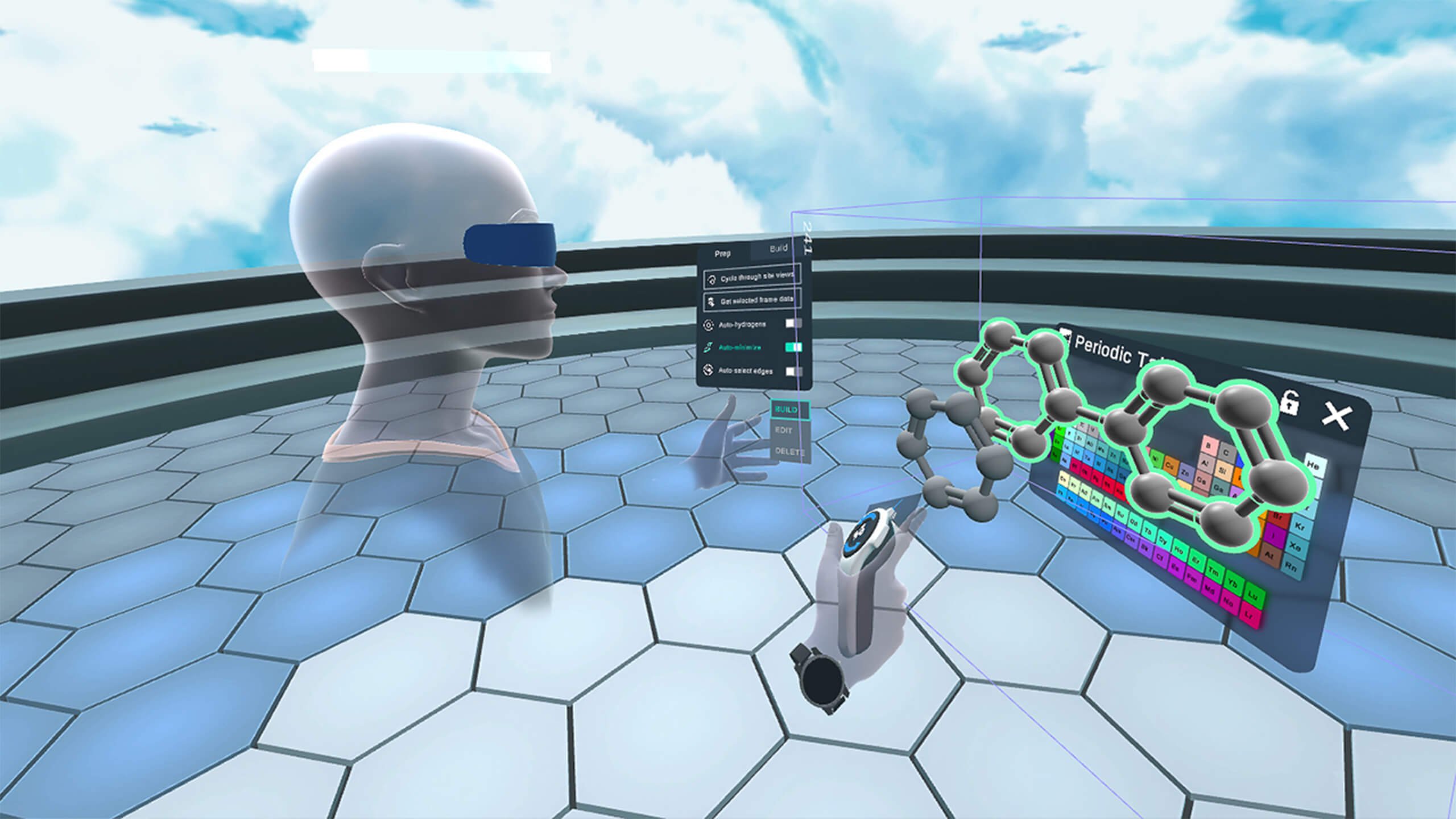 - We also have ​Pharma companies in Italy​ to ​Government Research Labs in Australia​ all using Nanome to tackle COVID19. We are helping with research efforts in professional fields where they are working on vaccine development and using Nanome to better understand the structures of the Sars-Cov-2 Novel Coronavirus which causes Covid19.



You also announced a new program for schools and companies impacted by the virus, can you tell us more about this initiative?
Many companies are struggling to transition to being fully remote during the Coronavirus lockdown. The biotech and pharmaceutical companies we work with, although exempt, are transitioning to being as remote as possible. For companies working on the Coronavirus this has posed many challenges where everyone needs to work together while remote and send as few people as possible to the lab bench to make and test samples. Nanome helps groups like these work together from anywhere in the world through virtual reality, or our "2D mode" on mouse and keyboard. For any company working on the Coronavirus we can help get them set up with Nanome for free and aid in their research right away without going through the typical multi-month processes.
Our blog about our free/reduced pricing initiatives can be found here:
https://blog.matryx.ai/covid-19-nanome-vr-was-built-for-this-and-were-here-to-help-45f48012bbfd
In addition, the same software has also been used by over 250 academic institutions around the world. With schools closed for the foreseeable future, we are working with many educators that use Nanome to teach chemistry remotely. While screen share software has been a quick band-aid to the pandemic, the learning abilities that virtual reality offers compared to video streams are much higher due to increased 3D understanding of chemicals and the ability to interact with the structures.
Our software can help teachers and students continue their education by enabling social interaction and presence remotely. Recently, top ivy league schools have purchased classroom size license bundles to teach topics ranging from entry-level to advanced chemistry. The same institutions are also using Nanome for research, while some are researching the Coronavirus as well.
At a minimum, the software can replace physical ball-and-stick chemistry modeling kits which are still used the same way they've been used for decades, and Nanome can help explain complex 3D interactions in chemistry which balls and sticks cannot capture. Educators and students can port into a virtual room using a standard internet connection and get started with Nanome right away! Example​ ​video from the community: https://www.youtube.com/watch?v=stmn89UyRUo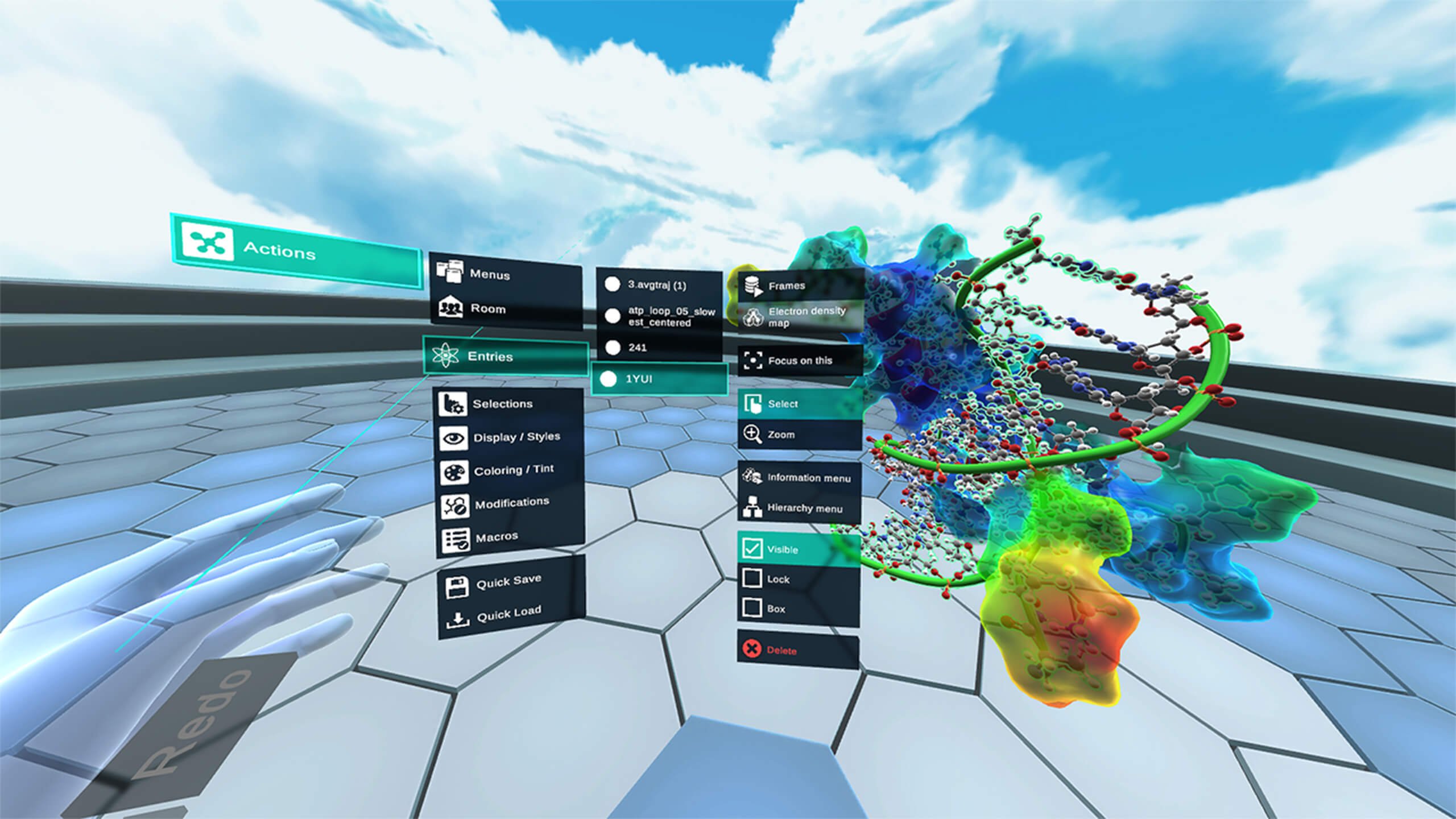 Do you have advice for those students, educators and researchers who are using VR for the first time to continue learning remotely?
"Watch a few videos on our Youtube channel at https://youtube.com/nanome to get a sense for all the ways it can be used, then jump into Nanome and get started yourself. There are so many possibilities for what to create from new molecules which might cure the Coronavirus to instructional scripted lessons which can be played back by students at their own pace. We would love to talk with you and introduce you to other researchers and instructors using Nanome today. Join our slack user group to meet everyone by emailing us at ​hello@nanome.ai​ to get started." -Steve
" ​Explorations and tutorials are your best guides. The best way I learn is by doing, making a mistake, and trying again. In VR, you always have a CTRL+Z. This is your chance to mess up as many times as you need to learn things you can't learn in reality." -Keita