Things you can do in VIVE Campus
VIVE Campus allows you to access a large, shared virtual space. Free users can access a shared public campus, while Pro users get access to their own private team suite.
Campuses include numerous venues big and small, including large conference halls, small offices, and even outdoor tables.
About privacy barriers
Privacy barriers keep conversations from carrying. Many areas include privacy barriers, preventing people outside the area from overhearing discussions in private chat. They can also prevent outsiders from seeing web screens.
Privacy barriers are marked by blue borders.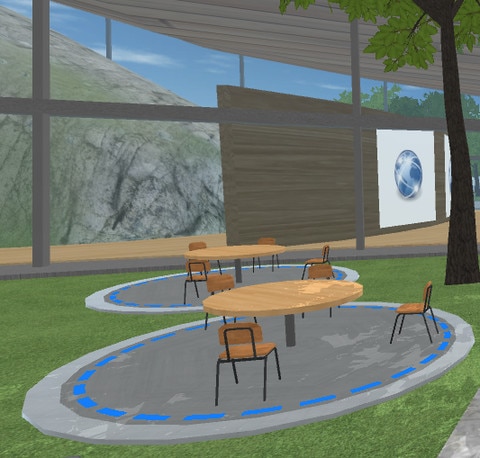 Some areas allow you to close doors to keep others from crossing the barrier unnoticed.
About web screens
Web screens are large, shared screens that support web browsing and presentations. They allow you to collaborate in real time with others in VIVE Campus.
Web screens can:
Browse web pages
Load web-based apps, online office suites, and video services
Show presentations in .pptx and .pdf formats
When you approach a web screen, click to activate it. You can use the mouse and keyboard to control the web browser, as well as upload presentation files or share screens.
Tip:
If the web screen is behind a privacy barrier, make sure you're inside the privacy barrier before you start clicking.