<< Back to Stories
Flint Systems' Forklift Training Simulator Powered by VIVE
Revolutionizing Forklift Training: Flint Systems' VR Simulator and HTC VIVE Technology

Manufacturing | Training/Simulation | Article
5 min read
In the ever-evolving landscape of vocational training, Flint Systems , a well-known VR solution provider, set out to reshape the way forklift operators were trained. Their ambition was to create a dynamic and immersive training tool to address the challenges of preparing operators for hazardous scenarios. Through the strategic use of VR technology and VIVE solutions, Flint Systems aimed to introduce a cutting-edge simulator that would not only elevate the training experience but also provide a safer and more efficient approach to mastering forklift operation.
The need for realism

In late 2021, Flint Systems secured an important contract from the Polish governmental Office of Technical Inspection (Polish: Urząd Dozoru Technicznego, UDT) to develop a comprehensive VR forklift simulator. The objective was clear: deliver a training tool that could realistically replicate challenging and dangerous scenarios, enabling operators to practice their skills in a risk-free yet authentic environment. "Traditional training methods often lack the ability to immerse trainees in real-world situations, leaving them ill-prepared to handle the complexities of forklift operation. At Flint Systems, we decided to address that challenge by letting people get involved in the experience and remember more details," explains Grzegorz Szatkowski, Vice President of the Board at Flint Systems.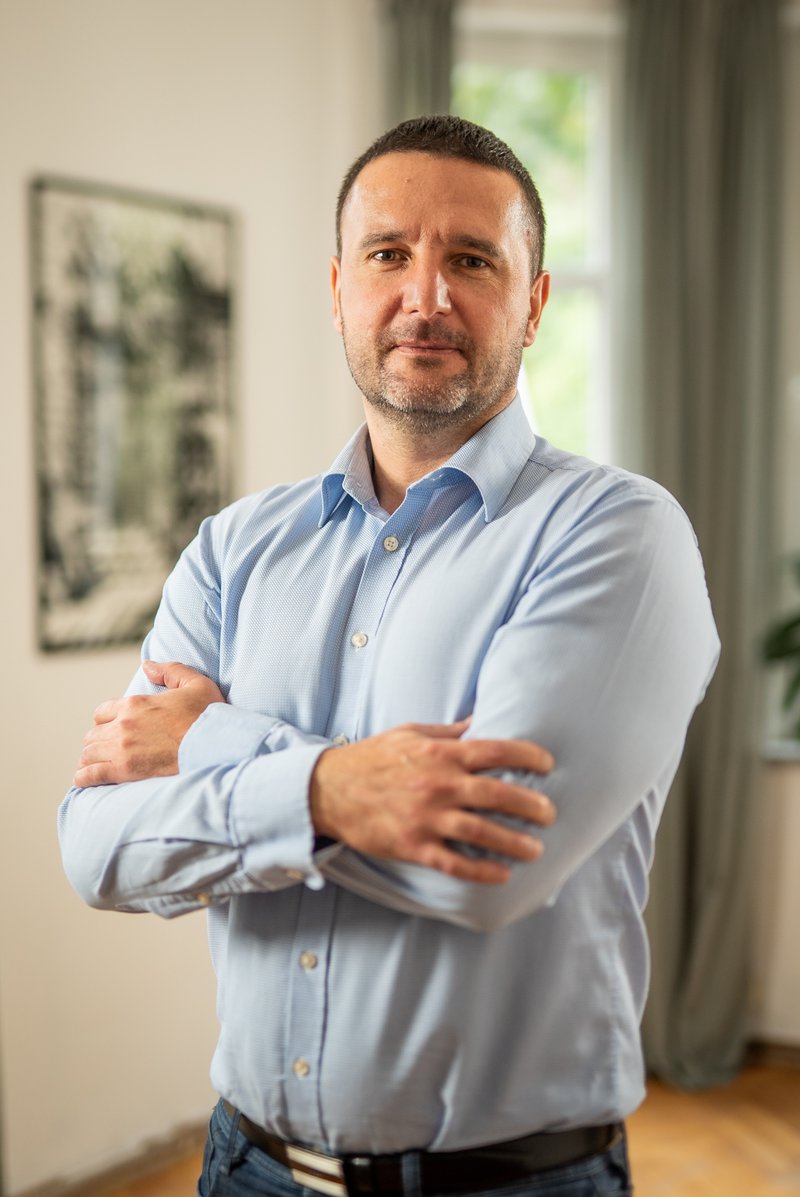 As upskilling and teaching soft and hard skills have become more and more difficult, many companies and sectors are searching for new ways to help create captivating opportunities for their workforce to learn and train. A report from PwC shows that technology gives multiple chances to accelerate training, with virtual reality leading the way. According to the study, trainees using VR may feel up to 3.75 times more emotionally connected to the content they are experiencing than classroom learners and 2.3 times more connected than learners on webinars or online courses.
Realism redefined in virtual reality
Flint Systems devised a state-of-the-art VR forklift simulator that leveraged the power of VR technology to create a unique training experience. The simulator transported trainees into a precisely crafted virtual environment mirroring real-world settings such as warehouses, loading docks, and obstacle-strewn areas.
The incorporation of a motion platform, steering wheel, pedals, and other hardware components further heightened the realism, allowing the operators to feel the vibrations, shifts, and movements experienced when operating a forklift. "These kinds of small details enhance the sense of authenticity, letting users feel exactly the way they do when they operate a forklift. This is a game-changer in the market of professional forklift training tools," points out Szatkowski.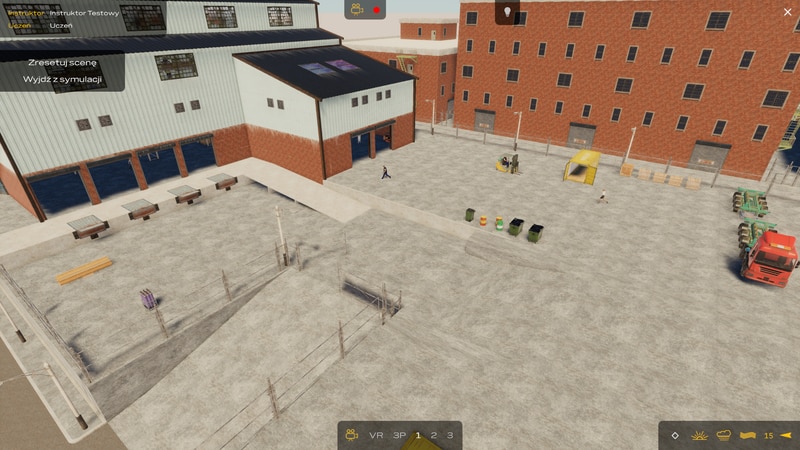 Advanced VR solutions give users a chance to face the different challenges that they may encounter while loading and unloading a truck, working with heavy load racking, or moving on a loading ramp, and even to learn appropriate reactions to falling loads. The simulator brings the trainee to a VR forklift where everything works exactly as in a real machine. This includes multiple sceneries and even configurable weather conditions or times of day, emulating the circumstances in which they may need to operate in real life.
More training efficiency with HTC VIVE
Flint Systems' choice of HTC VIVE VR technology played a pivotal role in the success of their simulator. As Szatkowski explains, the high-resolution visuals, smooth motion, and focus on user comfort offered by VIVE Pro 2 and VIVE Focus 3 contributed to the top-quality simulation. "We ensured that our product was built on a foundation of innovation and high-quality hardware. The HTC VIVE VR headsets proved indispensable in minimizing potential cybersickness effects on users, ensuring a seamless and comfortable training experience. Until recently, symptoms like nausea, dizziness, and discomfort often hampered the training experience. It is great to see how the evolution of technology and the quality offered by the HTC VIVE PRO 2 and VIVE Focus 3 headsets address the problem of motion sickness associated with the use of virtual reality equipment and enhance the overall training experience," says the Vice President of Flint Systems.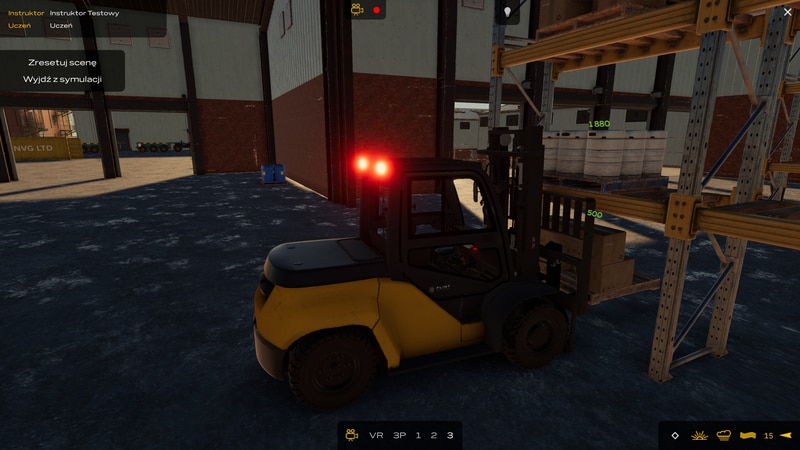 VIVE Pro 2 and VIVE Focus 3, with its easiness of deployment and balanced ergonomics, has proved to elevate the experience of trainees. Its submillimeter tracking accuracy helps them immerse themselves in a virtual world of simulation where the physics, functionalities, and behavior of the machines are perfectly reproduced. This gives the users the chance to interact with scenery elements and practice procedures in cooperation with co-workers at the same time.
Training supervised
"Providing a comprehensive training solution means that you must not only think about the experience of trainees but also give the right tools to instructors and supervisors. While developing our VR simulation, we took care to give them a holistic view of the training environment. This way, we were able to make sure that instructors could track progress, prepare and give users the right feedback, as well as tailor next training sessions accordingly so as to address specific areas for improvement," explains Szatkowski.
During training, instructors have the capability to observe trainees from various perspectives, aiding them in their development as forklift operators. They can observe challenges and obstacles from the trainee's point of view, as well as from the three cameras strategically positioned in the simulation area. Additionally, instructors can utilize a bird's-eye view to further analyze movements and evaluate operators' decisions.
One of the standout features of Flint Systems' VR forklift simulator is its multiplayer capability. Trainees can engage in cooperative exercises mirroring real-world scenarios, which often demand the collaboration of multiple operators, with no risk to people or equipment.
Pioneering excellence in forklift training
The company received positive feedback, which indicated that the VR simulator effectively met UDT's requirements. The simulator's benefits were diverse. It provided efficient training by emulating real-world scenarios and enhanced safety by eliminating accidents during training. At the same time, the solution proved cost-effective by reducing the need to incur the rental and fuel costs associated with traditional training.
"As a professional training tool, it accurately reflects the physics, functionalities and behavior of the machine while challenging trainees with everyday situations. From the ability to react instantly to unexpected situations to complex problem-solving in the process of loading and unloading –at Flint Systems, we focused on developing a solution that would comprehensively cover the needs of companies in the logistics sector and other industries," notes Szatkowski. Thanks to its versatility, demonstrated by the number of different scenarios and sceneries made available to trainees, it sets a trend as a pioneering solution in the market.
Moving closer to innovation
Flint Systems' journey symbolizes how strategic planning and partnership with technology leaders can revolutionize industrial training. By choosing the HTC VIVE VR technology and crafting a VR forklift simulator, the company addressed the contemporary limitations of traditional training and laid the groundwork for a safer, more efficient, and more realistic training experience. "As other industries look to elevate their training methodologies, we want to bring the innovation closer to them, which will help them make decisions that translate into compelling, efficient, and responsible employee training," summarizes Szatkowski.
With the VR forklift simulator, Flint Systems adds another solution to its broad portfolio of complete virtual reality training simulators that give professionals around the world the chance to upskill in a safe environment. Among other projects developed by the Polish company is a tower crane simulator utilizing VIVE Pro 2 headsets. Taking advantage of their high quality, it aims to offer trainees a detailed and immersive view of a virtual construction site, where they can master the skills necessary to control a crane.
Contact VIVE
Would you like to discuss your virtual reality project with a member of the HTC VIVE team?
Get in touch ›