<< Back to Stories
Galderma Gains Competitive Advantage Thanks to Sector 5 Digital and HTC VIVE
VR implementation leads to a new and better training solution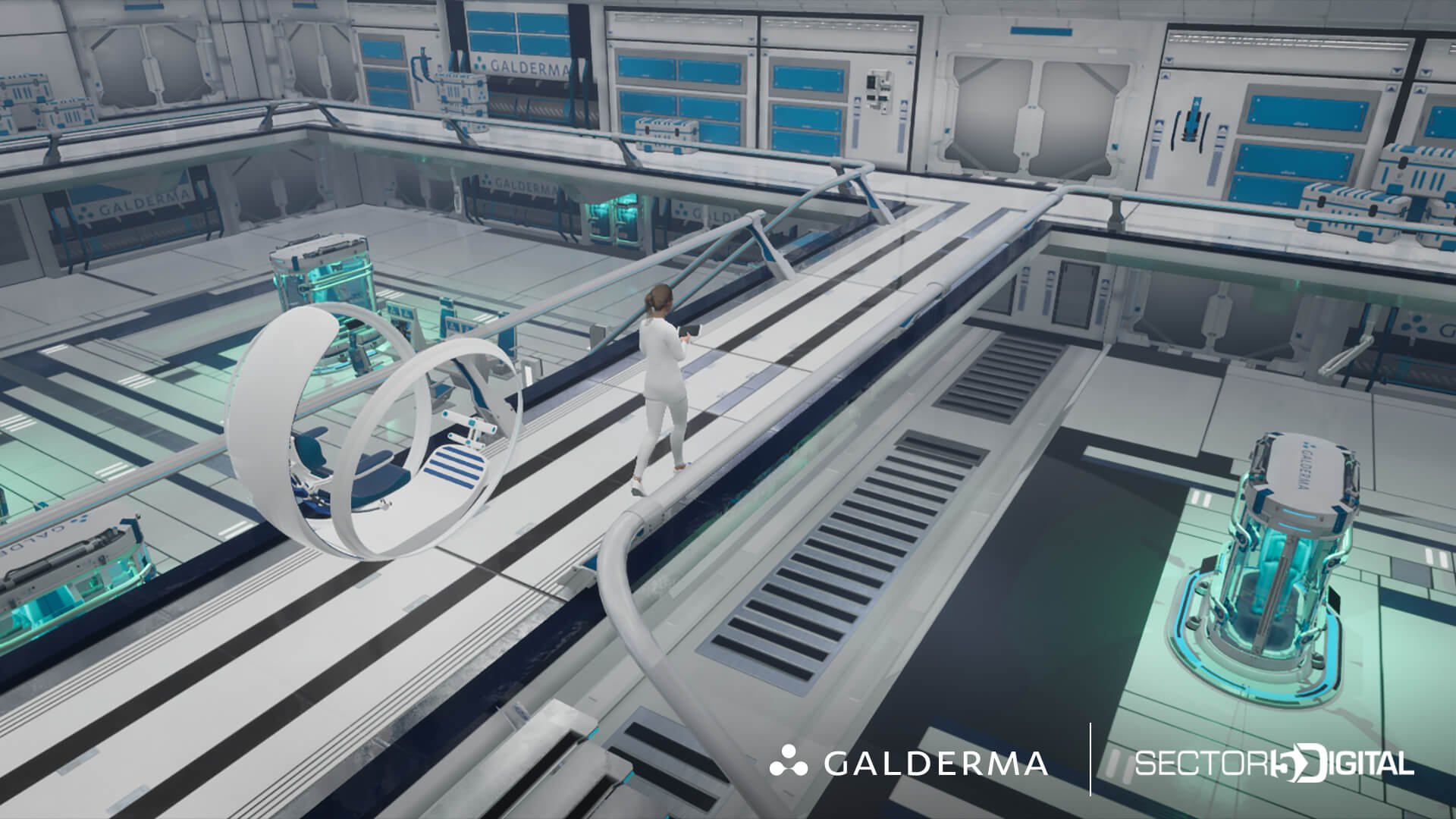 Healthcare | Training/Simulation | Article
3 min read

Galderma partnered with Sector 5 Digital to create an immersive motion-based VR experience to take their anatomy training to the next level. The move was made in order to elevate the learning of their healthcare professional partners—who include physicians, nurses, nurse practitioners, and physician assistants—how to inject accurately and safely for optimal patient results. Galderma invests heavily in cadaver-based training—however, when their injector trainees were surveyed on the retention of anatomy knowledge afterwards, there were still significant gaps. That's when the decision to move in a different direction was made.
Finding a new, better way forward
To meet the opportunity of providing new adult learning principles, Galderma started to consider options outside of their traditional training framework. That's why they had to find a creative agency that specialized in emerging technology to develop an experience capable of delivering truly immersive learning and a headset advanced enough to handle running the program. These were all vital components that were essential in bringing everything together. After evaluating the leading-edge technology providers they opted to employ the services of Sector 5 Digital to develop a motion-based VR experience called Galderma Interactive Anatomy—or GIA. The main function of GIA is to establish a foundational understanding of facial anatomy. By feeding better information into their Galderma Aesthetics Injector Network (GAIN), trainees would be able to better understand where their products should be injected based on each patient's unique and natural anatomy—resulting in the safest possible outcome.



Another major factor in making all of this work was the HTC VIVE Cosmos virtual reality system. "The VIVE Cosmos was great for our training experience. Our trainees were able to get into the headset and into the experience quickly, and immediately feel immersed into another world," said Carrie Galpin, Director of HCP Training and Education, Galderma. According to the Chief Creative Officer of Sector 5 Digital, Doug Fidler, "We chose the VIVE Cosmos primarily due to its inside-out tracking and high resolution, allowing us to deliver high-end graphics while also offering compatibility with motion base chairs which are another important part of the experience."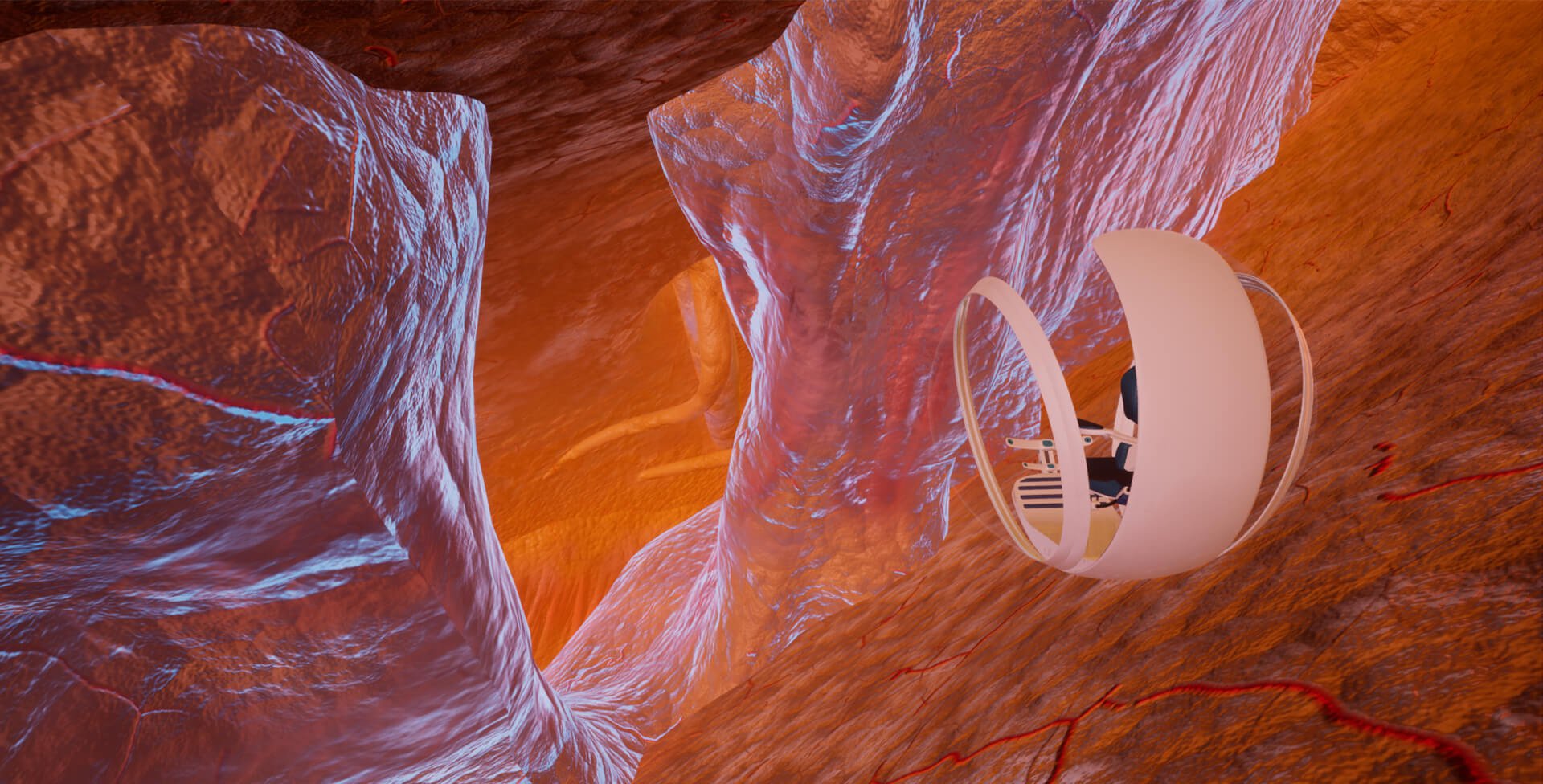 This all takes place inside a futuristic lab, guided by a female character named GIA. To begin the program, GIA takes trainees into a shrinking chamber. Its purpose is to make each person feel like they've been scaled down to a miniature size. From there they get the sensation of being able to move around a patient's facial construction, providing a unique perspective into every detail. The ability to shrink down even more allows trainees to delve further into the underlying anatomy of the face. Through this interactive feature layers of skin, muscle, veins, and ligaments can be peeled back. Users can then identify anatomical landmarks more easily and gain an up-close look at safe areas where Galderma products should be applied, as well as areas to avoid. At the very end, the trainee can reduce themselves down to the most granular of angles and move throughout key muscle structures. This one-of-a-kind experience provides an interactive training that leaves a lasting impression.



Results that exceed expectations
By creating a new way to deliver a wealth of technical medical information while keeping audiences engaged, they ensured a better retention and recall of messaging. Through this facial anatomy program users could go through a much more engaging and comprehensive training process. A series of questions to test their knowledge throughout the experience also provides immediate feedback. Once returned to the lab, scores are displayed and compared against others to see how everyone stacks up against their peers. Thanks to the immersive learning environment created by Sector 5 Digital's software and the hardware capabilities of the HTC VIVE Cosmos the overall training process was expedited. Those who used the program had improved information retention and perform procedures better, all of which produced exciting results.
After this new method was implemented, metrics revealed an encouraging Net Promoter Score for GIA, with 91.4% of participants reporting that they would recommend GAIN Anatomy Training to fellow colleagues. Based on the positive results they saw, the company now plans on deploying this program to the thousands of aesthetics partners worldwide to improve their anatomy-based education. This is important because the more injectors receive robust anatomy education, the better the outcomes should be for patients. The convenience of operating in VR also gives users of the experience the added benefit of unlimited access. With a renewed excitement and a successful partnership with Sector 5 Digital and VIVE, Galderma believes they're just beginning to scratch the surface of what's possible.
Net Promoter Score ®

For GIA

91.4%