<< Back to Stories
When Spectators Become the Players: VR for the Tech-Lovers and Tech-Less
Written by Brent Bushnell and Eric Gradman, Two Bit Circus Co-Founders.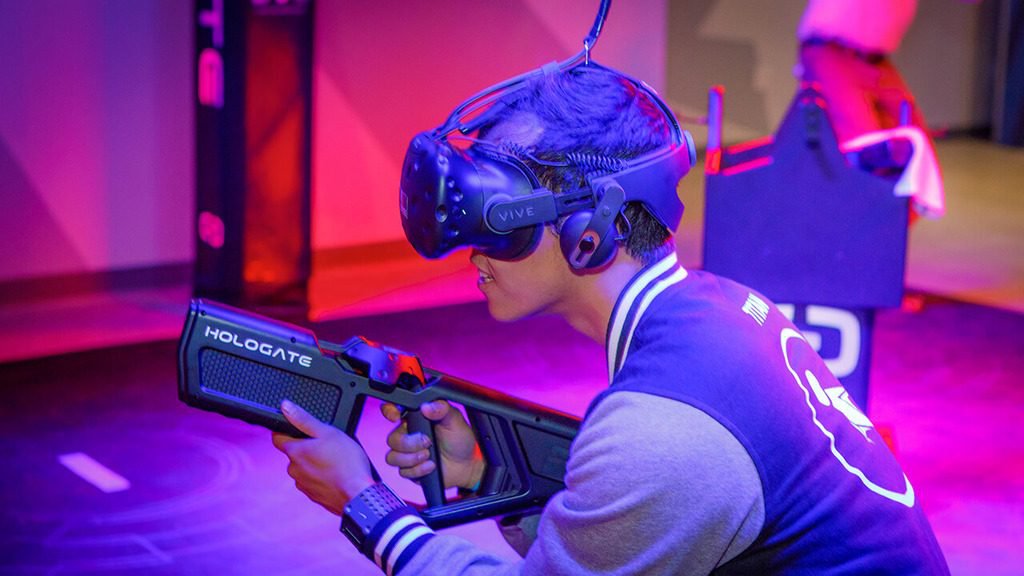 Location-Based Entertainment | Entertainment | Article

Two Bit Circus describes the role of VIVE and elbow-to-elbow play in creating a more universal VR experience — even for those who aren't the ones in the headsets.
The future of fun is often thought of as something years or even decades away . But, with new forms of experiential entertainment and virtual reality driving immersive experiences at a growing rate , the opportunities for meaningful and engaging fun are boundless — today.

When we launched Two Bit Circus Micro-Amusement Park in Downtown LA in September 2018 our goal was to fuse the latest interactive technology with the wonder and spectacle of classic circus and carnival, bringing people together to play elbow-to-elbow. At the core of these experiences has been our VR attractions, which make up around a third of our revenue. We use VR in everything from our story rooms (our take on the classic escape room) to immersive arena experiences and special events such as Esports tournaments.

Virtual reality is a solid component of our park's success. As we continue to grow as a location-based entertainment venue, we needed a supplier that understood our desire to get people to play, elbow-to-elbow, and who could provide players with opportunities for diverse play as well as mobility and immersion — even in a typically-tethered arena.
This is where our collaboration with VIVE came into play. As our park has developed, they've provided ongoing support for LBE solutions and — as a group of [mad] inventors constantly creating – offered us a sense of security through the service plan they tailored to our industry. Over the past year, nearly all of our VR attractions — whether third party or developed in house — are now driven by HTC products. From free roam games such as The Raft and the Asterion Maze, to multiplayer games like Hologate and our newly-added Hyperdeck, they're some of our most popular attractions throughout the entire park.
What's the special ingredient for this success? Spectator-friendly VR gaming.
As a company focused on the future of fun, we want our experiences to be memorable and repeatable. For us, this means not only appealing to the folks who are already invested in VR but also those who might be hesitant to give it a try. Being able to actively participate in a VR experience, even if you're not the one in the headset, is a key way to draw in new customers and create a more universal experience for players.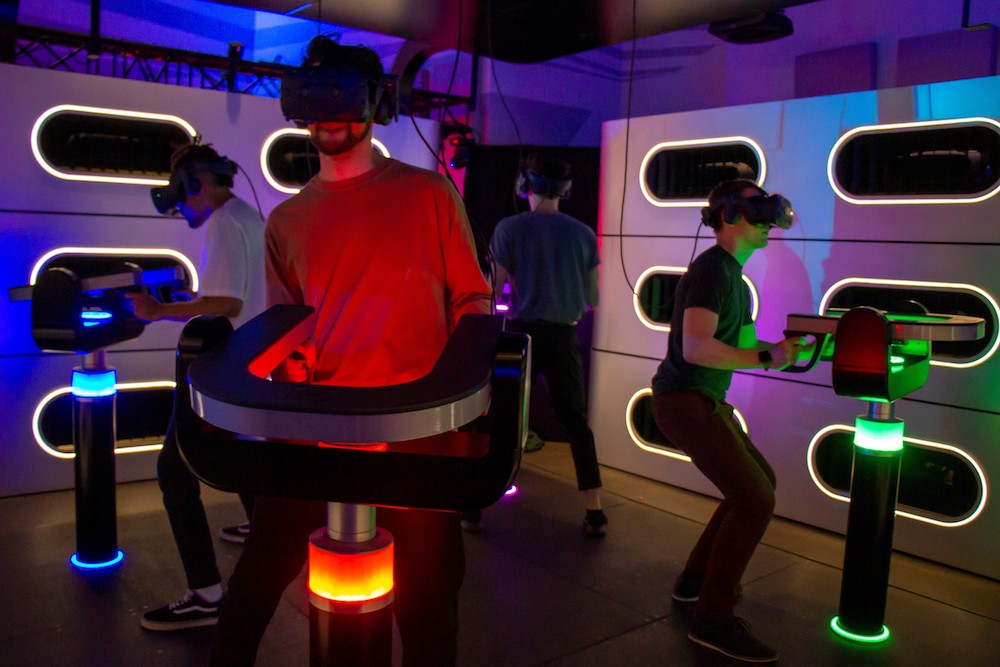 We've seen that with Hyperdeck in particular. The VIVE headsets look really sleek and integrate well with the custom shooting turrets. Players are lit up and spectators not only view the action on external screens, they use tablets to throw power-ups to the VR players. The shared motion platform immerses the players while drawing  in the crowd who's cheering them on. Just like a roller coaster at a traditional theme park, this is an adrenaline rush for the tech era. And those in line are growing increasingly eager to strap into the virtual world too.
When companies prioritize spectators just as much as players in new games and experiences, it opens up a window of opportunity for elbow-to-elbow play. The future of fun is here, and it's aiming to be immersive and accessible to all. So whether you're a VR evangelist or have never put on a headset, we encourage you to give it a shot and find new ways of experiencing this evolving form of entertainment. From two guys who've spent their whole lives creating and diving into tech, trust us when we say: it really is out of this world fun.