<< Back to Stories
Virtual Reality and the Science of Rehabilitation
Written by Dan O'Brien, Global Head of Enterprise, HTC Vive.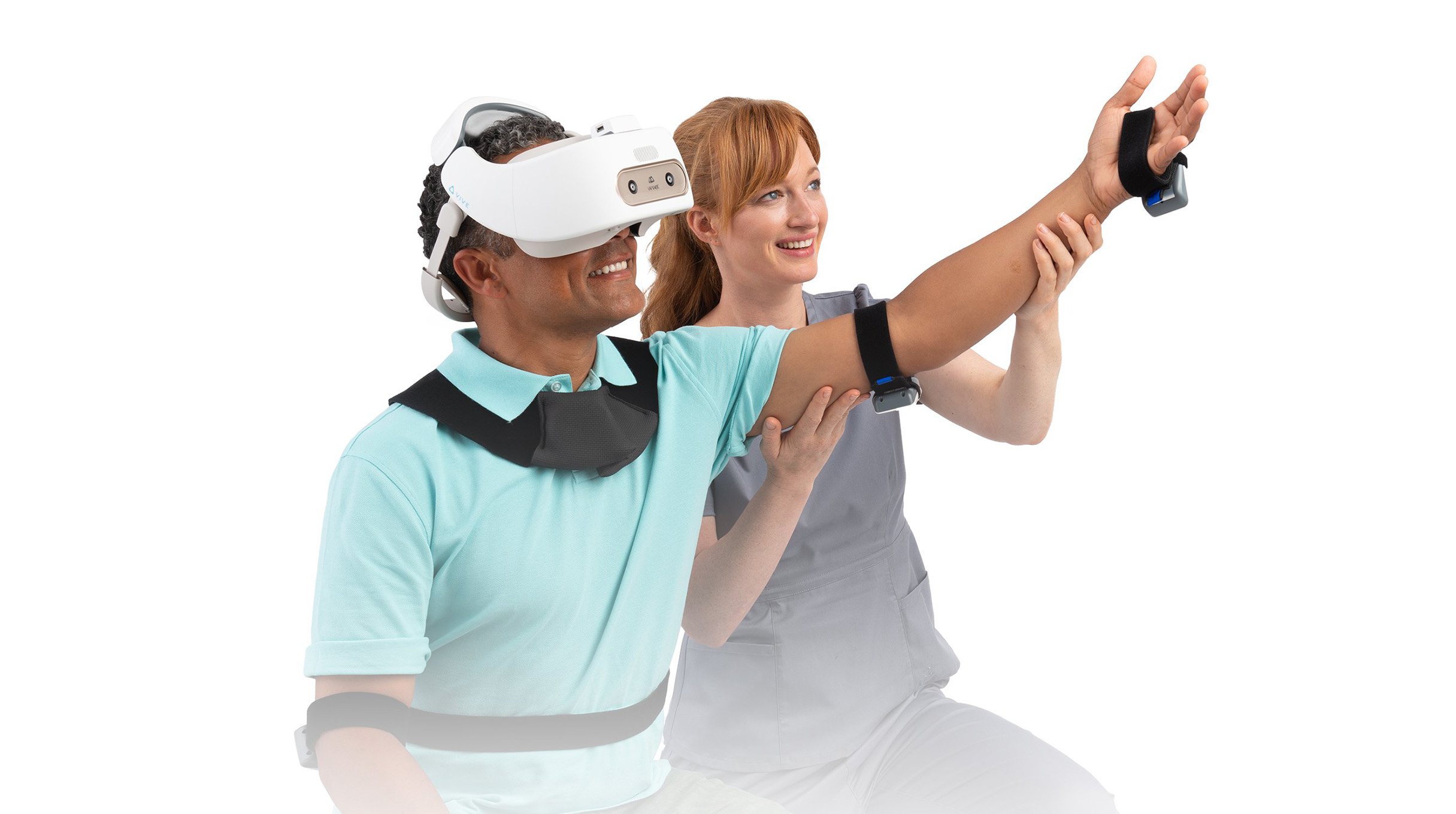 Healthcare | Training/Simulation | Article

*This conversation was originally scheduled as a talk at HIMMS. Due to the conference's cancellation, we've converted the talk to a blog post.
When you think of common applications for virtual reality (VR), several general topics and industries come to mind for most people - video games, entertainment, even fitness. It makes sense, since VR really got started in gaming. But where we're really excited to see momentum is in the enterprise space – including in healthcare and medicine.
Breakthroughs in VR now come in the form of student doctors training in medical schools, or medical professionals educating and treating patients, or even surgeons halfway around the world learning to prepare for emergency situations.
According to new research from Research and Markets , the global market for AR/VR in the healthcare industry is estimated to reach over $165 billion USD by 2026, indicating the major potential for AR/VR technologies to transform this sector.
And we foresee that VR will hit this benchmark, as VR use cases and applications in the medical and healthcare field are already abundant.
Recently, I sat down with Jennifer Wong of Penumbra to talk about how they are using virtual reality to rehabilitate patients with neurological injuries such as strokes.
Dan: First off, could you tell us a little bit about Penumbra?
Jennifer: Penumbra is a global healthcare company that focuses on innovative therapies. We design, develop, manufacture and market medical devices and have a broad portfolio of products that addresses challenging medical conditions in markets with significant unmet need.  Since our founding in 2004, we have developed a product portfolio that includes 7 product families within our major markets. Our product families fall under Neuro and Vascular. Under Neuro, we have Thrombectomy, Embolization, Access, Neurosurgical Tools, and Rehabilitation Tools. Under Vascular, we have Thrombectomy and Embolization.  We distribute our products in countries around the world.
Dan: And one of those innovative therapies is the REAL™ System?
Jennifer: Yes. The REAL™ System is an immersive, full-presence virtual reality system designed for rehabilitation under the supervision of a medical professional. It is one simple, portable rehab tool that can easily be brought to the patient at the bedside, in a rehab center, or mobile health location. The REAL System consists of the VIVE FOCUS Headset, body sensors, and therapist tablet with our proprietary TherapyView™ that allows the clinician to administer and monitor the therapy session. It is entirely self-contained, wireless, and mobile. No additional hardware or tethering is required. The wireless body sensors capture the patient's movements during sessions to allow for objective data capture and patient progress tracking.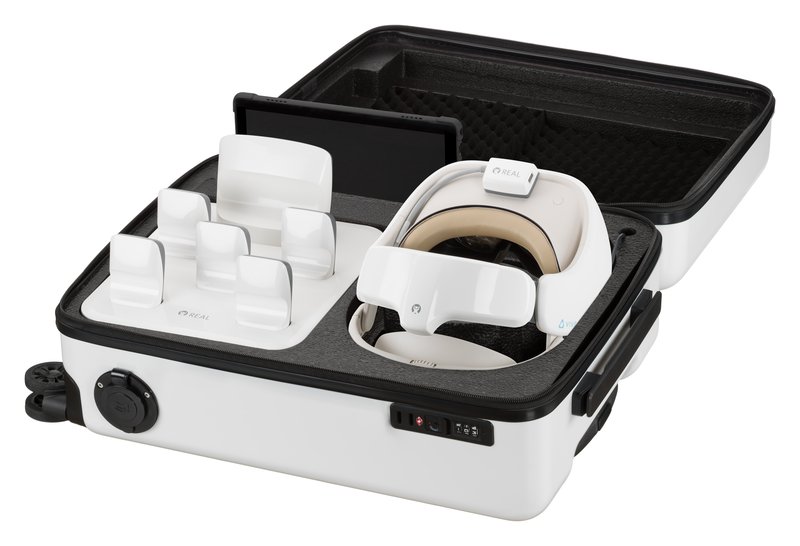 Dan: Why did Penumbra venture down the path with immersive technologies for rehabilitation?
Jennifer: Using our knowledge of stroke and the deficiencies that can occur after a stroke, we developed a set of propriety activities that are targeted for upper body rehab. Penumbra combined forces with Sixense Enterprises, a tech company in Silicon Valley that specializes in motion tracking technology to develop virtual reality technology for healthcare using the Vive Focus. We wanted to focus on the continuation of care for the patient post-procedure. Following a stroke incident, patients are often depressed, cognitively impaired, and unmotivated due to their new disability. With VR, the rehabilitation environment can be safe, encouraging, efficient, and supportive. Penumbra's REAL System has been designed by engineers with decades of experience in electronics, medical device design, software development, 3D art, and game development. Built using evidence-based therapies, the motor and cognitive activities in the REAL System are both fun and engaging.
Dan: Tell me more about the science behind this kind of rehabilitation for patients with neurological injuries?
Jennifer: Extensive academic research shows that neurorehabilitation technology can dramatically enhance neuroplasticity and drive the relearning of skills. Neuroplasticity is the term for physical changes that the brain undergoes when learning new things. Virtual Reality is a hardware and software technology that can induce neuroplastic change. With VR, the rehabilitation environment can be safe, encouraging, efficient, and supportive. Interactions can be tailored to the patient's individual needs, therefore enhancing the potential improvement within a given session. With accurate body-position tracking in real time, a new bio-feedback loop can be established using intuitive auditory and visual cues to allow the patient to self-correct their posture and limb movements for maximum exercise efficiently. Progress can be documented movement-to-movement, session-to-session and week-to-week to expose tangible improvement to the patient and caregiver, supporting ongoing rehabilitation when the patient has not yet plateaued.
Research shows that VR can provide links to drive neuroplasticity, which may be more challenging to achieve in the actual world. There is a tremendous amount of literature on using VR for rehabilitation, but current products are not designed specifically for the healthcare setting. That's where the REAL System has a role.
Dan: How does the REAL System compare to commercial gaming systems?
Jennifer: The REAL System is different from consumer gaming devices in several ways, namely that it was purpose-built for rehabilitation. The activities specifically designed to meet the needs of patients needing upper body rehabilitation are aimed at working on exercising specific upper body functional movement patterns. It is completely customizable by the therapist to meet their patient's needs. It is also the only FDA-cleared rehabilitation tool that uses virtual reality that is immersive and full-presence.
Dan: How much time does it take to get up and running with the REAL System?
Jennifer: The REAL System is intended to be used seated in a clinical environment and prescribed and supervised by a medical professional trained in rehabilitation therapy. The system requires setting up local internet connection via WiFi the first time it is used. The therapist powers up the headset and helps the patient put the headset on. Once the headset is on, the patient can immediately begin interacting in the new environment, while the therapist puts on the sensors. The patient will experience almost zero set-up time. For the therapist, it will take about 2 minutes to put the sensor bands and body sensors on the patient and power up the tablet. That's one of the unique qualities of our system. It's a quick and easy set up and you can roll it right to the bedside or gym location for any patient.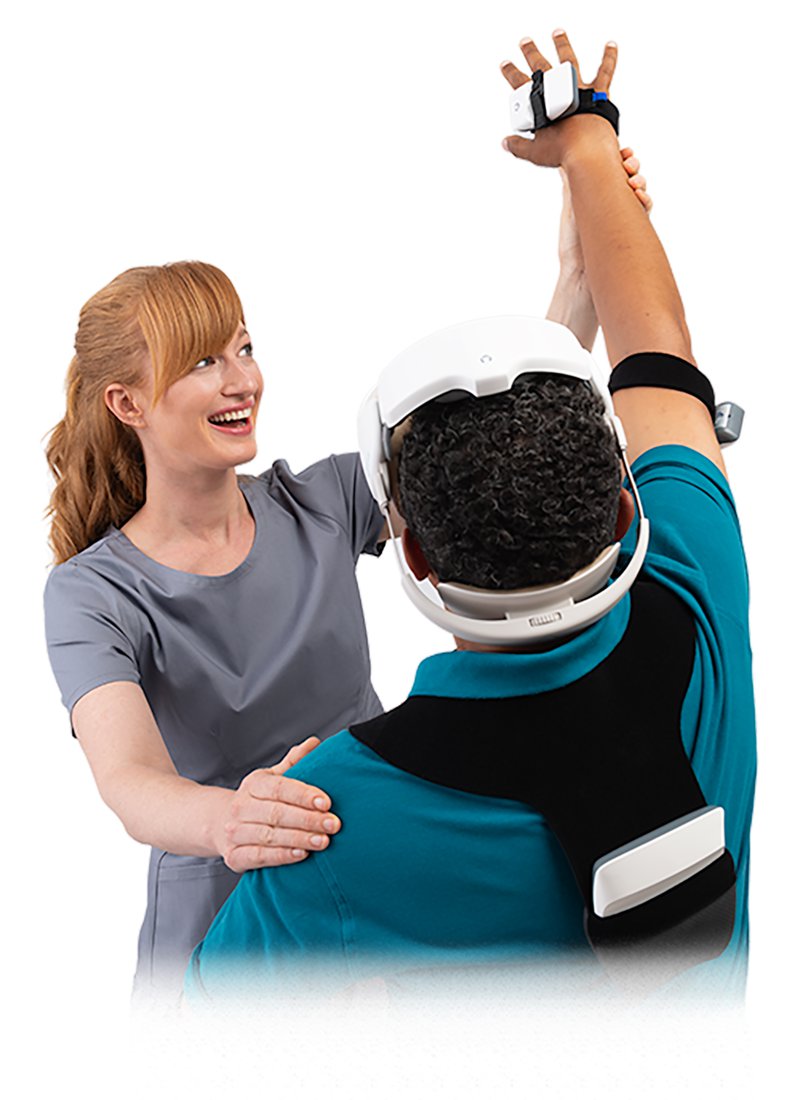 Dan: With the severity of injuries varying, can you expand on how the REAL System addresses each patient's unique needs?
Jennifer: The REAL System can be used for a variety of deficits within its indication for seated, upper body neurorehabilitation. For a focus on proximal upper extremity, we have activities that address shoulder ROM and flexion that encourage strengthening and endurance. For a focus on distal upper extremity, we have activities that strengthen wrist and forearm range of motion. We also have activities that focus on core strengthening and movement, cervical range of motion and visual scanning, postural control and stability, and cognition.  The activities come with adjustable parameters on the tablet's TherapyView that the therapist can use to adjust difficulty settings and customize for the patient.
The REAL System is a powerful tool in the clinician's toolbox that can be adapted to each patient per their session goals.
Dan: What if the patient is concerned about motion sickness from being in VR during treatment?
Jennifer: Motion sickness occurs due to a difference between actual and expected motion. The REAL System minimizes the potential for vestibular motion sickness with technology that optimizes what the patient sees in the VIVE headset with the patient's actual movements. Our technology uses very high frame rate, very low latency, and 6-degrees of freedom for translational movement, all enabled by the Vive Focus's inside-out tracking and Sixense's proprietary technology.
Dan: What kind of feedback/response have you received from the medical community and patients about the REAL System?
Jennifer: Cooper University Health Care in New Jersey recently became the first hospital to use the REAL System for patient rehabilitation following a stroke. In a recent press release, Dr. Tudor Jovin said, "While Virtual Reality has been around a long time, its application in rehabilitation of stroke and other neurological disorders is cutting edge and a new concept." They are using the system to aid and augment their patients' recovery after stroke.
In a release issued by Cooper University, a Physical Medicine and Rehabilitation physician, Dr. Rohini Kumar, said, "With the help of Penumbra and the REAL System, we will be able to augment the patient's recovery from bedside to our outpatient clinics. We are excited to see the potential of VR in our stroke patients and other neurologic conditions."
One of our first patients to try the REAL System, Deb, has been using VR for rehabilitation for 2 years. She did undergo physical therapy without the REAL System, and she said compared to the REAL System it's like night and day. She said, "When you're in the REAL System, you're just thrust into something so wonderful that I think the mind forgets I had a stroke."
Dan: Does any hospital currently use the REAL System for their course of rehabilitation?
Jennifer: Cooper University Health Care, in New Jersey, recently became the first hospital in the world to use REAL. The team of physicians and therapists at the Cooper Neurological Institute worked closely with Penumbra in refining the technology for patient use. We are currently taking orders for the REAL System.
Dan: Are there other areas of rehabilitation you're looking at, or you think would be a good fit for VR?
Jennifer: Yes, absolutely. We think the possibilities with VR for rehabilitation are extensive.  We currently carry an FDA indication for upper extremity rehabilitation and are working on new indications to bring the promise of VR to even more patients. The REAL System hardware and software provide a powerful platform for us to innovate and introduce new therapeutic activities to address new diseases.
For more information on the REAL System, or to order a REAL System, visit www.realsystem.com . To learn more about Vive Enterprise Solutions, go to https://enterprise.vive.com/ . Vive Studios, HTC's content services division, also contributed to the content development of the therapy application. Learn more about Vive Studios here: https://developer.vive.com/vive-studios/ .