<< Back to Stories
VIVE X company, Mindesk, secures $900k to bring CAD designers into Virtual Reality
Mindesk has moved its HQ to San Francisco and will continue to develop VR software in Italy and the US.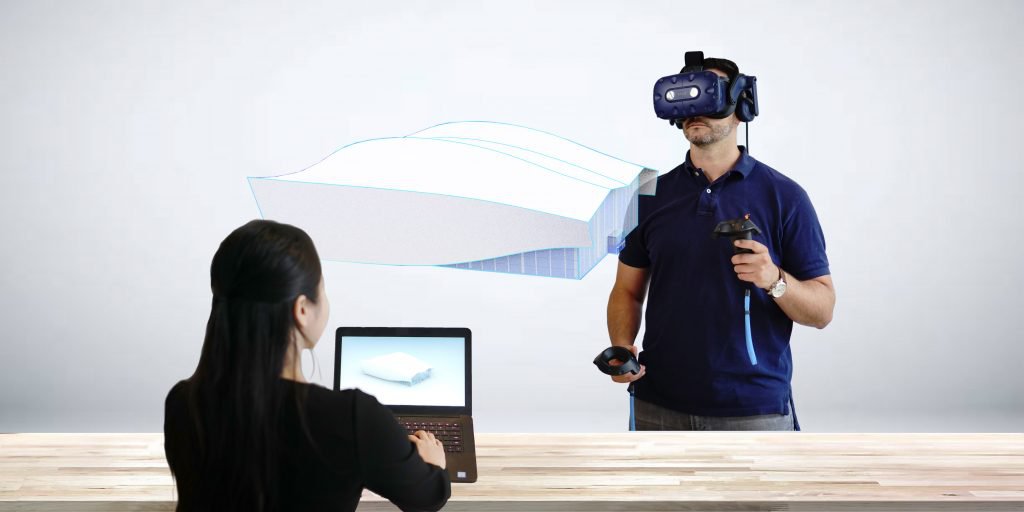 Healthcare | Design/Visualization | Article

Following the graduation from VIVE X , HTC VIVE's global VR/AR accelerator, Mindesk has moved its HQ to San Francisco and will continue to develop VR software in Italy and the US. The company secured $900k seed round from HTC VIVE, Barcamper Ventures, A11 Venture and Invitalia Ventures.

"We're excited to see the success and progress Mindesk has made since graduating from the second batch of Vive X companies," said Marc Metis, Vice President, HTC VIVE. "Vive sees virtual reality having a tremendous impact on the AEC industry and we will continue to invest in companies like Mindesk who are pushing the industry forward."
Mindesk , a startup founded in 2015 in Bari (Italy), created a platform for real-time CAD collaboration, enabling multiple users to review, create and edit 3D CAD models immersed in Virtual Reality. Mindesk has already published its solution for McNeel Rhinoceros and Grasshopper and soon will publish the one for Dassault SolidWorks.
"We are proud of the Italian excellence exhibited by Mindesk. HTC's investment is evidence of the quality team behind Mindesk and their ability to shape the future of the global VR industry" added Sergio Buonanno, CEO of Invitalia Ventures.
We asked a few questions to Gabriele Sorrento, CEO and co-founder:
What does Mindesk do?
Mindesk's product is a plug-in for CAD software like McNeel Rhinoceros and Grasshopper. Once installed, it allows users to quickly jump in VR to visualize, create and edit 3D CAD projects in their original format.
We followed up on the desire of designers for a real-time VR design platform. Tired of spending hours exporting their CAD model to third parties' game engines, we made it possible to jump right in VR in just a click with no model preparation or export involved. Our customers are active predominantly in the fields of architecture, ship design, industrial product design and creative arts, all who have tight deadlines and no time to waste in tech frictions.
Why is virtual reality relevant to designers?
Previously working as an architect, I would spend hours making physical prototypes of my designs to show clients or studio partners. However, right after these meetings, I would end up throwing the prototypes away as they were no longer needed or up to date. The costs associated with this wasteful and time-consuming workflow is the reason more designers are now turning to VR for reviews.
In addition, virtual reality has the ability to make design reviews more productive and engaging for designers and their clients. Mindesk's VR platform keeps a live link between VR and CAD, enabling users to experience and edit a project in the design phase by fully immersing themselves in the virtual environment. Designers can modify a model in real-time while their client is in VR and even enables clients to make their own edits in headset. Mindesk's approach to this process facilitates a more collaborative partnership between designer and client.
This level of engagement and communication benefits the design process itself by making it less prone to errors. With Mindesk, we've observed that clients are more likely to leave a review session with the feeling that their message has been received while designers know their work has been fully understood and accepted.
So, is Mindesk a design review platform?
With Mindesk, customers can do much more than just design reviews.
An Australian sculptor used Mindesk's VR modeling tools to shape a steel sculpture while an architecture firm in the Bay Area is combining Mindesk with Grasshopper (a computational plugin for Rhino) to monitor real-time information and simulation analysis results every time their 3D model changes. Another company is using VR to display a point cloud that is then traced directly in the space. When compared to tracing a model using a traditional mouse on a 2D monitor, Mindesk has made reverse engineering an easier and more intuitive process for this customer.
There are several workflows that users can implement by combining Mindesk with different CAD software and related plugins. We keep our products as flexible as possible in order to meet our customer's diverse use cases.
How did it all start? What's the road ahead?
It all started in 2014 - I had been using CAD software for many years and was frustrated with the way I was forced to design 3D objects on 2D surfaces such as a monitor and keyboard/mouse. With modern VR headsets just blossoming, I thought it was the right time to start developing a solution to improve the lives of CAD professionals. From then onward it's been quite a ride. Mindesk now has a couple of products on the market: one for Rhinoceros and one for Grasshopper, with another for SolidWorks set to launch soon.
Last November we participated in Autodesk University, where we unveiled our forthcoming integration with Unreal Editor in partnership with Epic Games. This integration will add photorealism to 3D CAD modeling , creating the ultimate design environment for AEC.
Future product offerings will scale on other CAD software including SolidWorks, a parametric CAD used extensively in mechanical engineering. Attendees who tried it at SolidWorksWorld 2019 in Dallas found the solution intuitive and attractive for the beneficial impact it could have on their businesses. We collected the application of interested designers and launched a closed beta at the end of February.
How does the market for such products look like?
The VR/AR market is burgeoning, going from $4.5Bn in 2017 to more than $200Bn by 2026, at a staggering CAGR above 50%. Last year VR hardware and software had the lion's share compared to AR, 92% vs 8%. More than half of this market was represented by enterprise applications.
We're excited to be active in the VR B2B software market. VR can be a game-changing productivity solution for many companies while the enterprise is proving to be some of the earliest adopters of new technologies.
How has HTC VIVE helped you along the way?
We were lucky enough to be chosen for the second batch of the Vive X acceleration program in San Francisco in 2017. Needless to say, it has been an incredible experience. I've met some terrific startups and built a network that is proving to be useful even a few years in. I can say without a doubt that participating in Vive X has greatly increased our chance of success. The recent convertible note by HTC has also been particularly helpful as cash and trust are the most appreciated forms of support for an early stage startup.