<< Back to Stories
Vobling delivers fire safety worldwide with the VR Fire Trainer and the VIVE Focus 3
Using VR, Vobling is increasing the number of people capable of operating fire extinguishers – and potentially saving lives in the process.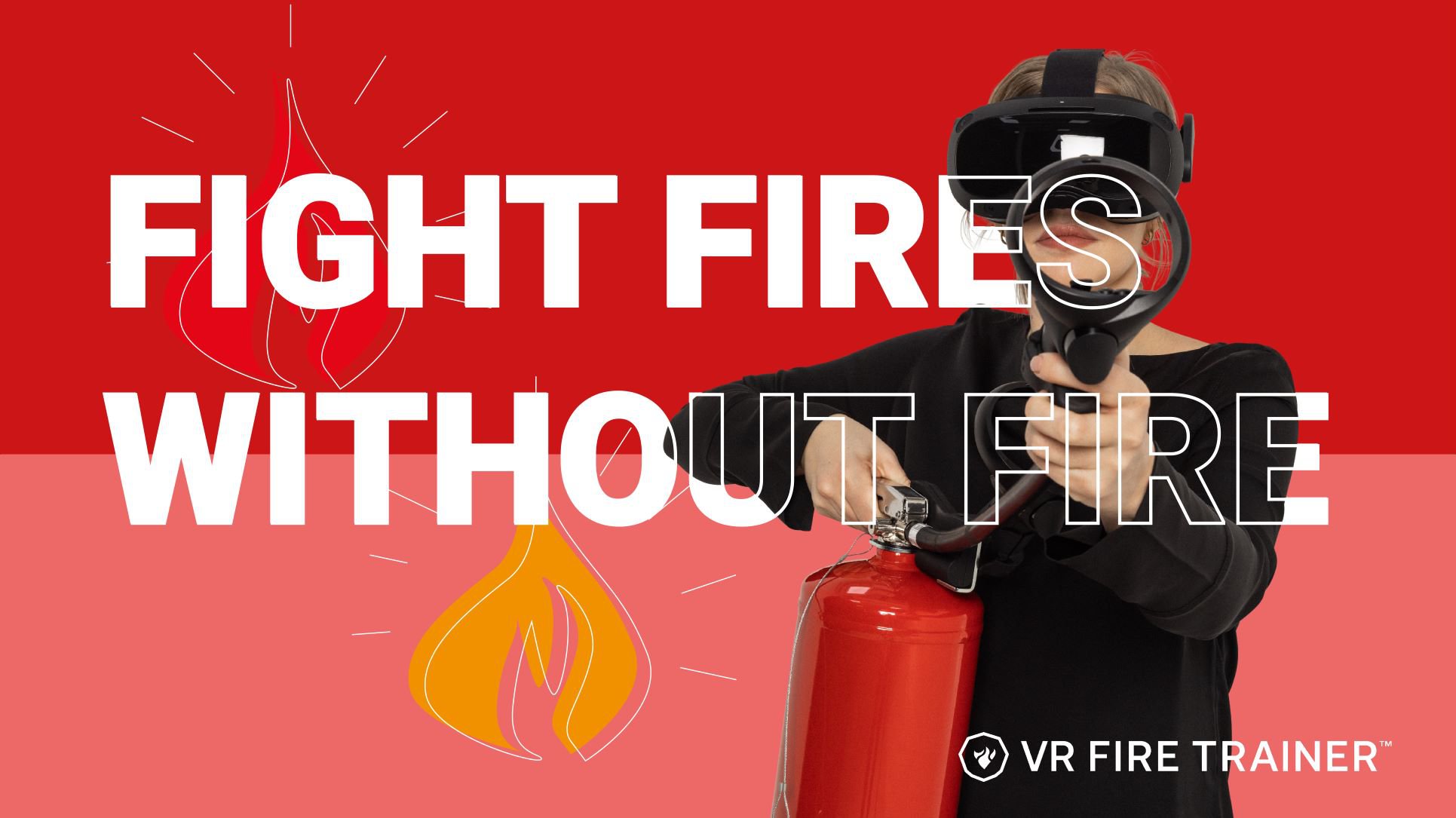 Government | Training/Simulation | Article
5 min read

Company:
Vobling
Website:
vobling.com

Location:
Stockholm, Sweden
Computer imaging and modelling have long been used to investigate and tackle fires.
For example, it was the use of computer modelling that discovered the 'Trench effect' after the King's Cross Fire in 1987. Today, modern computer solutions like virtual reality can be used in interesting ways to analyse fires and impart ways to prevent them from growing out of control.
"A real fire can happen anywhere – at work, home, or while grocery shopping," says Amanda Bengtsson, Head of Products and Operations at Vobling, an end-to-end XR solutions developer that builds immersive, impactful, and scalable virtual training platforms. "According to NFPA's data, 120,000 non-residential fires inflicted $4.4 billion in direct property damage in the US in 2019. In most cases, fire extinguishers make it possible to handle fire incidents and avoid serious damage. "
However, research indicates that as many as 50% of people lack confidence in the operation of fire extinguishers, despite their potential to avoid severe property damage and loss of life. Vobling seeks to solve this problem (while introducing significant cost and efficiency savings) via its
VR Fire Trainer
and the
VIVE Focus 3 VR headset
.
"If more people are confident using fire extinguishers, more fires can be stopped and property damage avoided," says Amanda. "We can increase the number of confident fire extinguisher operators with VR Fire Trainer, as there is no longer a need to work with real fires or use fully operating fire extinguishers. All of this can be replicated better and more safely in VR Fire Trainer's virtual world."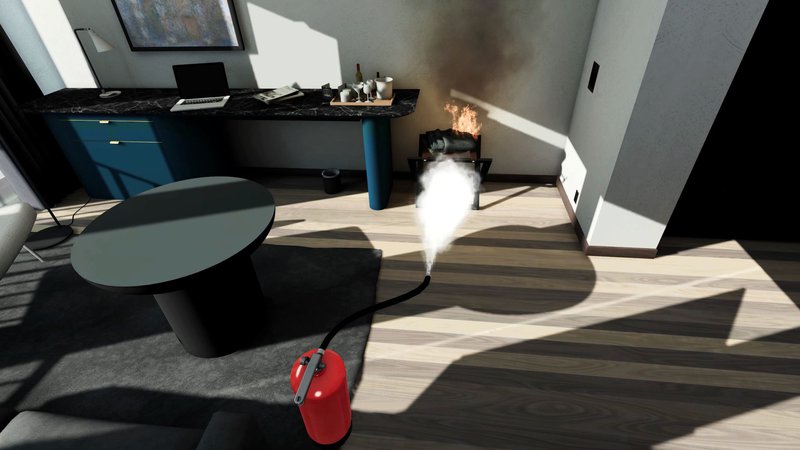 The issues with traditional fire training
Vobling sought to introduce VR Fire Trainer to the world as soon as technology like the VIVE Focus 3 made such a thing possible, knowing that VR training would be a vast logistical improvement over traditional learning methods.
"The problem is that traditional fire extinguisher training in the real world is often dangerous, hard on the environment, and extremely time-consuming," says Amanda.
"For instance, an empty parking lot might be used as a location where a fire would be lit, and then students would take turns using a real fire extinguisher to tackle the blaze. This is vastly inefficient. Such a process requires expensive equipment, experienced training instructors, and a bespoke physical environment in which to train. It can also cause wear and tear on personal protective and response equipment."
Traditional real-world training also poses a considerable risk of exposing the students to fire and smoke, alongside environmental considerations. For example, fire extinguishing foam contains chemicals known as PFAS, which can be toxic to humans and do not break down - not to mention that the use of PFAS chemicals is already restricted by various countries around the world.
VR Fire Trainer and the VIVE Focus 3 deftly overcome these problems.
Introducing VR Fire Trainer
The VR Fire Trainer is an easy-to-use stand-alone digital training solution that simulates various fire safety training scenarios in virtual reality (VR). The VR Fire Trainer application is combined with an interactive fire extinguisher for a fully realistic training experience. When using the application inside the VIVE Focus 3, the user is immersed in the experience of realistic fire spread scenarios that are difficult or sometimes impossible to create in real-world scenarios. For instance, students might find themselves faced with a stack of boxes on fire in an open-plan office or tasked with extinguishing an oil fire in an industrial kitchen. Users must select the correct fire extinguisher to tackle the blaze using the PASS firefighting technique (Pull, Aim, Squeeze, Sweep). The software will react to the user's efforts, such as the development of smoke affecting visibility or inefficient use of the fire extinguisher resulting in a failure to put out the fire. Trainers can also follow along and watch what trainees do inside the VIVE Focus 3 via screen sharing to analyse and evaluate performance.
"Students can easily swap between different fire types and use different fire extinguisher agents," explains Amanda. "They can try and try the scenario until they feel absolutely confident they how to handle any fire in real life. It's an easy way to train the brain to react in stressful situations, and it's easy for trainers to see what students need to do to improve."
Features such as simulation of environments, fire spread, smoke development and material flammability enable an unprecedented level of reality in VR. The ability to use a real extinguisher that is simulated in VR further emphasises immersion in the training. "The real extinguisher has a Bluetooth module that lets it connect to the VIVE Focus 3 headset, so it has a real weight and feels a real part of the virtual environment," says Amanda.
"All of these features combined make the experience as real as it can get – in fact, VR Fire Trainer is certified as equal to real-life fire training," says Amanda. "The difference is that VR Fire Trainer doesn't expose trainees to real danger or toxic chemicals released by fire extinguishing agents. Students can also practice their skills with VR Fire Trainer regardless of weather conditions, time or location. There is no need to create a specialised environment or worry about training being cancelled due to adverse conditions or logistical issues, and students can train on multiple fire scenarios within minutes. The result of using VR Fire Trainer with the VIVE Focus 3 is hugely reduced operational costs."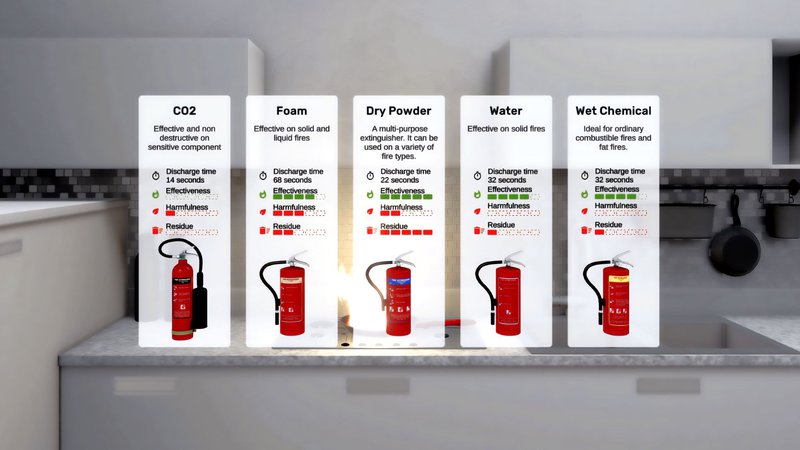 Using the VIVE Focus 3
When choosing a headset for its training solution, Vobling knew it needed hardware robust enough to handle thousands of training sessions while still offering portability and high visual quality. The all-in-one VIVE Focus 3 headset met all these needs, enabling VR Fire Trainer to be used in any location at any time in the most seamless way possible.
"As the VIVE Focus 3 is fully standalone and does not require an external PC or cables, VR Fire Trainer is fully mobile, making it perfect for use in fire training of all kinds," says Amanda. "The VIVE Focus 3 VR headset has made fire training easy, accessible, and available to anyone, anywhere."
Alongside portability, safety, and cost-efficiency, the VIVE Focus 3 also offers scalability. "We use the VIVE Business Appstore to make VR Fire Training accessible to institutions worldwide," says Amanda.
VR Fire Trainer and the VIVE Focus 3 have already had a hugely positive impact on several institutions, such as Norwegian railway operator VY. "The level of learning with VR Fire Trainer is high, and our costs have been substantially reduced," says Ole Jonny Haugen, Head of Development at VY. "The combination of software and VR hardware is safe, and the realism of training in the application is fantastic. We've attracted new clients by showcasing the VR Fire Trainer!"
Swedish fire protection consultant Dafo Brand has had a similarly positive experience. "VR Fire Trainer is an excellent complement to our teacher-led and web-based training," says Thomas Sparring, CEO of Dafo Brand. "Realistic environments and scenarios are shaped based on customers' activities, and users' experiences are often enhanced compared to practical extinguishing exercises. The feel of different extinguishing agents is also a significant feature."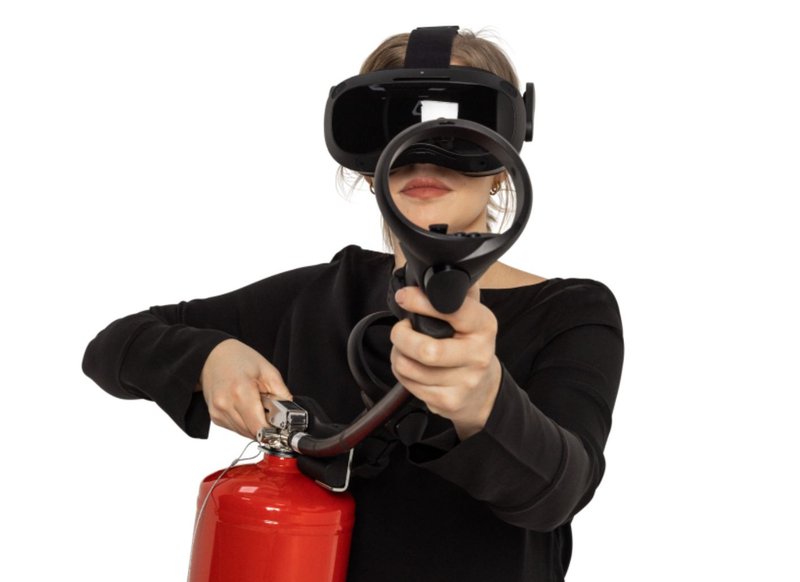 Saving costs, the environment, and lives
Overall, in pairing its VR Fire Training app and Interactive Extinguisher with the VIVE Focus 3, Vobling has created a powerful, cost-efficient, safe, sustainable and scalable training platform.
"Every month, more than 300 fires are successfully extinguished using VR Fire Trainer - that's 300 fewer real extinguishers emptied into the environment," says Amanda. "Furthermore, that amounts to a whole bunch of new people out there in the world ready to prevent fires and reduce damage and loss of life in the real world. This is a significant achievement. We're proud to work alongside HTC VIVE to make it happen – and we're excited to get the VR Fire Trainer launched on XR Elite as well!"
You can download and try VR Fire Trainer yourself here:
VR Fire Trainer
--
Would you like to discuss your virtual reality project with a member of the HTC VIVE team?

Get in touch with HTC VIVE