<< Back to Stories
How Virtual Reality Army Training Helps Soldiers Level Up Faster
Army virtual reality training safely prepares soldiers for scenarios impossible to recreate in a physical environment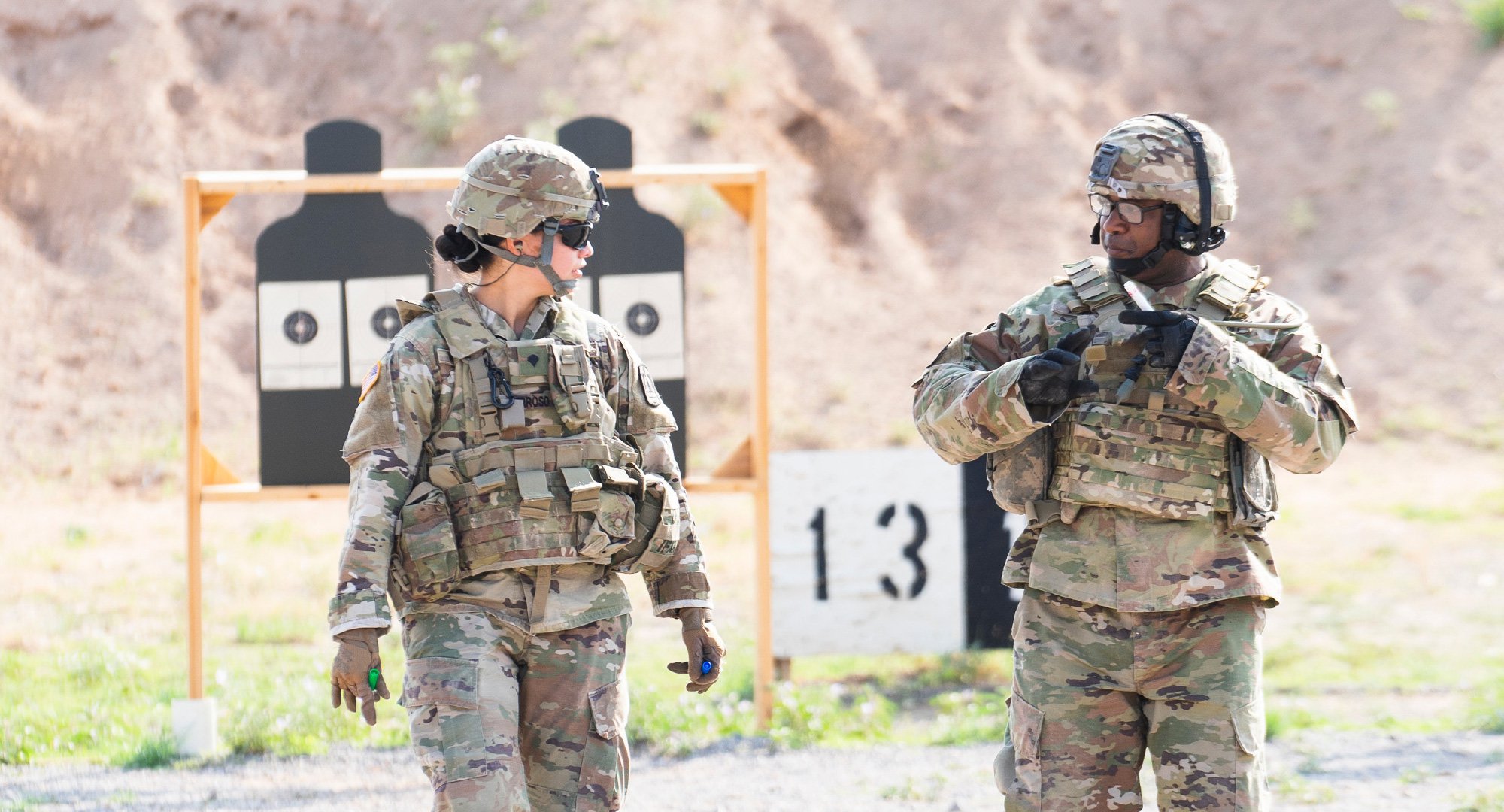 Government | Training/Simulation | Article
6 min read
The very first flight simulator, widely considered to be the first modern piece of VR technology [1] , was used to train Allied soldiers during World War II. Decades later, the VR technology of today is still helping Army soldiers learn how to keep themselves safe on the battlefield . VR Army training provides opportunities not just for accelerated training, but for better, safer, more cost efficient training. Here's how Army VR training is helping soldiers level up.
Army VR Training: Background and Use Cases
The military was one of the first institutions to work with, develop, and adopt VR technology because safely training soldiers for combat is a resource-intensive process [3] when done the old-fashioned way. For one, to prepare troops for intense situations, the Army has to allocate and outfit training facilities that won't disturb civilian life while complying with various local and state regulations. This limits location flexibility, not to mention the time and high-cost considerations.
The average cost of employing an active-duty service member was around $140,000 in 2021, so the military is turning to VR Army training to reduce spending [4] . One such example is the new Synthetic Training Environment (STE) [5] at Fort Hood — a portable, immersive virtual battlefield that can be updated and re-used with minimal set-up costs and little need for real (costly) firepower. The training program at STE combines virtual and live exercises, making it perhaps one of the most comprehensive combat programs currently available for Army members.
But combat simulation is just one use case of VR in the Army. Since Emory and Georgia Tech universities collaborated on the first VR PTSD treatment for soldiers [6] in 1997, Army VR training has also included therapeutic courses for veterans, as well as VR medical and equipment training for soldiers [7] .
Cutting-edge technology also allows soldiers to train with real-feel tools that replicate the functions of physical objects down to a T, including reverb after firing a weapon. To learn more about how the US military is using VR to advance training, read about HTC VIVE's collaboration with Street Smarts [8] , a VR training program.
How VR Army Training Is Helping Troops Level Up
Simulations for Every Situation
Army VR training can supplement traditional boot camp by providing simulations hard to replicate with physical constraints. For example, soldiers can experience simulated combat in a heavily forested or desert environment even if their bootcamp location cannot offer such a terrain. They also get the opportunity to practice managing hostile situations with virtual enemy agents which can feel more realistic than practicing with fellow servicemembers. Some combat scenarios may also be too difficult or dangerous to recreate in a realistic manner, but can be performed safely in a virtual environment.
Location Flexibility
Any facility can become a training facility when conducting VR Army training. Participants don't even need to be in the same room, as many VR courses now work on mobile devices and content can be streamed through the cloud [9] . This brings unprecedented flexibility to how, when, and where the Army can conduct training, which is particularly important for active-duty service members who might be stationed anywhere in the world.
Real-Time Feedback and Improvement
VR Army training lets instructors give feedback in real-time, which means trainees can make adjustments during the exercise and improve performance. Data collected post-exercise can be used as an objective way to determine a trainee's skillset and a path forward in their training. Ultimately, real-time objective feedback may help soldiers feel more confident in the field more quickly.
Scalable Training
Military technology and tactics are always evolving. Adjusting and growing a VR training program is a lot more logistically feasible than updating a physical training facility. There is no need to overhaul an entire shooting range or re-build a practice site every time the curriculum changes. Army VR training courses can also be customized for specific missions, which allows troops to practice tactics before heading to the field. Being able to brainstorm through potential situations in real-time also has the potential to improve mission outcomes.
Recruitment Aid
In 2022, the Army came in about 15,000 soldiers short [10] of its recruitment goal, an all-time low since the ending of the draft in the early 70s. Defense experts conjecture a number of reasons, including a tight labor market, which provides potential recruits with a plethora of options. Incorporating VR training, such as demos during recruitment events, showing what's possible with a career in the Army and assures potential recruits that they'll get to experience working with innovative technology as part of their job.
Training with HTC VIVE
HTC VIVE creates VR hardware used for training people in high-risk jobs, from soldiers to airmen to law enforcement and firefighters. Want to learn more about our work? Contact us.
Not ready to contact us? To learn more about how the military is using VR in the modern age, read our article " The Ultimate Guide for VR in the Military ".
---
[1] Interesting Engineering, https://interestingengineering.com/transportation/the-worlds-first-commercially-built-flight-simulator-the-link-trainer-blue-box
[2] The 7 Biggest Benefits of VR in Military, Training https://business.vive.com/us/stories/vr-in-military-training/
[3] GlobalSecurity.org, https://www.globalsecurity.org/military/library/policy/army/fm/25-4/Ch2.htm#s5
[4] National Defense Magazine, https://www.nationaldefensemagazine.org/articles/2021/10/19/pentagon-personnel-costs-at-historic-high
[5] Military Embedded, https://militaryembedded.com/radar-ew/sensors/army-goes-deep-into-vrar-for-training-and-combat
[6] Virtual Reality Society, https://www.vrs.org.uk/virtual-reality/history.html
[7] Healthy Simulation, https://www.healthysimulation.com/35064/ar-vr-military-simulation-training/
[8] HTC VIVE, https://business.vive.com/us/stories/street-smarts-vr-leverages-vive-enterprise-deliver-next-generation-military-training/
[9] US News and World Report, https://www.usnews.com/news/best-countries/articles/2018-03-20/the-us-military-wants-to-lead-the-innovation-game-in-vr
[10] USA Today, https://www.usatoday.com/story/news/nation/2022/10/03/us-army-misses-recruiting-goal/8166523001/