<< Back to Stories
VIVE Teams up with STEM Innovators at Nanome
Written by Adam Simon and Jarrell James from Nanome, with illustration by Kendra Black.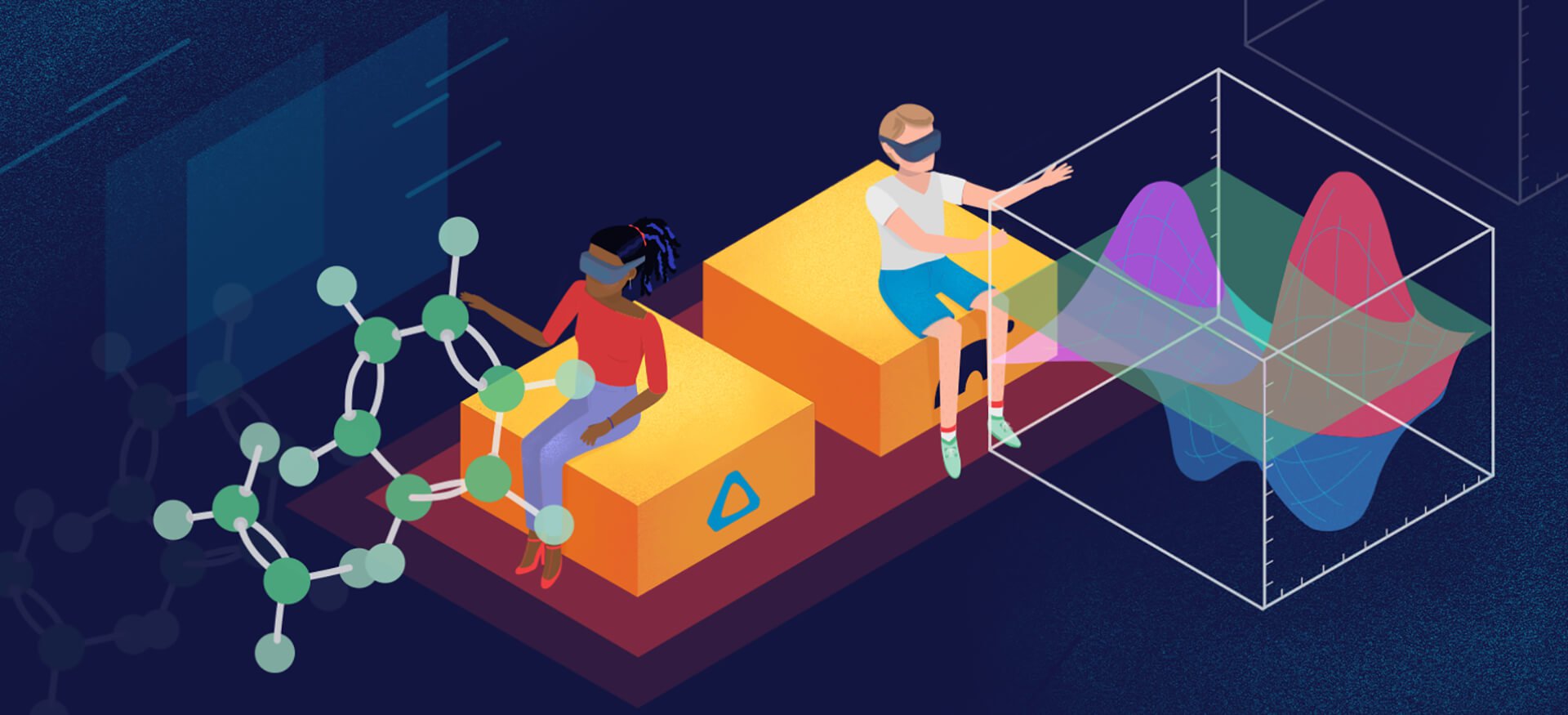 Education | Article
2 min read
I' m not a scientist, and neither are most of my friends. But why not? Most of them are plenty smart, have successful careers in something else, and many are even interested in STEM fields. What's going on here? What keeps intelligent, interested young people from chasing STEM careers at a young age?
There's no simple answer, but most simply put, it could be said that STEM mediums do not provide the same early gratification and satisfaction found in other careers. Charts, equations, strange diagrams — these convoluted tools for visualizing complex concepts, also known as interfaces, alienate young people from STEM. Chalkboard chemistry, calculus, and code get tedious at times, even to the most passionate student.
HTC wants to fix this problem and bring the magic and appeal of STEM to people young and old across the globe. To do this, they've teamed up with us here at Nanome, a software company leveraging Virtual Reality, the interface of the future, to make STEM concepts more beautiful, intuitive, and fun. We collaborate with high schools, universities, and professional scientists across the globe to design immersive digital laboratories.
Nanome first caught HTC's eye in 2017, when we joined the latest VIVE X accelerator batch. In just three years from inception, we have grown into a multimillion-dollar startup with expertise in VR, blockchain, and their integrated future. Our IP-hashing blockchain, Matryx, is set to enable new forms of collaboration in nano-engineering and general STEM. Industry leading pharmaceutical companies use our molecular design software to discover the cures of the future, while students in the University of California system visualize calculus in our free VR graphing calculator, CalcFlow. Our user community is growing rapidly and HTC wants to help.
The VIVE Libraries program will bring our unique STEM experiences to learners in over 100 locations across California and Nevada. In addition, these users will have access to Nanome's blockchain platform Matryx, which rewards collaboration in STEM. Matryx functionality may also have an opportunity to be featured on the HTC Exodus, a blockchain-powered smartphone.
Nanome is looking forward to partnering with HTC to work towards a future of democratized science, where anyone can learn, participate, and contribute to STEM fields. Immersive virtual classrooms, labs, and experiences, like the ones created by Nanome, will open the eyes of students and hobbyists around the world.