<< Back to Stories
The Operator's Checklist of VR Arcade Equipment
All the must-have equipment you need to run a thriving VR arcade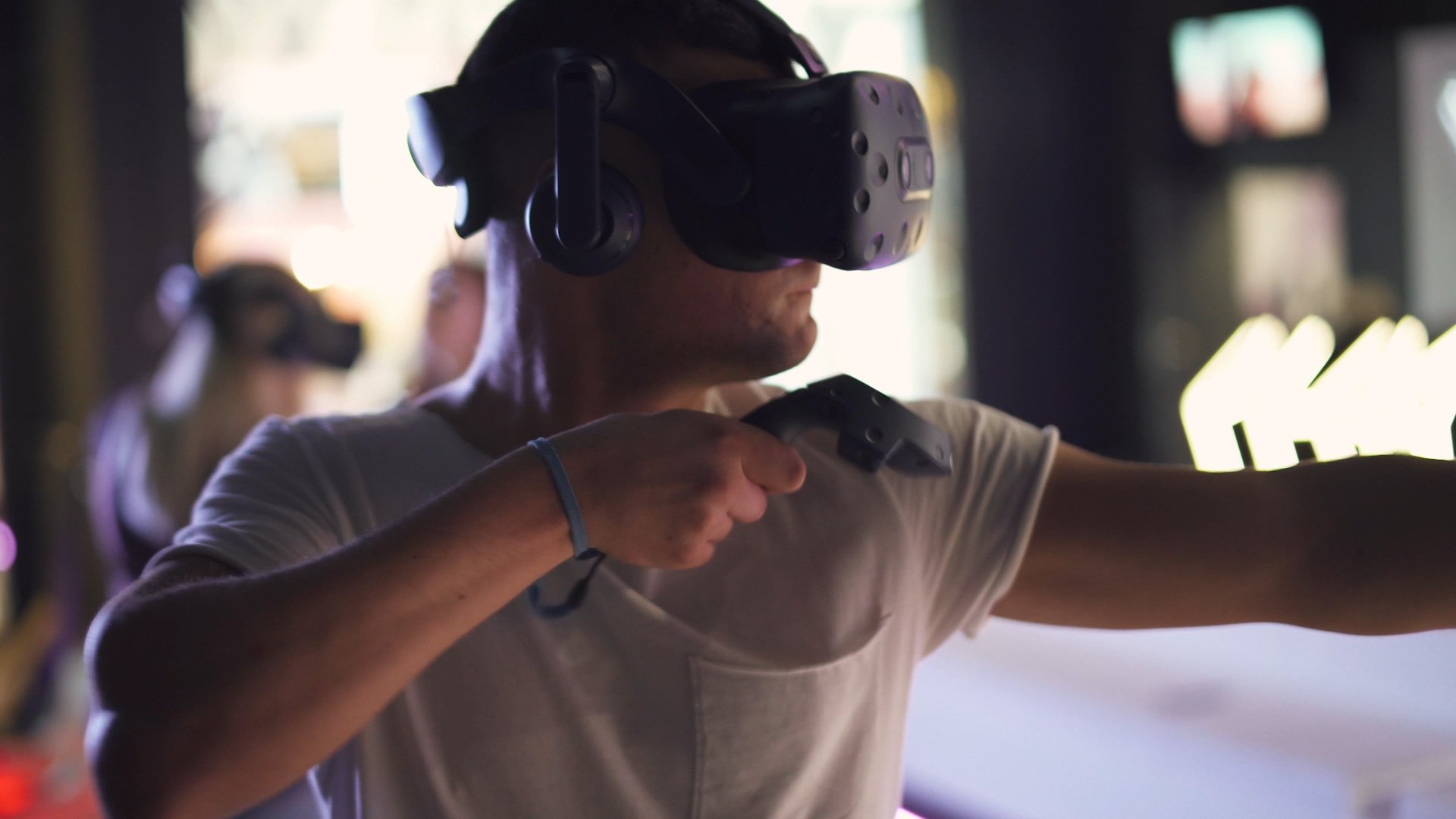 Industry | Location Based Entertainment | Use Case | Entertainment
6 minute read
Once upon a time, the mere mention of VR was enough to pique people's attention. But now that VR technology is accessible in consumer homes and is being adopted in some workplaces, simply putting "VR" in front of "arcade" is no longer enough to draw a crowd. Location-based entertainment (LBE) businesses, therefore, need to think carefully about which VR arcade equipment they should invest in, taking into account their budget, customer preferences, industry trends, and longevity. This checklist runs through all the essentials and best practices for stocking your VR arcade.
Essential VR Arcade Equipment
These items are the absolute must-haves for any VR arcade, though it's important to note that your final list may look different depending on your business needs and market demand. Think about your target clientele and how to diversify your arcade offerings before adding other equipment and investing in new software or add-ons — are you catering to families, young adults, VR novices of all ages, or some version of all the above? Some other considerations include the size of your footprint area, current revenue per square foot, and whether you're planning to invest in an unattended experience or prefer to hire attendants.
Head-Mounted Displays
A VR head-mounted display (HMD) is an industry term that refers to the VR headset hardware. The headset you choose symbolizes the entire VR experience for consumers. The make and model you feature at your location is one of the most vital purchase decisions you'll need to make. More HMDs are coming onto the market every year, which means arcade owners now have more options than ever.
All-in-one headsets [1] (AIOs), including the HTC VIVE Focus 3, are becoming standard for arcade settings, supplementing the once ubiquitous VR base station. AIOs combine a head-mounted display with a processor and battery, which allows them to operate without an external computer. Because they require very little space and are easier to maintain, they are a great fit for unattended VR experiences and LBE centers with limited square footage. And since AIOs are untethered, they provide a much greater range for users, which also makes them ideal for larger arcades with roaming space.
No matter which model you choose some considerations for HMDs are universal, including:
User comfort: Since HDMs at arcades will be worn by people of all ages, you'll need to think about the display weight (is it light enough to be worn by children), how well they fit over glasses and hats, etc.
Durability: When selecting a model, comfort and durability should be considered, since AIOs in an arcade will be used by a variety of different people who may not know how to handle the equipment gently.
Field of View (FoV): Head-mounted displays with a wider FoV will provide users with a more immersive experience and aid with speed perception. HTC VIVE Focus 3 [2] for instance offers a crisp FoV of 120 for one of the most immersive experiences on the market.
Longevity in the market: The VR industry is changing fast — "If the headset was launched more than a year ago, it's halfway to being obsolete," says Bob Cooney [3] , a 35-year industry veteran and VR expert who stresses the importance of researching VR arcade equipment providers before purchasing an HMD. Ensuring that your gear comes from a well-known industry name is one way to maximize its lifespan. Established brands in the VR space, including HTC VIVE, provide regular updates to hardware and software components, allowing you to continue using the same equipment for a longer period of time.
Minimizing motion sickness is another important consideration, but thankfully most HMD manufacturers are finding ways to minimize discomfort by properly calibrating their headsets. The standard frame rates of major VR HMDs are now at 90Hz [4] , which matches the normal pace and movement perception for most people.
Trackers and Controllers
Finding compatible trackers and controllers that fit the context of your game selection and work with your AIOs is equally important because they allow your customers to interact with the virtual environment and enhance the range of experiences you can provide. Arcades with a larger footprint may have more space for immersive experiences which frequently require multiple controllers and trackers.
Durability is yet another important factor to consider because your controllers and trackers will be used by the public for several hours at a time. You want to make sure any equipment you purchase is sturdy enough to withstand some rough handling. Be sure to carefully read the warranty for the hardware you buy to understand what damage is covered, how long it lasts for, and what manufacturer support you can expect to help troubleshoot issues when they arise.
If some (or most) of your VR games are unattended, you should also consider securing your HMDs, trackers, and controllers to the VR base station for security purposes. "You've got to consider theft, you have got to consider those things walking away," says Ben Davenport, CEO of VRsenal [6] , adding that in addition to keeping your VR equipment safe, tethering it to the VR base station also eliminates the need to recharge batteries — which of course maximizes game uptime and can lead to greater revenue.
Adopting this "prepare for the worst" mindset and ordering spare parts for all your VR arcade equipment is the best way to mitigate time and money lost on repairing hardware. But there are other best practices you should consider, including regular upkeep and preventative maintenance. For more best practices for VR arcade operators, take a look at our e-book , Building Reliable Location-Based VR Attractions .
Software Platforms
Your VR software platform should manage and automate HMD maintenance, help with content distribution, as well as station and user management. That being said, the most important aspect of your VR software is integration with the hardware found in your games. While some solutions are all-in-one, others address a very specific component of your VR experience: VR content management systems such as ArborXR and VIVE Business+ , VR game engines like Unity and Epic, and so forth. As with HMD and controllers, it's important to choose a vendor that has some footing in the industry and will therefore be prompt with updates and technical assistance.
Power Your LBE with HTC VIVE
Our location-based software suite is tailored to VR arcade developers, implementing map-sharing for multiple users and simple and accurate marker-based tracking. The HTC VIVE Focus and Pro series, along with a selection of tracking accessories, are designed to be easy to use and durable, providing your business with maximum uptime. Reach out to our team to learn more .


[1] HTC VIVE, blog.vive.com/us/all-in-one-vr-what-you-need-to-know/
[2] HTC VIVE, https://www.vive.com/us/product/vive-focus3/specs/
[3] LinkedIn, https://www.linkedin.com/in/bobcooney/
[4] XR Today, https://www.xrtoday.com/mixed-reality/how-to-stop-vr-motion-sickness/
[5] Creative Works, https://wearecreativeworks.com/
[6] VRsenal, https://vrsenal.com/