The all-in-one VR system designed for business
Get commercial-grade VR anytime, anywhere with VIVE Focus Plus.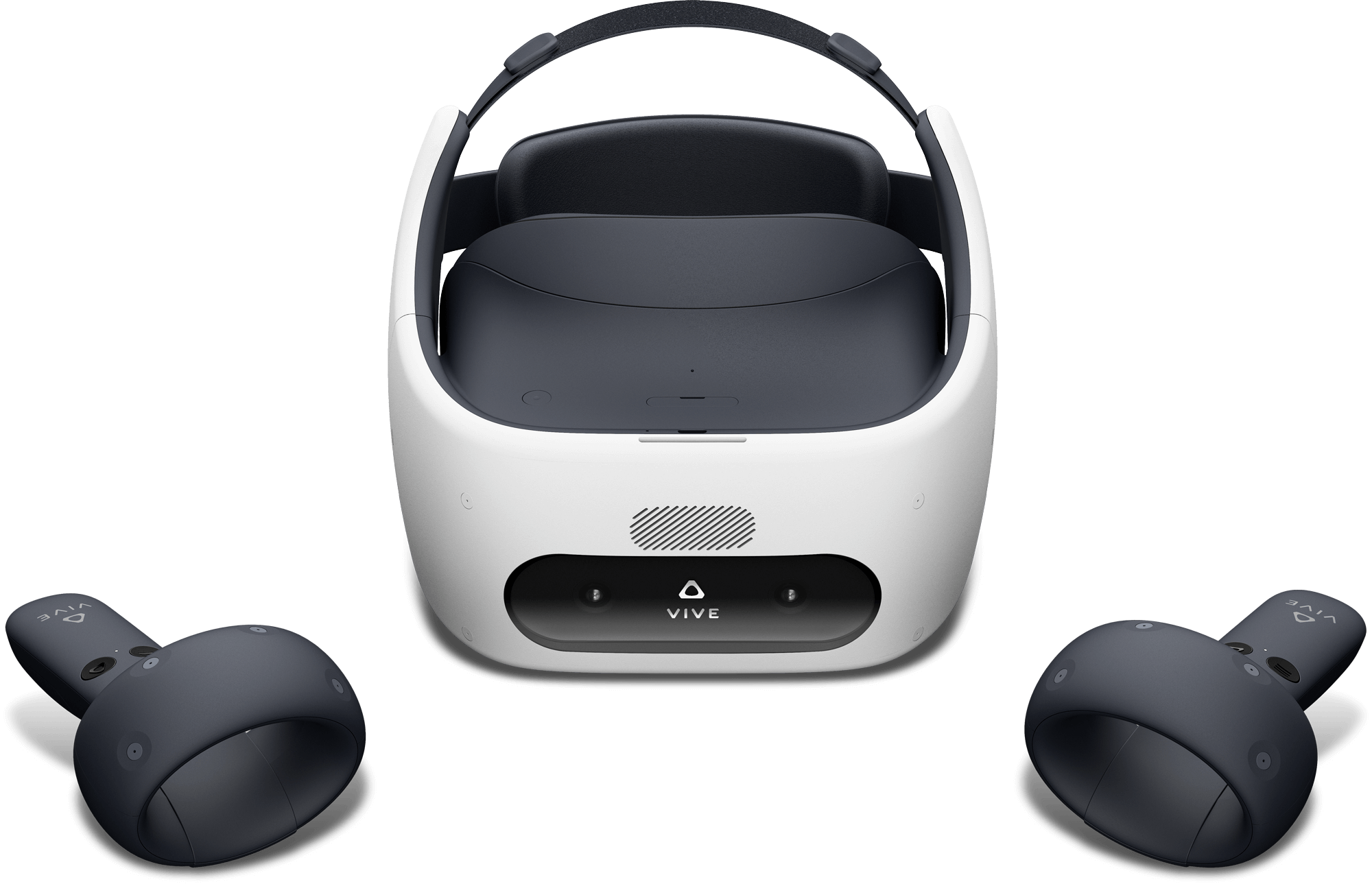 A commercial-grade system designed for flexibility and portability. Scale your deployment with direct support for leading Mobile Device Management solutions and easy batch configuration. Deploy VR training and remote collaboration that meets business data privacy and IT compliance.
Optimal Comfort, Weight Balance, and Hygiene
Accommodate 95% of users with a comfortable, ergonomic design. Weight distribution is optimized to avoid fatigue. Suits almost all vision types with an adjustable IPD. Eyeglass compatible. Durable, easy to wear and remove. Easy-to-clean synthetic material for high-use environments.
Portable & Convenient with Inside-Out Tracking
Enjoy high-quality mobile VR, instantly. Say goodbye to tethered PCs and external accessories. Transport, maintain, and deploy with ease. Ideal for process training and remote collaboration.
2880 x 1600 Combined Resolution
See text, textures, and graphics in stunning clarity with resolution at 615 PPI. Delivers deep blacks and vivid colors throughout the 110 degree field-of-view, ensuring a fully immersive experience.
Easy IT Deployment
Deploy like any other mobile device
Use your existing MDM solutions and licenses. Deploy fully offline through batch configuration at no extra cost. The Enterprise Portal makes fast deployment easy. Stay safe with support for Wi-Fi certificates VPN.
Secure Kiosk Mode
Comes with unrestricted Kiosk Mode
Easily limit access to apps and navigation using the settings panel. Turn your system into a fixed-purpose device ideal for process training.
Screencasting and Recording
Cast VR experience on TV, PC, or tablet using Miracast™
Miracast gives you the ability to see what trainees are viewing in VR on a TV, PC, or tablet. Instructors get real-time feedback that allows them to provide guidance. Training sessions can also be recorded and shared with trainees.
Global Distribution
With local procurement available in over 50 countries, VIVE Business VR Solutions can meet your needs wherever your business may take you.
VIVE Business
Warranty & Services

Available
Enterprise-grade support and services designed
to protect your investment
Keep your business running smoothly with VIVE Business Warranty & Services. The package includes a two-year limited commercial-use warranty, support, and services. Features like next business-day email response and expedited product repair or replacement minimize downtime.
• Registration and activation required for use. Start by creating a VIVE Business account.
• Activation must be completed within 90 days of the hardware purchase.
• A service request cannot be submitted until a business account is created and registered.
Expedited Return and Replacement
Two-year Commercial Warranty
Already purchased? Activate Service ›
Commercial use only**. Subject to Terms and Conditions.
VIVE Focus Plus Headset Specs
›
| | |
| --- | --- |
| Screen | Dual AMOLED 3.5" diagonal |
| Resolution | 1440 x 1600 pixels per eye (2880 x 1600 pixels combined), 615 PPI |
| Processor | Qualcomm® Snapdragon™ 835 |
| Memory (RAM/ROM) | RAM:4GB / ROM:32GB |
| SD Card | MicroSD Slot x 1 with support up to 2TB |
| Tracking | 6DoF inside-out HMD / 6DoF controller |
| Refresh Rate | 75Hz |
| FOV | 110° |
| Audio | Built-in speakers + 3.5mm headphone jack |
| Input | Microphone x 2 with noise cancellation |
| Battery | Built-in rechargeable battery (up to 3 hours* of active use time). |
| Charging time | ~2 hrs. |
| Charging | QC 3.0 |
| Data connectivity | Wi-Fi® 802.11a/n/ac (5 GHz) |
| Encryption | Android File-Based Encryption |
| Connection | USB 3.1 Type-C |
| Ergonomics | Designed to fit 95%+ of all head sizes, ages 14+ of all genders |
| Adjustable IPD (Interpupillary distance) mechanism range | 60.5-74mm |
| Face Gasket | Replaceable synthetic leather |
| Weight | 695g +/- 1% |
See how VIVE Business can work for you
Unmatched VR hardware, software, and services. >
**VIVE Business Warranty & Services (BWS) is intended for commercial customers only. Any activation by an individual for personal consumer use may be cancelled or subject to revocation at HTC's discretion. BWS may only be utilized by the original purchaser or acquirer and may not be resold, distributed, or otherwise transferred. Registration required to activate your BWS products. By activating BWS products, you agree to be subject to the Terms and Conditions.