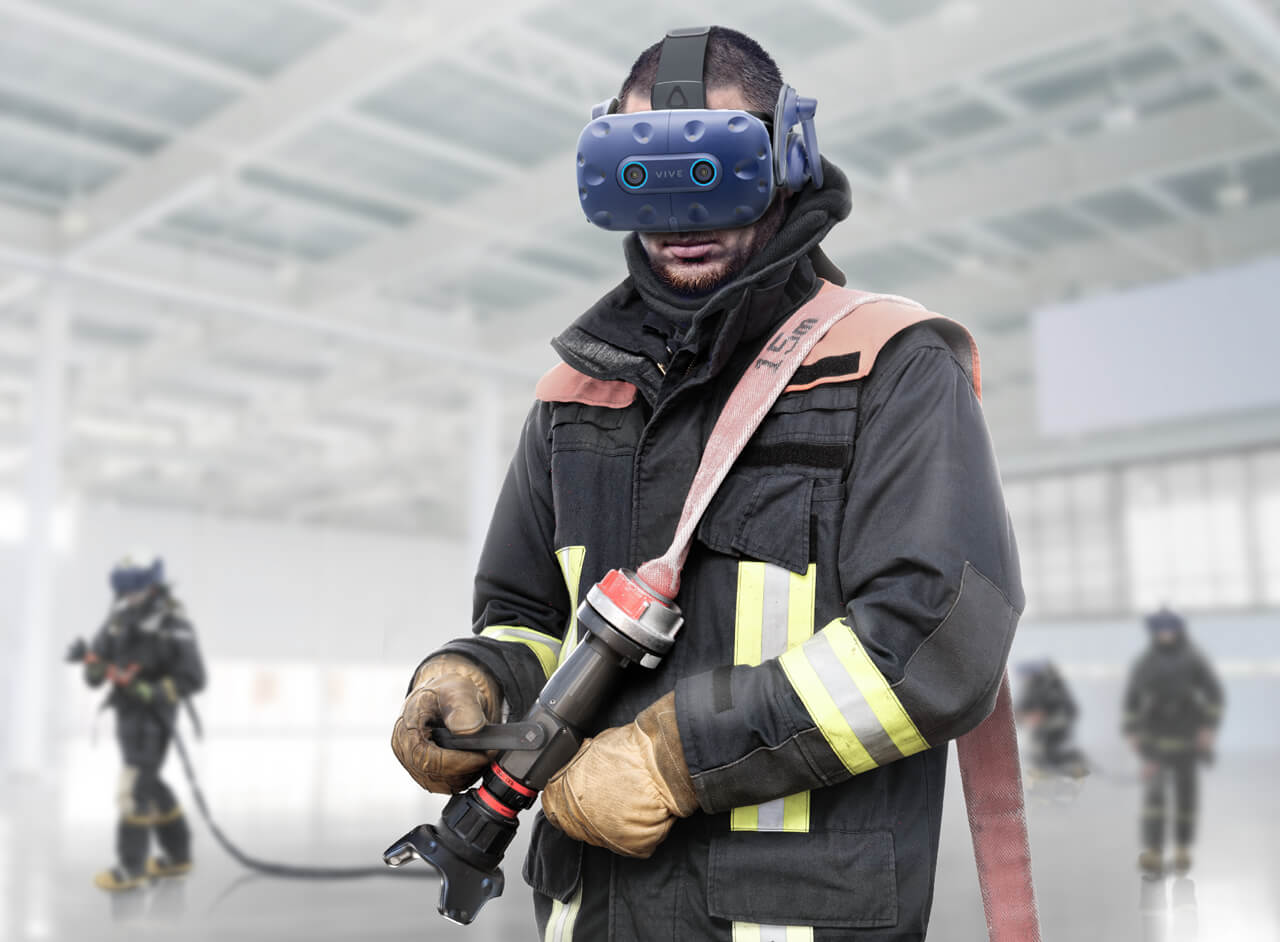 Professional-Grade VR Systems
Ideal for a wide range of environments and applications, such as training, design, construction, and more.
VIVE Pro Eye Office —
Arena Bundle
Extra room for extra mobility
Expand your tracking area with the Arena Bundle. This bundle includes VIVE Pro Eye Office, two additional SteamVR™ 2.0 Base Stations, and the 20m Extension Package to give you more support for your large-scale tracking needs 2 .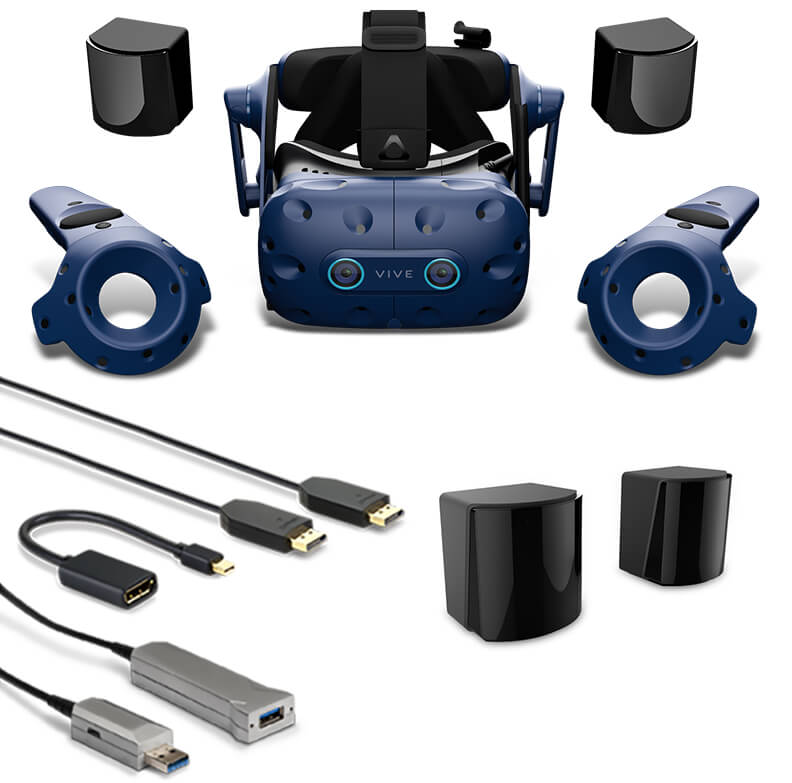 Contact Sales ›
2 Up to 1000 sq. ft (100m2) or 33' x 33' (10m x 10m) area using the included four SteamVR Base Station 2.0 units.
VIVE Pro Eye Office —
Headset Only
Upgrade to eye tracking or add additional users.
VIVE Pro Eye Office is also available in a headset only option*. Seamlessly integrate with your existing controllers and base stations † .
$999.00*
Contact Sales ›
* Includes Business Warranty & Services, which is required for commercial use**.
† Compatible controllers and base stations sold separately. VR-Ready PC required.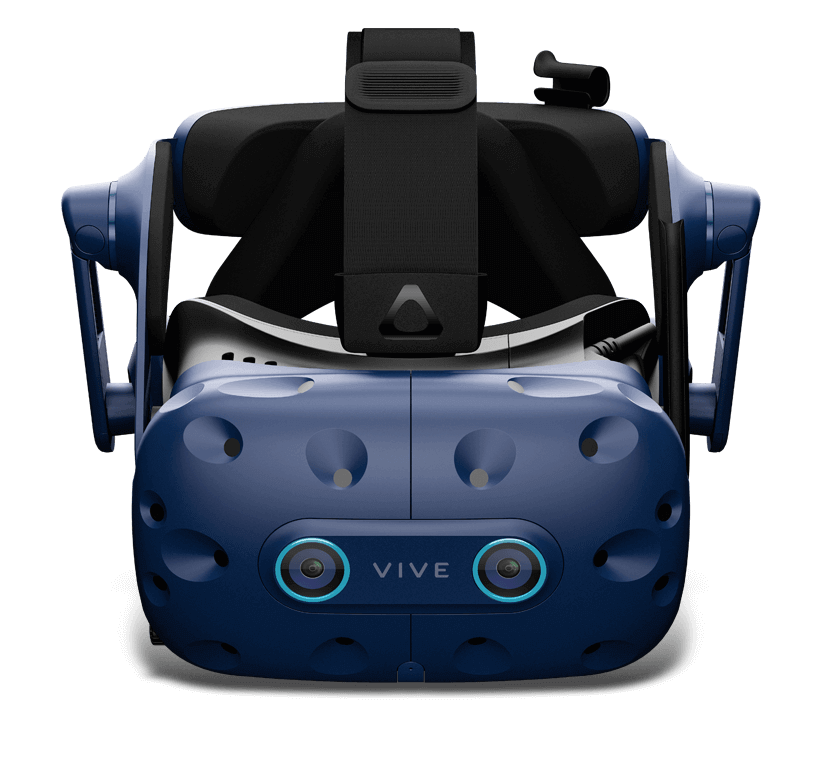 Precision Eye Tracking
Track & analyze eye movement,
attention, and focus
Create more immersive virtual simulations. Gain insights about user performance and interaction. Improve training scenarios. Open the door to deeper data analysis.
*Content compatibility required.
** Learn More about eye tracking data privacy.
Expanded User Analytics
Understand intentions & improve feedback
See what users see. See for how long with heat mapping and gaze tracking. Understand how users naturally interact with your product. Uncover actionable insights about user intent and decision-making processes.
*Content compatibility required.
**User performance data collection and usage may vary based on content and be restricted under applicable privacy law.
Simplified Input & Navigation
Make handheld controllers optional
Turn VR into a more intuitive experience. Implement gaze-oriented menu navigation. Point, select, and zoom faster and easier than ever before. Enable more natural movements and gesture controls in virtual reality.
*Content compatibility required.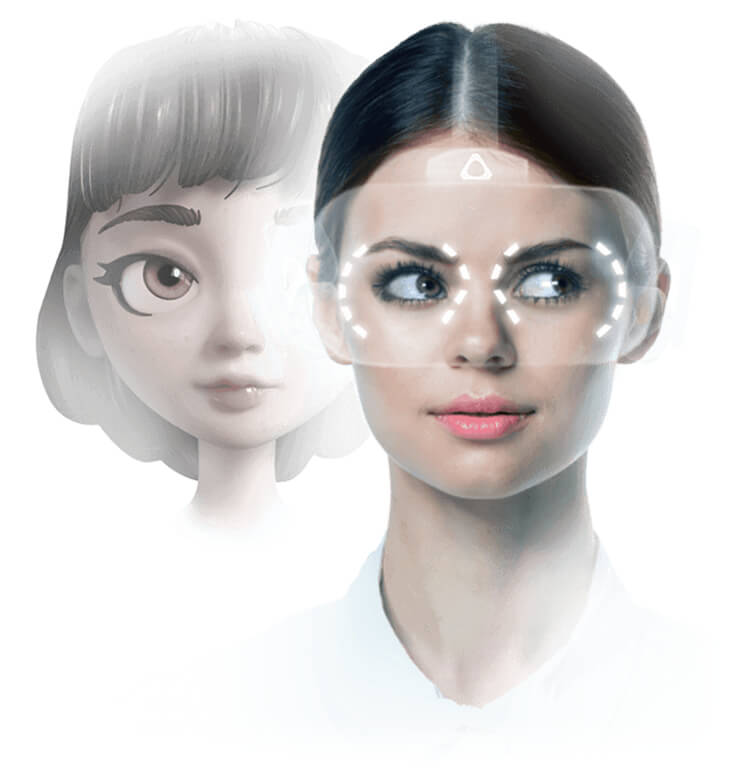 Enhanced Virtual Collaboration
Create lifelike interactions in VR
Reflect eye movements and blinks in virtual avatars. Show expressive, non-verbal interactions in conferences, chat groups, and remote collaboration in extended reality.
*Content compatibility required.
Foveated Rendering
Intelligent allocation of GPU workload
Optimize graphic fidelity in users' line of sight. Reduce rendering workloads on GPUs. Improve visualization quality and performance.
*Content compatibility required.
Product Features
2880 x 1600 Combined Resolution

Premium visual fidelity

Deliver breathtaking graphics, texts, and textures in simulations. Allow users to dive into the deepest of details with dual-OLED displays with a combined resolution of 2880 x 1600 pixels and 615 PPI.

Hi-Res® & Surround-Sound Audio

Add essential audible cues,

context and meaning

Improve the quality of virtual experiences with headphones that mimic the volumes, pitches, and reverberations of the real world. Create the immersion required to ensure simulations have a lasting impact.

Offline SteamVR™ Library

Ideal for secure deployment

This VR system includes access to the Offline SteamVR Library, which allows installation in a secure environment where the machine is not connected to the internet. Even if a machine is connected to the internet, the installer will not send or receive any data online.

SteamVR™ Tracking

Create expansive multi-user paradigms

Design occlusion-free, wide-area experiences with unmatched tracking accuracy via SteamVR™ 2.0. Scale your tracking volumes from seated to standing to full 33' x 33' room-scale* for multiple users.
*VIVE Pro Eye Office—Up to 525 sq. ft (48.8m2) or 22'11" x 22'11" (6.9m x 6.9m) area using the included two SteamVR™ Base Station 2.0 units.
VIVE Pro Eye—Arena Bundle—Up to 1000 sq. ft (100m2) or 33' x 33' (10m x 10m) area using the included four SteamVR Base Station 2.0 units.
VIVE Business
Warranty & Services
Enterprise-grade support and services designed
to protect your investment
Keep your business running smoothly with VIVE Business Warranty & Services. The package includes a two-year limited commercial-use warranty, support, and services. Features like next business-day email response and expedited product repair or replacement minimize downtime.
• Registration and activation required for use. Start by creating a VIVE Business account.
• Activation must be completed within 90 days of the hardware purchase.
• A service request cannot be submitted until an business account is created and registered.
Expedited Return and Replacement
Two-year Commercial Warranty
Already purchased? Activate Service ›
Commercial use only**. Subject to Terms and Conditions .
For the best performance with VIVE, we recommend the following GPUs:
NVIDIA™ GeForce RTX 3090 | 3080 | 3070
NVIDIA™ GeForce RTX 2080 Ti | 2080 Super | 2080 | 2070 Super | 2070 | 2060 Super | 2060
NVIDIA™ GeForce GTX 1660Ti | 1660 | 1660 Super
NVIDIA™ GeForce GTX 1080Ti | 1080 | 1070 | 1070Ti | 1060
NVIDIA™ GeForce GTX 980Ti | 980 | 970
NVIDIA™ Quadro RTX 8000 | 6000 | 5000 | 4000
NVIDIA™ Quadro P6000 | P5000 | P4000
NVIDIA™ Quadro M6000 | M5000
NVIDIA™ Quadro Mobile RTX 6000 | RTX 5000 | RTX 4000 | RTX 3000
NVIDIA™ Quadro Mobile P5200 | P5000 | P4200 | P3200
NVIDIA™ Quadro M5000 | M5500 | M5000 | K6000
NVIDIA™ Quadro Mobile M5500
NVIDIA™ Quadro GP100 | GV100
AMD Radeon™ VII
AMD Radeon™ RX 6900 | 6800 XT | 6800
AMD Radeon™ RX 5700 XT | 5700 | 5600 XT | 5600 | 5500 XT | 5500
AMD Radeon™ RX Vega 64 | Vega 56
AMD Radeon™ RX 590 | 580 | 570 | 480
AMD Radeon™ R9 Fury | Fury X
AMD Radeon™ R9 Nano
AMD Radeon™ R9 390 | 390X
AMD Radeon™ R9 290 | 290X | 295X2
AMD Radeon™ Pro WX 9100 | 8200 | 7100
AMD Radeon™ Vega Frontier Edition
AMD Radeon™ Pro Duo | SSG
AMD Radeon™ FirePro W9100
VIVE Pro Eye Office Includes:
VIVE Business Warranty & Services
Base Station 2.0 x 2
Base Station power adapter x 2
Link box
Mounting kit
USB 3.0 cable
DisplayPort™ cable
Link box power adapter
Headset with headset cable
Cleaning cloth
Earphone hole cap x 2
Documentation
Controller (2018) (with lanyard) × 2
Power adapter x 2
Micro-USB cable x 2
Specs & Details
VIVE Pro Eye Headset
Screen:
Dual OLED 3.5" diagonal
Resolution:
1440 x 1600 pixels per eye (2880 x 1600 pixels combined)
Refresh rate:
90 Hz
Field of view:
110 degrees
Audio:
Hi-Res-certified headset
Hi-Res-certificate headphone (removable)
High-impedance headphone support
Enhanced headphone ergonomics
Input:
Dual Integrated microphones
Connections:
USB-C 3.0, DP 1.2, Bluetooth
Sensors:
SteamVR Tracking, G-sensor, gyroscope, proximity, IPD sensor, Tobii®️ eye tracking
Ergonomics:
Eye relief with lens distance adjustment
Adjustable IPD
Adjustable headphone
Adjustable headstrap
*VIVE Pro Eye Office--Up to 525 sq. ft (48.8m2) or 22'11" x 22'11" (6.9m x 6.9m) area using the included two SteamVR™ Base Station 2.0 units. VIVE Pro Eye--Arena Bundle--Up to 1000 sq. ft (100m2) or 33' x 33' (10m x 10m) area using the included four SteamVR™ Base Station 2.0 units.
Eye Tracking Specs
Gaze data output frequency (binocular):
120Hz
Accuracy*:
0.5°–1.1°
Calibration:
5-point
Trackable field of view**:
110°
Data output (eye information):
Timestamp (device and system)
Gaze origin
Gaze direction
Pupil position
Pupil size
Eye openness
Interface:
HTC SRanipal SDK
SDK engine compatibility:
Unity, Unreal
*Within FOV 20°
**Eye surgery, eye disease, heavy makeup, and high myopia may affect eye tracking performance
Controller Specs
| | |
| --- | --- |
| Sensors: | SteamVR Tracking 2.0 |
| Input: | Multifunction trackpad, Grip buttons, Dual-stage trigger, System button, Menu button |
| Connections: | Micro-USB charging port |
Tracked Area Requirements
| | |
| --- | --- |
| Standing / Seated: | No min. space requirements |
| Room-scale: | A minimum play area of 6'6 x 4'11 is required. Maximum size is 33' x 33' with 4 SteamVR™ 2.0 Base Stations. |
Minimum Computer Specs
Processor:
Intel® Core™ i5-4590 or AMD FX™ 8350, equivalent or better.
Graphics:
NVIDIA® GeForce® GTX 970 or AMD Radeon™ R9 290 equivalent or better. ( View the complete list )
Memory:
4 GB RAM or more
Video out:
DisplayPort 1.2 or newer
USB ports:
1x USB 3.0 or newer port
Operating system:
Windows® 7, Windows® 8.1 or later, Windows® 10
Upgrade to Windows® 10 for the best results with the dual front facing cameras
* Driver is required to download and install before using VIVE Pro Eye's dual cameras with Windows® 7.
Recommended graphics for the best business VR solution is NVIDIA GeForce GTX 1070/Quadro P5000 or above, or AMD Radeon Vega 56/Pro WX7100/FirePro W9100 or above.
Maximize the potential of VIVE
VIVE Wireless Adapter

Professional-grade wireless VR

The VIVE Wireless Adapter*, powered by Intel® WiGig™ technology, unlocks total freedom of movement. Leverage room-scale tracking capabilities for cable-free immersion. Bring multiple users into simulations with ease.

Product Details ›

*VIVE wireless adapter and compatible attachment kits sold separately. Requires available PCIe slot.

VIVE Tracker

Go beyond VR controllers

The VIVE Tracker* offers endless possibilities. Attach a tracker to real-life objects to bring them into your virtual simulation. Enable support for full-body motion capture and external peripherals, which is ideal for simulation training.

Product Details ›

*Tracker compatibility may vary. Please check your product information prior to use.
See how
VIVE Business

can work for you

Unmatched VR hardware, software, and services.
*Sales tax not included in MSRP.
**VIVE Business Warranty & Services (BWS) is intended for commercial customers only. Any activation by an individual for personal consumer use may be cancelled or subject to revocation at HTC's discretion. BWS may only be utilized by the original purchaser or acquirer and may not be resold, distributed, or otherwise transferred. Registration required to activate your BWS products. By activating BWS products, you agree to be subject to the Terms and Conditions .