<< Back to Stories
Fennec Labs and Spawnpoint Use the Vive Focus 3 and LBSS To Deliver Incredible VR Arcade Experiences
Discover how the free-roam VR platform Spawnpoint brings players together for unforgettable multi-user VR experiences, using the power of HTC's VIVE Location-Based Software Suite.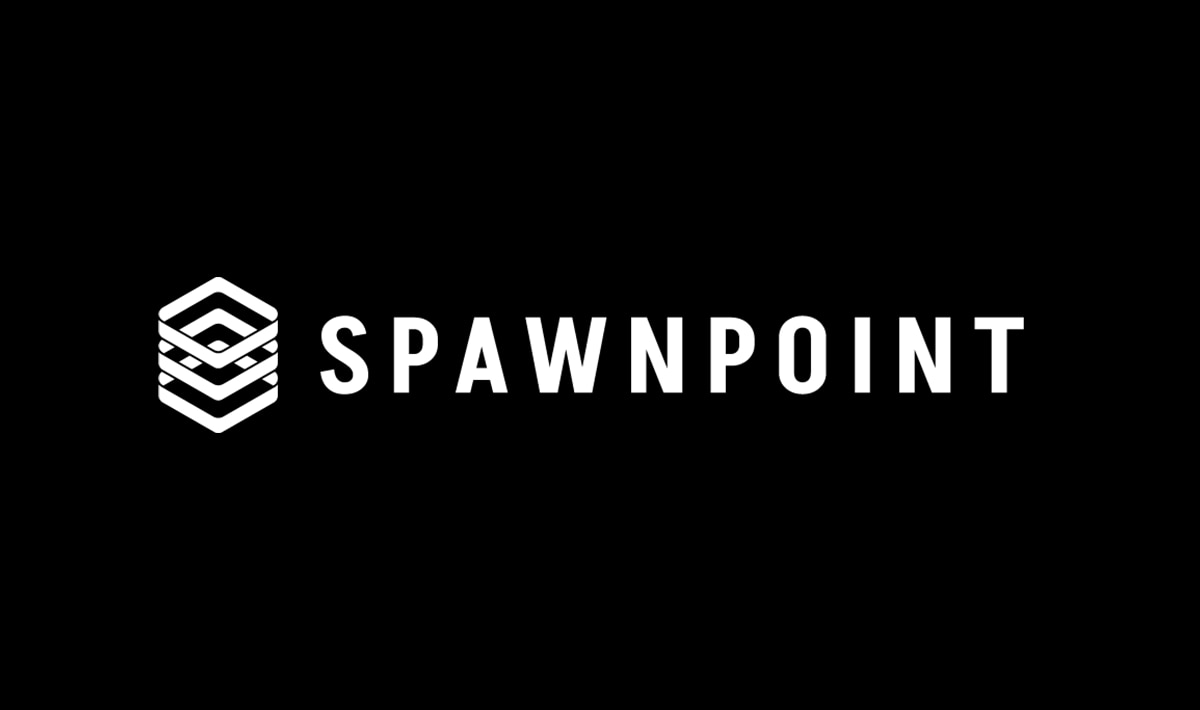 Articles | Location Based Entertainment | Use Case | Entertainment
5 min read

Company:
Spawnpoint | Fennec Labs

Websites:
Spawnpoint.io
|
fenneclabs.co.uk

Location:
UK
In Staffordshire, England, a group of immersive experience specialists are building exciting technology that could change the game for VR arcade experiences.
Fennec Labs
is comprised of a team of virtual and augmented reality experts, who spend their day-to-day taking complex ideas and turning them into mind-blowing immersive experiences, particularly for VR venues. "Our deep experience with game development and VR venues enables us to offer tailor-made VR experiences to clients," begins Ben Woodford, immersive experience specialist and director at Fennec Labs. "We work with some of the biggest players in tracking systems, VR peripherals and software solutions to create bespoke 'warehouse scale' shooters, escape rooms, mazes and story-driven experiences to amaze anyone who steps foot inside these virtual worlds."
Fennec makes much of this possible via
Spawnpoint
, the company's free-roam VR platform for untethered, arena-scale gameplay. Spawnpoint is designed to serve operators with great gaming experiences alongside best-in-class headset management tools to ensure users can keep on top of their LBE arenas. And this is where
HTC's VIVE Focus 3
and
LBSS (Location-Based Software Suite)
step into the picture.
Building Spawnpoint
Fennec Labs created Spawnpoint to run arena-scale VR in any venue, along with multiple features for managing that arena beyond the direct VR arcade experience.
"When creating Spawnpoint, we added all the expected options for any LBE operators' needs, like downloading games, tracking sessions for licensing purposes, launching games remotely, and so on," explains Woodford. "We then decided to take things further and added things like wireless updates from your PC to your headsets, management of HTC's LBSS tracking maps, general monitoring of headset vitals, central management for multiple arenas, and a player profile system so you can log in to your own account and keep track of games played, customise your characters, and so on."
To prove what's possible with the Spawnpoint framework (and create an exhilarating gaming experience!) Fennec built RE:COIL, a player-vs-player VR shooter. In RE:COIL, groups of 2-6 players can battle across a set of arenas in spaces up to 5x10m, using shields, weapons, and rebounding power shots.
"If we wanted to create something like RE:COIL in the past, we'd have needed a good £200,000 or so worth of tracking tech to make it work," explains Woodford. Instead, all Fennec Labs needed was an HTC VIVE Focus 3 VR kit and
LBSS
.
The point of origin
The creation of Spawnpoint itself did not follow a straightforward path – indeed, RE:COIL came first, rather than vice versa.
"We started building RE:COIL at the end of 2019, but coming into 2020, work slowed due to the COVID-19 pandemic," says Woodford. "During that time, I started tinkering around with some web-based UIs for RE:COIL, so operators could manage their game from anywhere in their venue and simplify things like device enrolment. I realised I had started making an LBE platform but had embedded it into a game instead of separating the two. So, in 2021, we started building Spawnpoint. The focus when I started building Spawnpoint was to 'launch games and have player profiles', but that soon evolved into a 'powerful VR device management tool and LBE game platform'. Come mid-2022, we were ready for release."
All of this software needed VR hardware to run on. Fennec Labs initially used a Meta Quest, but things quickly changed when the VIVE Focus 3 and its accompanying LBSS solution for LBE revealed what it could do.
HTC's Location-Based Software Suite is a series of powerful software features for the VIVE Focus 3 headset, explicitly designed to enhance location-based services and training scenarios. It allows for large-scale inside-out tracking, a Visual Odometry Mode to scale up user rotation, powerful features to manage large fleets of VIVE Focus 3 devices, and much more.
"When HTC VIVE's LBSS was announced, the 1,000sqm shared mapping system caught my eye, as I'd been struggling with 250sqm," says Woodford. "We got our hands on a Focus 3 for testing the LBSS suite. Within a month, we bought four more. Another month on, and we were having discussions with HTC's engineering team about how we could achieve a deeper integration into the VIVE Focus 3 with Spawnpoint. It was just that good"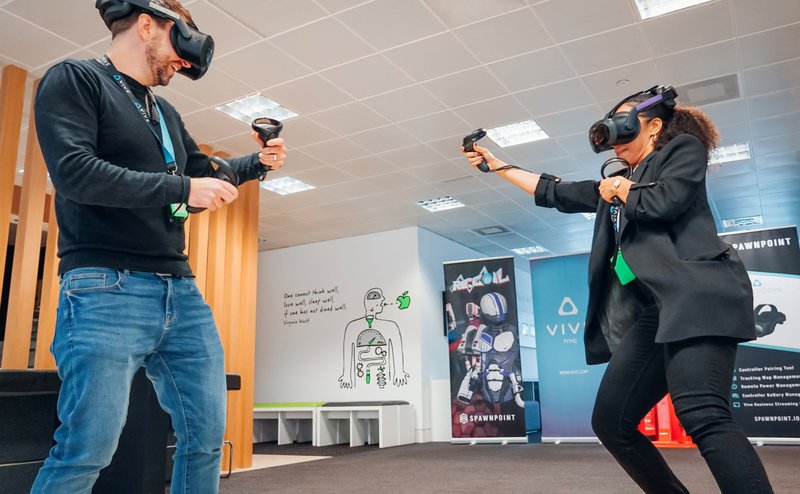 A live demo of Spawnpoint/RE:COIL taking place at HTC offices
Testing LBSS
Part of Fennec Labs' testing for the VIVE Focus 3's LBSS solution consisted of mapping the Fennec's entire Staffordshire office...across multiple floors. As Woodford mentions, this could have cost up to £200,000 worth of tracking tech to complete, but Fennec managed it with just HTC's VR kit.
As Woodford explains: "We kept all of the office doors open. I then started continuously scanning the space from the ground floor (so that the map origin would start there), walked around the entire bottom floor, the foyer area, and then up the stairs. I then repeated this process on the middle floor and up to the top floor.
"After mapping, we shared the map to another VIVE Focus 3 headset and loaded up RE:COIL into an empty lobby arena," he continues, "When walking up and down the stairs, we were able to see each other exactly where we were meant to be, even when on different floors. Later, we did this again using a VR application that allowed me to mark points around the building to check how well it would respond to me going upstairs and back down. Needless to say, it worked perfectly. The combination of VIVE Focus 3, LBSS and Spawnpoint was flawless. We could explore our whole office in VR!"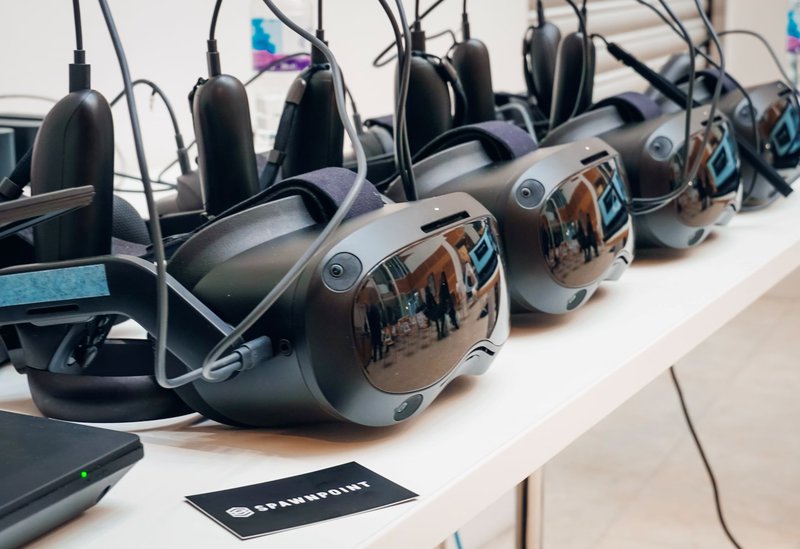 A headset tailored to LBE
Fennec Labs worked to integrate LBSS and VIVE Focus 3 into its Spawnpoint application, and the Focus 3 remains the company's recommended VR headset for the best possible RE:COIL/Spawnpoint experience. But it isn't just the software and simplified device management which makes VIVE Focus 3 the best choice.
"The VIVE Focus 3 headset comes into its own when used daily at LBE arenas," says Woodford. "You do a lot of running about, so when someone inevitably headbutts their teammate, having a robust headset is important. The VIVE Focus 3 won't just fall apart when that happens.
"You also want something adaptable, and the VIVE Focus 3 offers that via its swappable face gaskets and IPD adjustment, meaning the headset can comfortably fit every LBE customer that comes in the door. At Fennec, we've seen a lot of 'enterprise' headsets with just Velcro head straps, and it's nothing but a pain as you have to keep adjusting the head strap for each customer. With the VIVE Focus 3, you can just dial the head strap in at the back using the knob.
"The VIVE Focus 3's swappable batteries are another crucial feature," continues Woodford. "If you're having a busy day at your VR arcade, it's easy to swap out the batteries and keep the game going. And then there are accessories made with LBE in mind, like the 4-in-1 dock for bulk-charging batteries.
"LBSS seals the deal with the large-scale, very robust tracking and shared mapping functionality, which has been the biggest thing everyone has wanted in LBE for many years. With LBSS, HTC has finally made larger experiences affordable to deploy."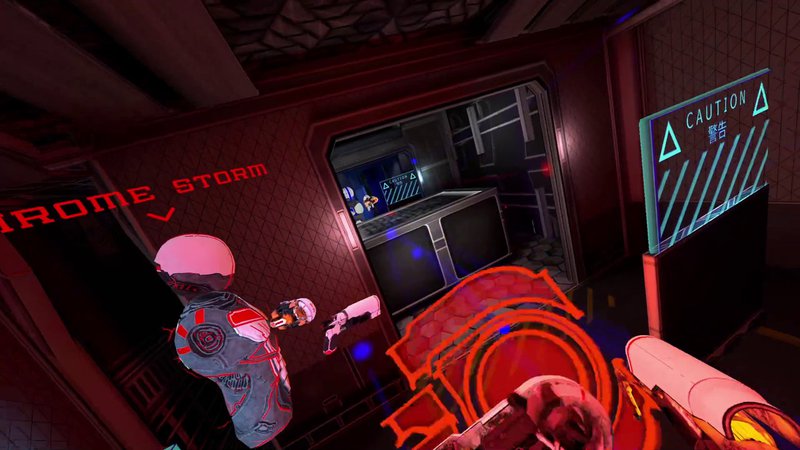 What's next for Spawnpoint
Fennec Labs has a busy few years ahead of it, thanks to the new avenues of development made available by HTC technology and the team's innovative attitude toward LBE. The company is planning to add more features to Spawnpoint in 2023. Many more titles are also planned for the Spawnpoint platform, including some from third-party developers, such as
Cops vs Robbers
from Knucklehead Studios.
"The Focus 3's capabilities will make the next couple of years very interesting," says Woodford. "We've got a lot of things in the works. I'm looking forward to seeing what happens when people try to push this tech to the limits, as I'm pretty sure tracking a three-storey building is only the start. Of course, we've also got a lot of amazing plans for Spawnpoint and the VIVE Focus 3 in 2023, but that's a story for another day…"
--
Would you like to discuss your virtual reality project with a member of the HTC VIVE team?

Get in touch with HTC VIVE