<< Back to Stories
The Complete Guide to Location-Based Virtual Reality
Grow revenue and drive repeat visits with immersive virtual experiences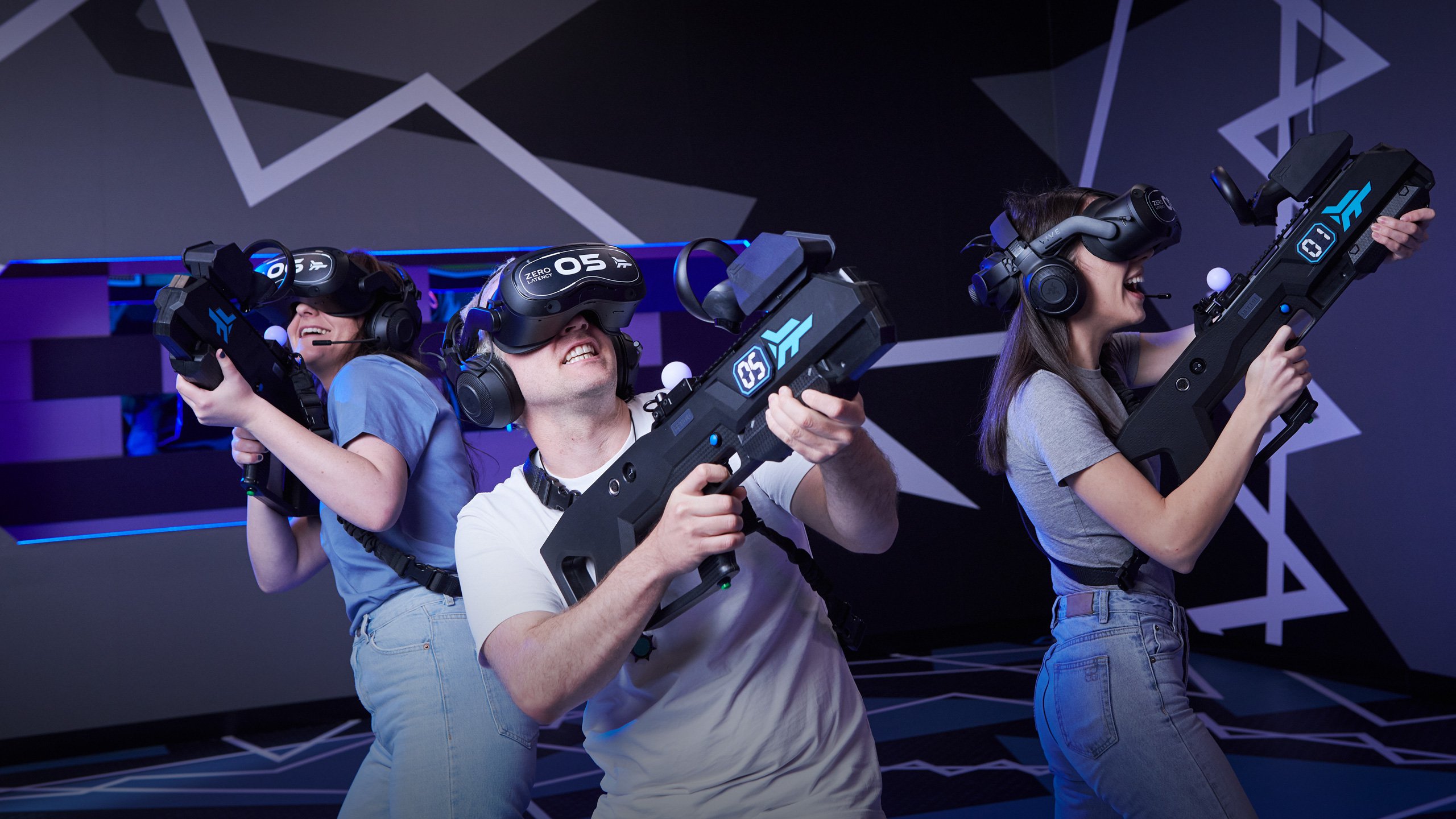 Articles | Location Based Entertainment | Use Case | Entertainment
6 minute read
A thriving location-based entertainment center hinges on the ability to provide customers with marquee experiences that are unique enough to attract repeat business, and yet permanent enough to promise a reliably good time without increasing operating costs. Location-based virtual reality (LBVR) games happen to fit that definition to a T. Unlike a mini-golf course or a rollercoaster, VR games can be updated and improved without having to invest in entirely new infrastructure, generating revenue and newly fun experiences for customers without reinventing the wheel. That being said, installing a VR game for the first time can be intimidating — this guide walks you through some of the benefits you should consider, the basic equipment needed, and some of the most popular games for location-based VR.
Benefits of Location-Based Virtual Reality
LBVR provides a new source of revenue for arcade operators and other LBE businesses without requiring years of experience or more than a passing familiarity with VR. Over the past decade, VR hardware became far more operator and user-friendly, resulting in innovative software applications that can't be replicated outside of a virtual reality environment. Being able to provide these unique experiences makes VR a more-than-feasible investment, even for small and mid-size LBE businesses. For LBEs, VR games act as:
Anchor attraction: Only about 17% of the US population has a VR headset at home [1] , which means that VR is still a novelty for most of the population. "Not too many people have experienced it," says George Smith, owner of the game room and entertainment design and consulting firm Family Entertainment Group . [2] "VR offers a different attraction in a more compact format, providing experiences that are not easily replicated at home," he explains.
Core traffic driver and passerby catcher: Location-based virtual reality is unique in that it can act as both as the primary destination attraction for your business and an effective bumper for foot traffic. Whether you're located in an area with lots of foot traffic or in a somewhat out-of-the-way location, LBVR can drive people to you with the promise of an immersive experience.
Effortless plug-and-play boredom buster: In the past, installing a VR game required purchasing a complex set of VR hardware and software, which the average LBE operator would not be able to set up on their own. Times are changing, though, which means more intuitive and user-friendly VR games are coming on the market. The Monolith from VRsenal [3] is a great example of a plug-and-play VR game. "The Monolith has the smallest footprint of any fully-automated VR attraction," Ben Davenport, CEO, says. "It has no moving parts. It's super-compact, super-simple, ships in a crate, and plugs into the wall. You don't need any special knowledge of VR to get it to work."
A cost-saving tool: "Everybody's chronically understaffed," Ben explains. "A lot of places that have staffed VR systems are literally having those systems sit idle because they cannot get people to operate them." Automated, self-service VR doesn't require attendants, which means LBEs don't need to fret about staffing issues or invest in training new operators on VR games.
Powerful revenue generator: Once you've gotten more comfortable with location-based VR, operating more complex games and experiences can generate even more revenue.
To learn more about the benefits of VR for LBE operations, read 5 Benefits of Adding VR Arcade Machines to Your LBE Operation .
VR Gaming Experiences for LBEs
While you have a variety of options when it comes to the genre and style of VR games for your arcade, some experiences are particularly well-suited for local-based virtual reality businesses. Here are a few examples that are popular with customers:
Location-based VR options are growing every year, and you will without a doubt have many options for your arcade. But before choosing an experience, location-based virtual reality expert Bob Cooney [8] recommends checking that the operator is invested in the industry and provides content updates. "As we've now had companies in the market for three, five, or six years now, it's pretty easy to check the track record," he says. Content updates keep your VR games relevant and interesting to consumers, and can make the difference between an investment that runs its clock in a year or two and one that keeps delighting your visitors for a decade.
To learn more about VR games for LBEs, read 5 VR Gaming Experiences Pioneering The New Age of Arcades .
LBVR Equipment: The Operator's Checklist
It's clear that VR experiences can be a major attraction at LBE businesses, and investing in the right equipment is critical for taking the next step. While the equipment requirements will vary based on the VR game and the provider you choose, there are some cornerstone purchases you'll need to make.
All-in-one headsets (AIO)
AIOs [9] , including the HTC VIVE Focus 3, combine a head-mounted display with a processor and battery, which means it does not need a standalone computer or a VR base station in order to operate. That means they take up less space and require much less maintenance, making them the perfect choice for LBEs. When selecting a model, comfort and durability should be considered, since AIOs in an arcade will be used by a variety of different people who or may not know how to handle the equipment gently.
Trackers and controllers
Most VR experiences will require trackers and, if hand tracking is not possible, a set of controllers. These allow the players to interact with the game and should be intuitive and simple to use, especially if you're planning to host an unattended experience. As with AIOs, durability and a reliable manufacturer able to provide updates and technical support will help you extend the lifetime and relevance of your controllers and trackers as much as possible.
Software platform
Your VR software provider needs to be compatible with any AIOs and other hardware you purchase, and should help your AIO communicate with trackers, as well as manage users and troubleshoot common problems. You should also consider how user-friendly the interface is, since the faster your attendants can learn it, the faster they can get started with serving customers.
For a more thorough look at the required LBVR equipment, take a look at The Operator's Checklist of VR Arcade Equipment .
LBVR with HTC VIVE
VR is transforming LBEs by providing immersive new experiences that can't be found at home. HTC VIVE, a leader in the VR industry, helps LBEs power up their revenue with durable, proven technology that's always ahead of the curve. Our suite of solutions can be tailored to your LBE center's needs with intuitive AIOs and a comprehensive set of trackers and controllers compatible with most popular VR games. For more expert insights on how to build reliable LBVR attractions, check out our free eBook .
[1] PC Guide, pcguide.com/vr/faq/how-many-people-own-vr/
[2] Family Entertainment Group, fegllc.com
[3] VRsenal, vrsenal.com
[4] LAI Games, laigames.com/games/virtual-rabbids-the-big-ride-ultra-hd/
[5] VRsenal, vrsenal.com
[6] Omni Arena, arena.virtuix.com
[7] Zero Latency, zerolatencyvr.com
[8] Bob Cooney, bobcooney.com
[9] HTC VIVE, blog.vive.com/us/all-in-one-vr-what-you-need-to-know/