Using your phone as a controller in
VIVE Sync
VIVE Flow
uses your
Android
phone as the controller.
Note:
Make sure your phone and

VIVE Flow

are connected and paired via

Bluetooth

. For details, see the VIVE Flow Support page.
Make sure the phone screen is unlocked.
Touch gestures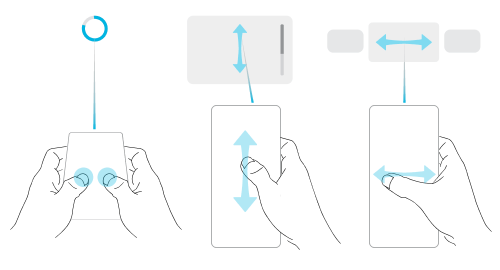 If the beam starts to drift or you can't see it, you can reset it by tapping and holding two fingers on the screen for 2 seconds.
Swipe vertically to scroll or to push and pull a window.
Swipe horizontally to rotate a window.
Button layout
After entering a room in VIVE Sync, look down at your hand holding the phone to see the button layout.
VIVE

: Tap to open the

VIVE Flow

system menu, where you can access shortcuts and close

VIVE Sync

to go back to the Home screen.

Trigger

: Tap to select an item. Tap and hold to grab and drag it.

Sync

: Tap to open the

Sync Menu

.

Teleport

: Tap and hold while pointing to a destination, and then release to teleport.
Note:
Your phone screen dims when the phone controller is enabled.