Location-Based Entertainment (LBE) Mode
LBE Mode
allows for multiple
VIVE Focus 3
headsets to be tracked in a large play area for a truly free-roaming experience.
VIVE Focus 3 can track multiple users inside a 33 m × 30 m (1000 square meters) space. The smooth, seamless 6DoF tracking of VIVE Focus 3 allows users to move anywhere inside the play area, providing a more immersive, compelling user experience.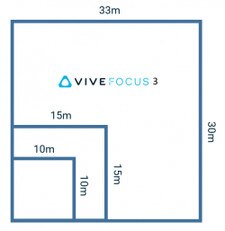 With Location-Based Entertainment (LBE) Mode, you can create a boundary in any shape, including polygons, L-shapes, or any other custom shape. Once the map is set up, users can begin the VR experience. The map only needs to be set up once; the VR headset will constantly re-localize in the established play area.
In addition, LBE Mode can be used with Marker-Based Drift Prevention, which helps maintain tracking accuracy, and Marker-Based Relocation, which allows users to resume tracking from anywhere in the mapped environment. For details, see Marker-Based Drift Prevention and Marker-Based Location Sharing.
LBE Mode uses virtual maps to increase the realism of games and training simulations in VR arcades, arenas, or other large-scale environments.
For details on the requirements, see Requirements. For details on using LBE Mode, see Setting up the headsets and LBE Mode/LBE Hybrid Mode setup.