Sticky notes
With sticky notes, you can use speech-to-text to record voice notes and instantly transform them into text.
Note:
Recording sticky notes is private. Other people in the virtual space won't hear you while you're recording.
Open the

VIVERSE Menu

and then select

Sticky notes

.
Open the

Options Menu

to choose a recording language. To find out how to open the menu, see Selecting a tool.
To begin recording, press and hold the

trigger

and then start speaking.
Release the

trigger

to stop recording.
After recording, a sticky note will appear in the virtual space.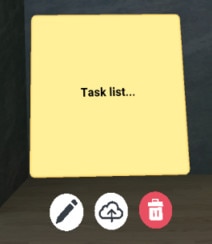 To edit the sticky note, select

and use the keyboard to change the text.
Select

to save the sticky note to the cloud. Sticky notes will be saved as text files.
You can move and rotate the sticky note just like you would with a content window. To find out how, see Working with content windows. You can also grab the sticky note directly with your controller.