Hosting a meeting
To help you, as the host, run a smooth and efficient meeting,
VIVE Sync
gives you host controls. These controls allow you to mute participants, disable teleporting, and lock a number of tools.
Open the Sync Menu, and then select Roles and Permissions from the right side of the menu to access the host controls. Here are the things you can do with these controls:
Restricting a participant
In the Participants list, toggle on the lock icons next to the participant name.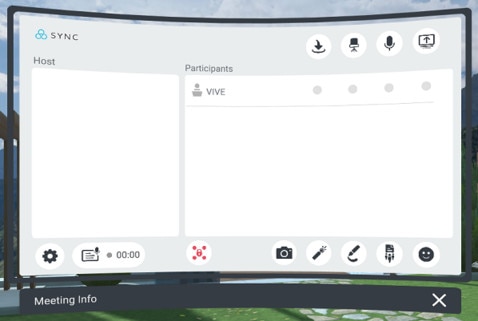 Per participant, you can also disable or enable the following functions:
| Icon | Function |
| --- | --- |
| | Teleporting |
| | Lock to seat |
| | Mute |
| | Sharing |
Restricting all participants
To restrict all participants from using meeting tools, choose the tools you want to lock:
| Icon | Tool |
| --- | --- |
| | Camera tool |
| | Laser Pointer |
| | Pen tool |
| | Sticky Note tool |
| | Emoji tool |
| | All tools and functions |
For details on the tools, see Tools you can use.
Assigning co-hosts
To assign a participant as a co-host, hover the beam over the participant icon

. Select Assign Host to move the participant to the Host list.
You can assign several participants as co-hosts. They will be able to use all the host controls.
To move someone from the Host list back to the Participant list, hover the beam over the host icon

, and then select Remove.
Note:
When some co-hosts leave the meeting, their selected controls remain locked as long as there's at least one host in the room. When the last remaining host leaves the meeting, all the controls will be unlocked.
Adding a table
Some open-space meeting rooms allow you to add a table.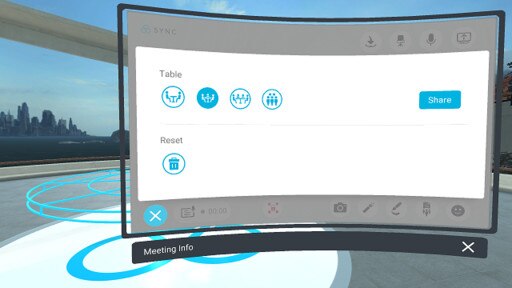 To add one, select the Room Settings icon

. Choose the table size you want to use, and then select Share.
To remove the table from the room, select Stop Sharing.
Clearing the room
If the meeting room is cluttered with your shared content, such as sticky notes and content windows, you can clear them in one sweep. When you're ready to remove them, select the Room Settings icon

and then select the Reset icon

.