Joining a
VIVE Sync

meeting

Join meetings to collaborate with your colleagues in VR. There are different ways to join a

VIVE Sync

meeting.

Important:

You need to sign up for an HTC Account, if you don't have one.

As a guest, you'll receive the meeting invitation by email: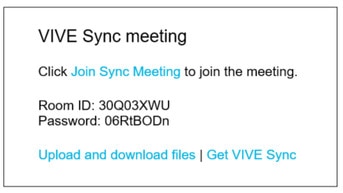 Follow the steps below to join the meeting.
Click

Join Sync Meeting

in the email. The following message will be displayed on your web browser:

| Computer's web browser | Mobile web browser |
| --- | --- |
| | |

Depending on the type of device you'll be using to join the meeting, do one of the following:

Device
Do this

PC VR headset, or Viewer mode on a computer

Follow the instructions to launch the VIVE Sync app on your computer.

All-in-one VR

Click Add to Calendar, and then sign in to the Sync website.

This adds the meeting to your Sync calendar and the Agenda panel in the VIVE Sync app.

VIVE Flow

Click Join via VIVE Flow.

Viewer mode on your mobile device

Click Join via Mobile App.

Note:

Clicking

Upload and download files

in the invitation email also logs you in to the

Sync

website and adds the meeting to the

Sync

calendar and

VIVE Sync

Agenda

panel.

To find out how to upload files to the meeting room, see Uploading files to use in your meetings.

When you're ready, enter the meeting room on your device.
If you're the host of the meeting, follow the same steps for PC VR, All-in-one VR, or
VIVE Flow
above to join the meeting. If you choose to join the meeting by entering the room ID and password, make sure you enter the host password.
Whether you're the host or guest, you can access the meeting info page on the Sync website again after the meeting ends to download screenshots and other created files. For details, see Downloading screenshots and other files created in meetings.
Related How-tos