About the
VIVE Location-Based Software Suite (LBSS)
LBSS
is a comprehensive set of location-based tracking modes designed specifically for
VIVE Focus 3
.
LBSS utilizes the inside-out tracking technology of VIVE Focus 3 to provide quick, efficient location-sharing solutions for large, multiplayer VR spaces such as arcades, training simulators, and amusement park rides.
The tracking modes provided by LBSS allow you to customize the experience shared by a group of users in the same location for a variety of applications. Depending on the tracking mode you're using, users will be able to share their location with other users in real time and freely rotate in and out of the VR space without the need to reconfigure the headset each time they re-enter the play area.
LBSS works by linking a group of headsets over a shared intranet connection.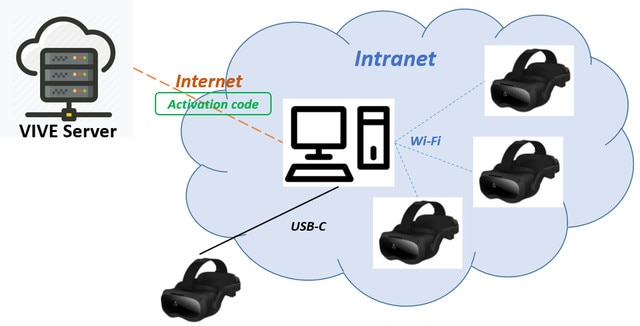 The headsets are synchronized using a batch configuration package that includes all the features and settings you want to use with your headsets. Batch configuration packages are created during the device setup process. For details on setting up your headsets, see Setting up the headsets.
In addition, LBSS allows you to connect your headsets to an existing Mobile Device Management System for greater flexibility and customization.